Which drugs may be hit with ne­go­ti­a­tions if the rec­on­cil­i­a­tion bill pass­es? Wall St. an­a­lysts ex­plain
Be­yond the back and forth of whether De­moc­rats' drug price ne­go­ti­a­tion plan is nec­es­sary to bring down costs, or just a thin­ly veiled at­tempt at price con­trols, the nuts and bolts of the deal mean phar­ma com­pa­nies will in­evitably see the tail ends of cer­tain small mol­e­cule and bi­o­log­ic sales pe­ter out be­fore they oth­er­wise would have in to­day's mar­ket­place.
While the bill's text is not set in stone, and the Sen­ate par­lia­men­tar­i­an may still take is­sue with the ex­cise tax that CMS will use to en­sure com­pa­nies com­ply with the ne­go­ti­at­ed prices, SVB Se­cu­ri­ties ex­plained to in­vestors how more than a dozen drugs from Eli Lil­ly, As­traZeneca, Ab­b­Vie and J&J, among oth­ers, would lose out on some rev­enue just be­fore their gener­ic com­peti­tors hit the mar­ket.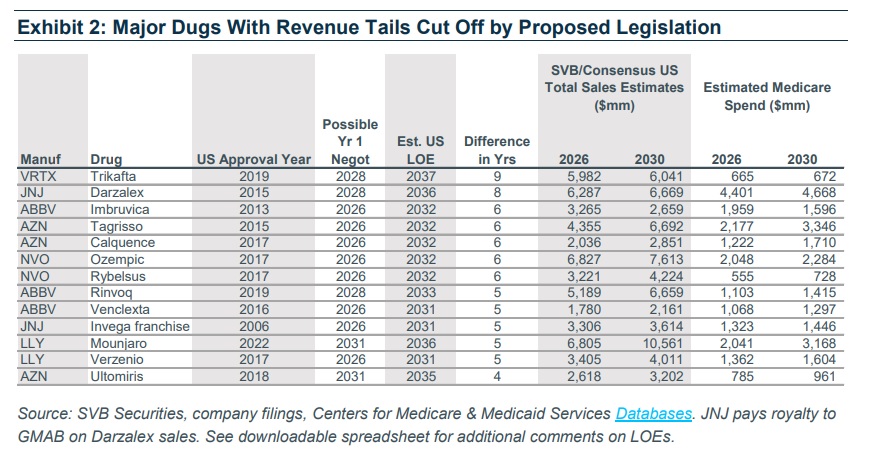 If Sen­ate De­moc­rats can ral­ly every last mem­ber be­fore next Fri­day, and the House pulls it to­geth­er some­time next month, CMS ne­go­ti­a­tions for drug prices would be­gin in 2026, but on­ly for 10 Part D drugs (i.e. out­pa­tient drugs) to start. In 2028, Medicare would set prices for both Part D and Part B (physi­cian-ad­min­is­tered) drugs. Cu­mu­la­tive­ly, CMS may end up ne­go­ti­at­ing about 60 drugs, de­pend­ing on gener­ic/biosim­i­lar com­pe­ti­tion, SVB Se­cu­ri­ties an­a­lysts wrote.
While ne­go­ti­a­tions won't be­gin un­til small mol­e­cules are nine years past their ap­provals, or 13 years for bi­o­log­ics, SVB Se­cu­ri­ties warns that "in­no­va­tors' will­ing­ness to de­vel­op new drugs, in par­tic­u­lar small mol­e­cule ther­a­pies for se­niors, would like­ly di­min­ish."
Drugs like Ver­tex's cys­tic fi­bro­sis treat­ment Trikaf­ta could end up see­ing nine years cut off from its ex­clu­siv­i­ty pe­ri­od, al­though the an­a­lysts note that that may not add up to much be­cause most of those who are on the drug are not on Medicare. For J&J's can­cer drug Darza­lex, eight years might be cut off by the ne­go­ti­a­tions, and "a very high per­cent­age of sales" are from Medicare giv­en its mul­ti­ple myelo­ma in­di­ca­tion.
But oth­er com­pa­nies, like Mer­ck, won't be too ex­posed to the ne­go­ti­a­tions as its megablock­buster can­cer drug Keytru­da faces biosim­i­lar en­try in 2028, which is the first year for Part B ne­go­ti­a­tions.
As lob­by­ing over the fi­nal bill text hits a fever pitch over the next week, more and more re­ports on what the bill will do are pil­ing up.
Avalere Health, for in­stance, re­cent­ly es­ti­mat­ed, thanks to a Gilead-fund­ed re­port, that the leg­is­la­tion "could re­duce man­u­fac­tur­er rev­enues by $165 bil­lion in Part D and $290 bil­lion in Part B from 2026 to 2032." And while it's un­like­ly the ex­cise tax would be used (be­cause of how steep it is), Avalere pro­ject­ed that its es­ti­mat­ed im­pact on man­u­fac­tur­ers' non-com­pli­ance could be as high as 1,450% of to­tal Part D spend and about 2,500% of Part B spend.