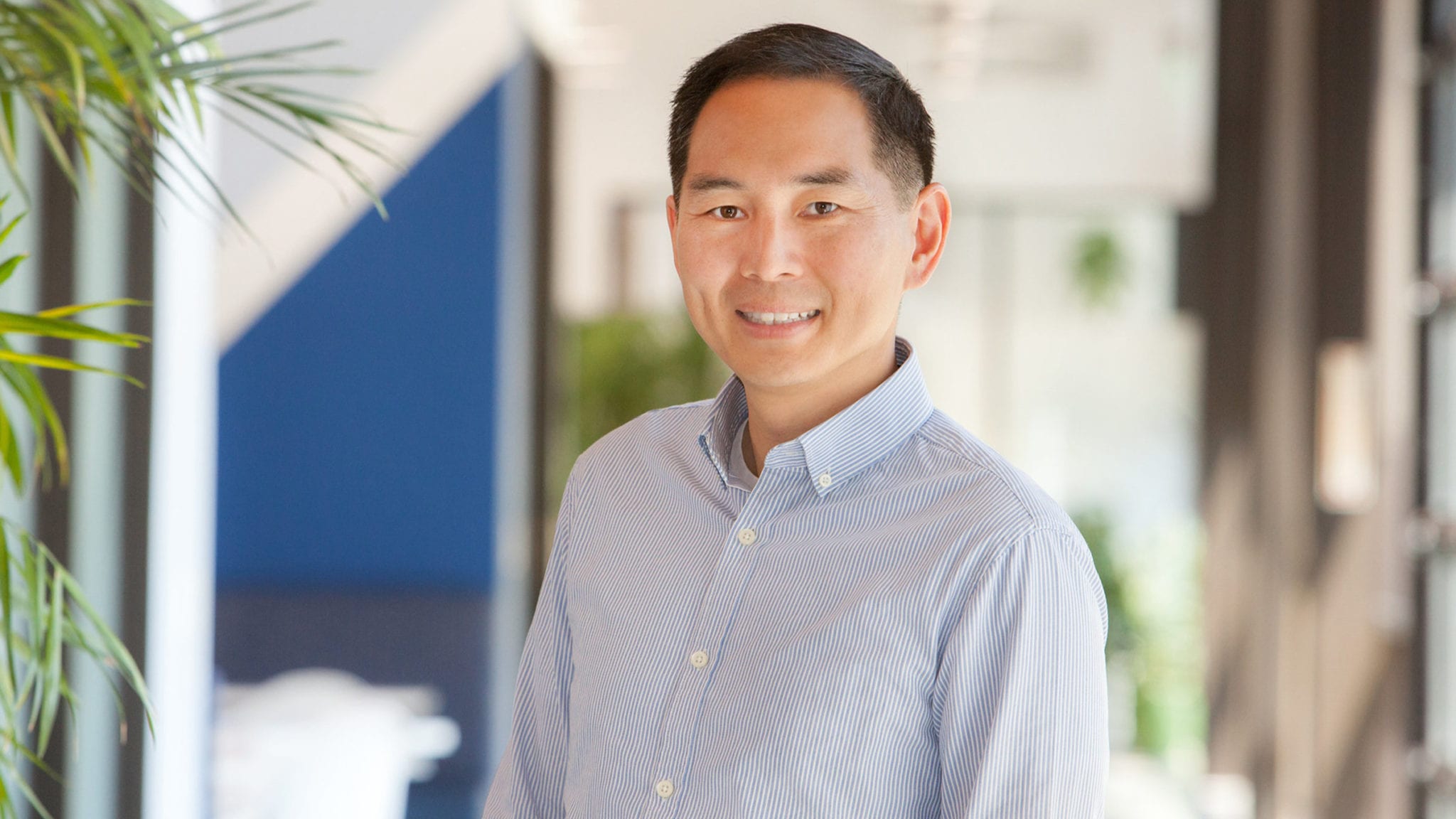 With fresh $160M, Rayze­Bio plots sprint through the clin­ic for lead ra­dio­phar­ma­ceu­ti­cal pro­gram — build­ing on No­var­tis' suc­cess
Ever since its launch in 2020, Rayze­Bio has talked at length about build­ing a plat­form com­pa­ny to ful­fill the po­ten­tial that ra­dio­phar­ma­ceu­ti­cals hold — with sev­en ac­tive pro­grams to boast. But it's stayed mum about what those pro­grams ac­tu­al­ly are, in­stead stick­ing to up­dates about new fund­ing, hires or part­ner­ships.
That's by de­sign, ac­cord­ing to CEO Ken Song. The for­mer Ven­rock VC and se­r­i­al biotech en­tre­pre­neur want­ed to make sure that he had a re­al busi­ness case be­fore be­com­ing more vis­i­ble.
"Two years ago, when we were writ­ten up, it re­al­ly was just a cou­ple of us with no lab, no of­fice, and just a nice-look­ing Pow­er­Point. And that sort of paint­ed the vi­sion and the plans of what we want­ed to do," Song told End­points News. "We've now reached a point where the or­ga­ni­za­tion is at a place where we do feel that there's quite a good prospect for the com­pa­ny long term."
He was ex­ag­ger­at­ing in a sense — by the time Rayze­Bio un­veiled its $45 mil­lion Se­ries A, co-led by Ver­sant and ven­Bio, it al­ready had a set of tar­gets in mind, a deal with Pep­tiDream to search for pep­tides and a sup­ply arrange­ment for Ac­tini­um-225.
But now, with more than 200 in vi­vo stud­ies un­der its belt, Rayze­Bio is fi­nal­ly tak­ing the wraps off its lead pro­gram as well as a $160 mil­lion Se­ries D de­signed to fund the drug's dash through the clin­ic all the way to Phase III.
While Rayze­Bio set out to dis­cov­er new pep­tide binders that will guide can­cer-killing ra­dioiso­topes to tu­mor cells, the biotech ul­ti­mate­ly set­tled on a tried-and-true binder for its lead drug, RYZ101.
"I would say at con­cep­tu­al lev­el, ra­dio­phar­ma­ceu­ti­cals seem pret­ty straight­for­ward and easy. You take a binder, a link­er, a ra­dioac­tive iso­tope, in the­o­ry you should have your drug," Song said.
I would say what we came to ful­ly ap­pre­ci­ate is that the dis­cov­ery process, de­spite the con­cept be­ing rel­a­tive­ly straight­for­ward and sim­ple, the ac­tu­al dis­cov­ery of find­ing those binders that can have all the right prop­er­ties to de­liv­er the ra­dioac­tive iso­tope is in­cred­i­bly com­plex and chal­leng­ing. And hence, you know, high­light­ing the fact that we have com­plet­ed over 200 in vi­vo stud­ies. We re­al­ly feel that we need­ed to gen­er­ate that amount of ex­pe­ri­ence and da­ta to re­al­ly un­der­stand the ba­sic rules and roadmap in how to dis­cov­er nov­el binders against tar­gets of in­ter­est to de­liv­er a ra­dioac­tive iso­tope.
No­var­tis us­es the same pep­tide, dotatate, for its ap­proved ra­di­oli­gand ther­a­py Lu­tathera to treat neu­roen­docrine tu­mors, ex­cept that it de­ploys a be­ta iso­tope rather than an al­pha one. De­spite ini­tial dra­mat­ic clin­i­cal ben­e­fit, though, Song not­ed that pa­tients even­tu­al­ly progress and they have no fur­ther op­tions.
That's where he hopes RYZ101 can come in. By link­ing dotatate with an al­pha iso­tope dubbed Ac­tini­um-225, which he says is 400 to 500 times more pow­er­ful than be­ta iso­topes, Rayze­Bio hopes it can prove it­self first in neu­roen­docrine tu­mors be­fore mov­ing to a sec­ond test in small cell lung can­cer.
Thanks to ex­ist­ing clin­i­cal da­ta on dotatate-based ra­dio­phar­ma­ceu­ti­cals, some from aca­d­e­m­ic stud­ies, Rayze­Bio has de­signed its first tri­al such that if the Phase I por­tion looks good on safe­ty, tol­er­a­bil­i­ty and phar­ma­co­ki­net­ics, it can move straight in­to Phase III. Phase I da­ta are ex­pect­ed next year.
The cash in­fu­sion, which brings the to­tal haul to $418 mil­lion, will al­so sup­port ini­tial stud­ies of sub­se­quent pro­grams as well as the build­out of an in-house man­u­fac­tur­ing fa­cil­i­ty for com­mer­cial-scale pro­duc­tion.
While Rayze­Bio cur­rent­ly works with a con­tract man­u­fac­tur­er to make its drug ma­te­r­i­al, Song not­ed the num­ber of com­pa­nies that can do it is "ex­treme­ly lim­it­ed." Ex­ist­ing ra­dio­phar­ma­ceu­ti­cals have a shelf life of about three to four days as the ra­dioiso­topes de­cay, and even though Rayze­Bio stretched that out to five days, the just-in-time na­ture of the process still adds ex­tra stress.
"We thought that this was a piece that we want­ed to have more con­trol and over­sight over," he said.
Viking Glob­al In­vestors, Sofinno­va In­vest­ments and Welling­ton Man­age­ment co-led the round, joined by ex­ist­ing back­ers as well as new in­vestors Al­ly Bridge Group, Sands Cap­i­tal, Lau­ri­on Cap­i­tal Man­age­ment and Soleus Cap­i­tal. An undis­closed glob­al in­vestor al­so jumped in.