With help from J&J, up­start Proven­tion lands rights to two mid-stage IBD drugs and shoots for PhII
Af­ter set­ting up one biotech com­pa­ny with a drug plucked from the shelves of big phar­ma, the same team is do­ing it again.
Proven­tion Bio ex­ecs — who un­veiled a $28.4 mil­lion round just a few months ago that in­clud­ed a sig­nif­i­cant con­tri­bu­tion from J&J — are un­veil­ing a new deal with the phar­ma gi­ant to­day, bag­ging rights to a pair of mid-stage as­sets they plan to hus­tle in­to mid-stage stud­ies de­signed to il­lus­trate quick­ly whether they have some­thing that can be point­ed to a piv­otal study.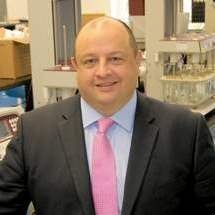 Ash­leigh Palmer
Proven­tion Bio is run by three key ex­ecs: CEO Ash­leigh Palmer, CMO Eleanor Ramos and sci­en­tif­ic co-founder Fran­cis­co Leon. Palmer and Leon had al­ready set up Ce­lim­mune, which is de­vot­ed to ad­vanc­ing a new drug for Celi­ac dis­ease, which they got from Am­gen. And Leon, a for­mer re­searcher at J&J, has di­rect ex­pe­ri­ence with the two drugs they're pick­ing up from J&J for their new com­pa­ny.
The drugs are PRV-6527 (JNJ-40346527), an oral Colony Stim­u­lat­ing Fac­tor-1 Re­cep­tor (CSF-1R) small mol­e­cule in­hibitor for Crohn's dis­ease, and PRV-300 (JNJ-42915925/CN­TO 3157), an an­ti-Toll-Like Re­cep­tor 3 (TLR3) mon­o­clon­al an­ti­body for ul­cer­a­tive col­i­tis. The CSF-1R drug has al­ready been in hu­man stud­ies, in­clud­ing a failed mid-stage study for rheuma­toid arthri­tis.
But Leon be­lieves there's a "good chance of repo­si­tion­ing (PRV-6527) in IBD; there's no oral drug for mod­er­ate and se­vere Crohn's." And he can count on what re­searchers learned from Ste­lara as well as hu­man and an­i­mal da­ta to pro­vide enough en­cour­age­ment to back up the move back to the clin­ic.
The mod­el that Proven­tion is fol­low­ing strikes a fa­mil­iar cord. A whole new wave of com­pa­nies is be­ing cre­at­ed from the dis­cards at Big Phar­ma. Vivek Ra­maswamy has turned it in­to an art form at Roivant, which has been rais­ing big mon­ey to back more of these deals, while Bio­haven was able to jump from ear­ly-stage re­search straight to late-stage by ex­e­cut­ing a deal with Bris­tol-My­ers Squibb — al­low­ing them to pull off a quick IPO.
In their ear­li­er re­lease on the fundrais­ing, which in­clud­ed $6 mil­lion from J&J, $19 mil­lion from high net worth in­di­vid­u­als and $3 mil­lion from the JDRF, the group men­tioned they were look­ing to an IPO next year to pro­vide con­tin­ued fund­ing. But when I talked to Palmer ahead of to­day's an­nounce­ment, he said they're fo­cus­ing on these two as­sets — plus an en­terovirus vac­cine they got in ear­ly — and will de­cide next steps on fi­nanc­ing af­ter they see some hard da­ta.
Proven­tion won't be spend­ing a ton of mon­ey on salaries or of­fices. The three key ex­ecs are part of a 6-mem­ber vir­tu­al team, which won't get much big­ger, says Palmer. Not on­ly is the team small, but they're scat­tered around the coun­try, meet­ing in the vir­tu­al of­fice as they use con­trac­tors on man­u­fac­tur­ing and re­search.
"I've been de­vel­op­ing drugs for 20 years," says Ramos. "The cost of drug de­vel­op­ment is sky­rock­et­ing." But the Proven­tion team be­lieves they can pull off two small, blend­ed Phase I/II stud­ies that can tell them if they're on the right track.
Then they can make their go/no go de­ci­sion.
Right now, the light is green.