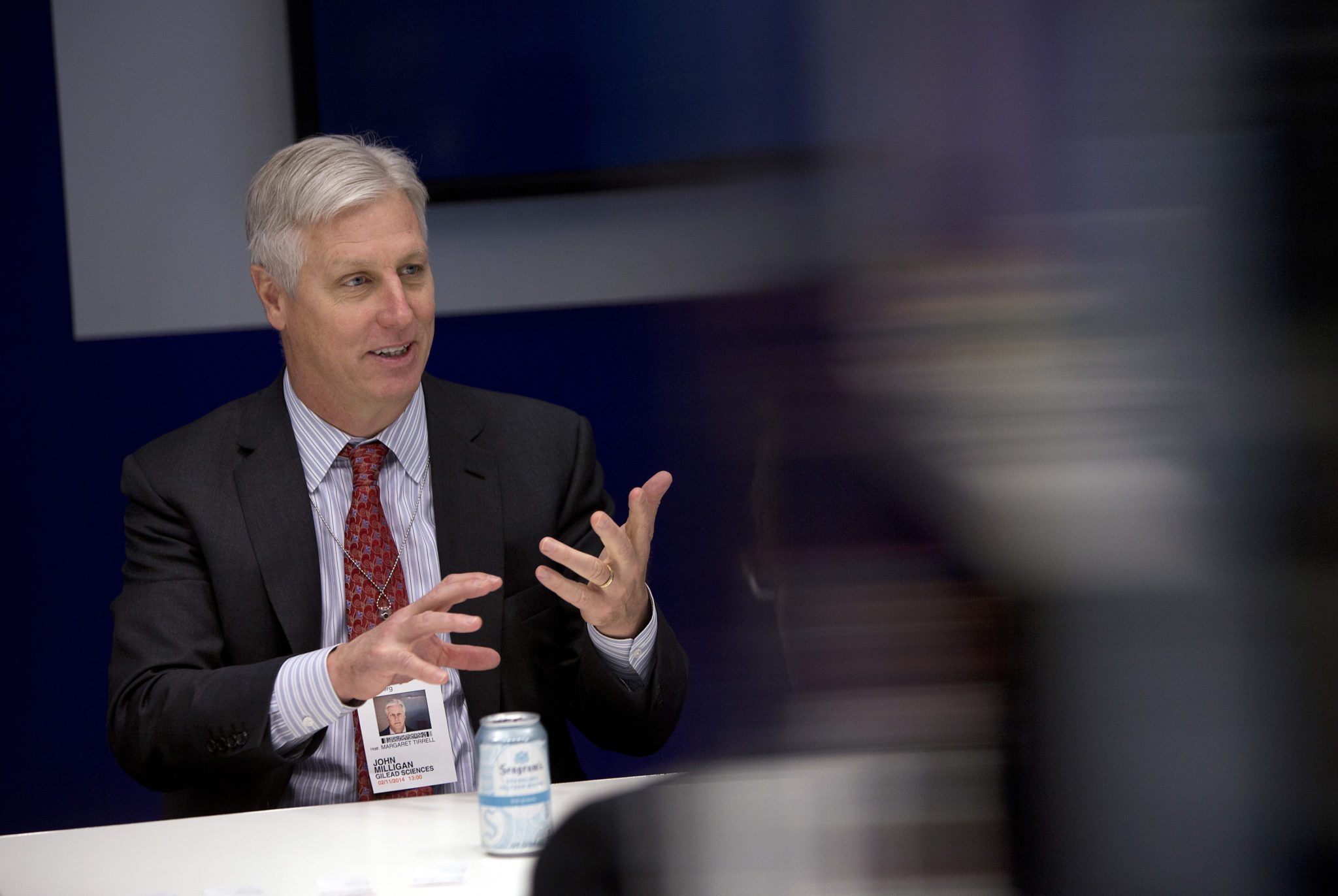 Gilead gets a block­buster boost from an FDA OK of HIV triplet Bik­tarvy — and ri­val GSK fires back
Un­der the gun as an­a­lysts watch the moun­tain of cash gar­nered from its hep C fran­chise melt away, Gilead $GILD got some good news to­day with the FDA's ap­proval of its big triplet for HIV. And their ri­vals at Glax­o­SmithK­line swift­ly re­tal­i­at­ed, fil­ing a fed­er­al law­suit in the US ac­cus­ing Gilead of in­fring­ing on its HIV patents.
Known as BIC/F/TAF in the trade, com­bin­ing the nov­el bicte­gravir with the back­bone com­bi­na­tion of emtric­itabine/teno­fovir alafe­namide in­to a sin­gle dai­ly pill, the FDA not­ed its ap­proval in the record books. And it will re­place a reg­i­men that once re­quired a mul­ti­tude of pills to keep the virus un­der con­trol.
Gilead will call this new oral ther­a­py Bik­tarvy, and the con­sen­sus on peak sales is right at $6 bil­lion a year, mak­ing it one of the biggest drugs in the in­dus­try's pipeline. And not every­one is sat­is­fied that Gilead will top out there. Leerink's Ge­of­frey Porges is all in on a mega suc­cess sto­ry.
We cur­rent­ly fore­cast $1bn of sales for Bik­tarvy dur­ing 2018, which is most­ly in the US giv­en the tim­ing of EU ap­proval. Our long-term fore­cast is for Bik­tarvy to reach glob­al sales of $10bn by 2025 and this is con­sid­er­ably above re­cent con­sen­sus es­ti­mates of $6.1bn.
Some of that mon­ey, of course, will be can­ni­bal­ized out of ex­ist­ing sales at Gilead, but the HIV fran­chise re­mains a big and grow­ing part of the com­pa­ny as it tack­les its new work with Kite on CAR-T.
Gilead faces some ma­jor league com­pe­ti­tion from Glax­o­SmithK­line's HIV unit Vi­iV, which wres­tled an ear­ly ap­proval for their sin­gle pill reg­i­men Ju­lu­ca last No­vem­ber. It sells for $2,579 a month, lead­ing some an­a­lysts to spec­u­late that they could put pres­sure on Gilead's pric­ing, which has yet to be re­vealed. GSK is al­so ex­pect­ed to reap about $5 bil­lion in an­nu­al sales from its ri­val ther­a­py.
Al­most im­me­di­ate­ly, GSK — which is fac­ing painful gener­ic com­pe­ti­tion for Ad­vair — re­spond­ed to the news of the FDA OK Wednes­day af­ter­noon by fil­ing a patent in­fringe­ment suit against Gilead in fed­er­al court. From their state­ment:
Vi­iV Health­care will seek to prove that Gilead Sci­ences Inc's triple com­bi­na­tion HIV drug con­tain­ing the HIV in­te­grase in­hibitor bicte­gravir in­fringes Vi­iV Health­care's patent cov­er­ing Vi­iV Health­care's do­lute­gravir and many oth­er com­pounds that in­clude do­lute­gravir's unique chem­i­cal scaf­fold…. Vi­iV Health­care will … seek fi­nan­cial re­dress for patent in­fringe­ment.
R&D chief Nor­bert Bischof­berg­er not­ed dur­ing the com­pa­ny's Q4 call yes­ter­day that the PDU­FA date for the triplet was set for Feb­ru­ary 12, and this com­pa­ny is primed and ready to roll on the com­mer­cial front. He said:
BIC/FTC/TAF met its pri­ma­ry ob­jec­tive of non-in­fe­ri­or­i­ty at 48 weeks across all four stud­ies and no par­tic­i­pants failed BIC/F/TAF for treat­ment-emer­gent vi­ro­log­i­cal re­sis­tance. Ad­di­tion­al clin­i­cal tri­als of BIC/F/TAF are on­go­ing, in­clud­ing a ded­i­cat­ed study in women as well as a study in ado­les­cents liv­ing with HIV. We plan to present da­ta from these stud­ies at sci­en­tif­ic con­fer­ences in 2018.
---
Im­age: Gilead CEO John Mil­li­gan Bloomberg via Get­ty Im­ages