With piv­otal da­ta on its Covid-19 an­ti­body in hand, As­traZeneca pre­pares for a mad dash to the FDA
A month af­ter re­veal­ing that its mon­o­clon­al an­ti­body com­bi­na­tion was 77% ef­fec­tive at pre­vent­ing symp­to­matic Covid-19 com­pared to place­bo, As­traZeneca says it's head­ed to the FDA.
"We've cer­tain­ly shared the da­ta with reg­u­la­tors, and we an­tic­i­pate sub­mit­ting the emer­gency use au­tho­riza­tion very short­ly," Mark Ess­er, VP and head of mi­cro­bial sci­ences and bio­phar­ma­ceu­ti­cals R&D, said dur­ing a press con­fer­ence on Wednes­day af­ter­noon.
Just eight of 3,460 vol­un­teers giv­en AZD7442 in the Phase III PROVENT tri­al came down with symp­to­matic Covid-19 over a six-month pe­ri­od, Ess­er said, com­pared to 17 of 1,737 peo­ple in the place­bo group.
The study en­rolled par­tic­i­pants across the US, UK, Spain, France and Bel­gium, many of whom had co­mor­bidi­ties or oth­er con­di­tions that would cause a re­duced im­mune re­sponse to vac­ci­na­tion. That in­clud­ed peo­ple on im­muno­sup­pres­sive drugs, or with dis­eases like di­a­betes, smok­ing-re­lat­ed lung dis­ease, kid­ney dis­ease, and chron­ic liv­er dis­ease, among oth­ers.
Over­all, the ther­a­py post­ed a 77% ef­fi­ca­cy rate — a sig­nif­i­cant­ly high­er rate than the 63% ef­fi­ca­cy re­port­ed to the WHO for the com­pa­ny's own Covid-19 vac­cine. At an in­ter­im read­out in March, As­traZeneca had re­port­ed that its vac­cine was 70% ef­fec­tive at pre­vent­ing symp­to­matic Covid-19, which was slight­ly high­er than the 62% fig­ure post­ed in the UK.
There were no se­vere cas­es or deaths in the AZD7442 treat­ment arm, and three se­vere cas­es and two deaths in the place­bo arm, the phar­ma said. Though it's un­clear how the FDA may view the tri­al's rel­a­tive­ly small sam­ple size.
De­spite the pos­i­tive ef­fi­ca­cy re­sults, Ess­er stressed that AZD7442 is in­tend­ed for use on top of vac­ci­na­tion, not in lieu of it.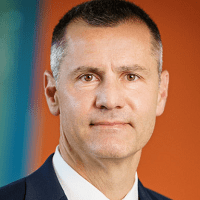 Mark Ess­er
"First and fore­most, we want peo­ple to get vac­ci­nat­ed. We know the vac­cines work in most peo­ple," he said. "Now, if there is some­one who's had an al­ler­gic re­ac­tion to one of the vac­cines, or for some rea­son can­not get vac­ci­nat­ed, I think 7442 could be a so­lu­tion for that."
AZD7442 was dis­cov­ered by the Van­der­bilt Uni­ver­si­ty Med­ical Cen­ter, and li­censed to As­traZeneca last June. It's a com­bi­na­tion of the an­ti­bod­ies tix­agevimab and cil­gav­imab, de­rived from B cells do­nat­ed by a hus­band and wife team who had re­cov­ered from Covid-19. The ben­e­fit of a mon­o­clon­al an­ti­body is that it pro­vides "al­most im­me­di­ate" pro­tec­tion, where­as cur­rent vac­cines ap­proved in the US take a cou­ple weeks to kick in.
The down­side is that the du­ra­tion of pro­tec­tion is much short­er. As­traZeneca says it has tech­nol­o­gy that can ex­tend the an­ti­body's half life from an av­er­age of around 20 days to 90 days.
"What this means is that a sin­gle in­tra­mus­cu­lar shot could eas­i­ly af­ford six months, and we're hope­ful up to 12 months of pro­tec­tion," Ess­er said on the call.
In ad­di­tion to PROVENT, AZD7442 is al­so in the on­go­ing TACK­LE COVID-19 pro­gram, which looks at the an­ti­bod­ies' abil­i­ty to treat and pre­vent Covid across more than 9,000 par­tic­i­pants in the out­pa­tient set­ting. And while vol­un­teers got the can­di­date in­ject­ed in­to the mus­cle in PROVENT, it's al­so be­ing as­sessed as an IV drug.
Back in June, AZD7442 missed the mark in a study as­sess­ing its abil­i­ty to pre­vent symp­toms in adults who had a con­firmed ex­po­sure to Covid-19. As­traZeneca says the an­ti­body com­bo per­formed bet­ter in a pre-planned analy­sis of PCR-neg­a­tive vol­un­teers.
Ess­er says he's "quite con­fi­dent" AZD7442 will work against the Delta vari­ant, as well as oth­er emerg­ing vari­ants, adding that there were few Delta cas­es re­port­ed in the treat­ment arm, and many in the place­bo arm. He said the com­pa­ny is se­quenc­ing the virus­es, and will have more da­ta to share soon.
Hugh Mont­gomery, a pro­fes­sor of med­i­cine and di­rec­tor of the Cen­tre for Hu­man Health and Per­for­mance at Uni­ver­si­ty Col­lege in Lon­don, point­ed to the ben­e­fit of hav­ing two long-act­ing an­ti­bod­ies.
"If one was look­ing at the risk of vi­ral es­cape down the line, the chances of get­ting two mu­ta­tions to pre­vent these an­ti­bod­ies bind­ing would be very, very un­like­ly," Mont­gomery said.
The news comes a month af­ter fed­er­al of­fi­cials reau­tho­rized Eli Lil­ly's an­ti­body com­bo, which had been tak­en off the mar­ket due to a "sus­tained in­crease" of coro­n­avirus vari­ants in the US. That com­bo — bam­lanivimab and ete­se­vimab — is now au­tho­rized in states where the fre­quen­cy of re­sis­tant vari­ants like the Delta-plus or Gam­ma is 5% or low­er.