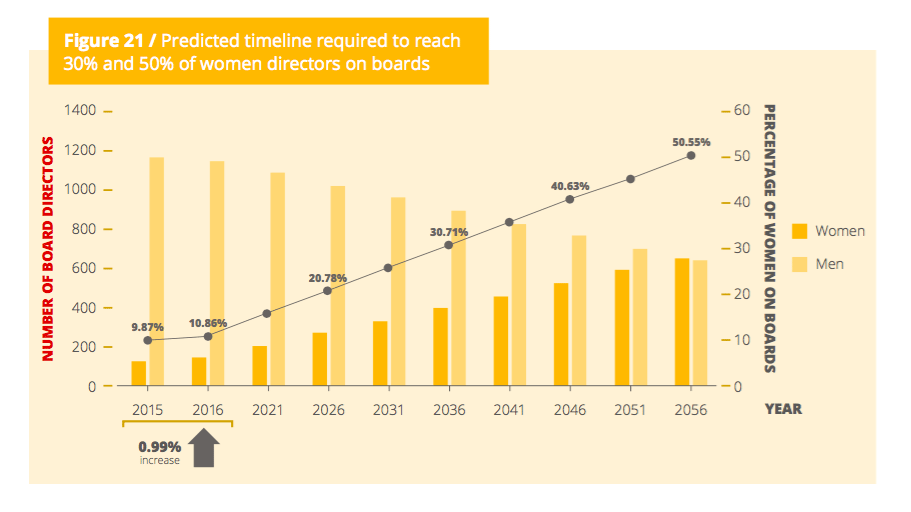 Women are gain­ing more board seats in biotech, but re­al change is hap­pen­ing at a snail's pace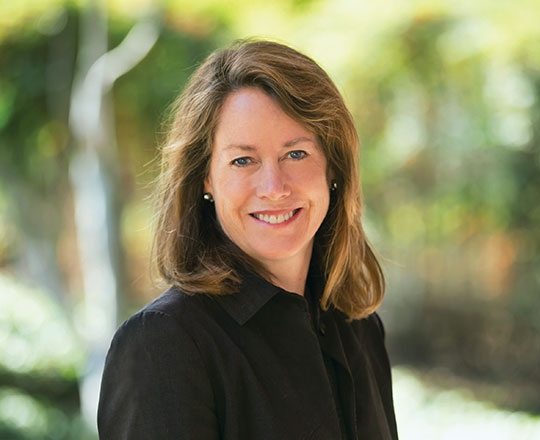 Wende Hut­ton, Can­nan
Source: Lift­stream
The num­ber of women oc­cu­py­ing board seats at 177 biotech com­pa­nies that went pub­lic be­tween 2012 and 2015 ticked up last year. But just bare­ly, with one in 10 board seats oc­cu­pied by a woman. And a new study ex­am­in­ing the progress of see­ing more women on biotech boards con­cludes that we can meet gen­der par­i­ty at this rate — but it won't ar­rive un­til 2056.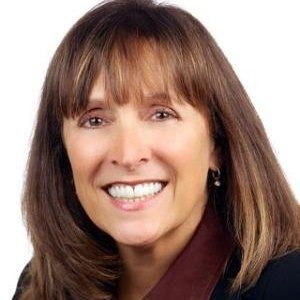 Ab­bie Cel­niker, Third Rock
The study comes from Karl Simp­son, CEO of Lift­stream, an ex­ec­u­tive search firm. Simp­son made waves back in 2014 when he first high­light­ed just how rare it is for a woman to reach the top job in biotech. In this new look, he ex­am­ined the rea­sons for what is still near glacial move­ment on this front, which comes a year af­ter some con­tro­ver­sial par­ties at JP Mor­gan helped bring the is­sue of gen­der di­ver­si­ty to the fore­front.
There was a sil­ver lin­ing in the study. Simp­son says that for the first time, more than half of the com­pa­nies – 57.2% – sur­veyed had at least one woman on the board. But he goes on to note that the women who do wind up on boards are rarely of­fered the most pow­er­ful po­si­tions, in­di­cat­ing that there's a de­gree of to­kenism go­ing on in light of some grow­ing pres­sure to di­ver­si­fy boards.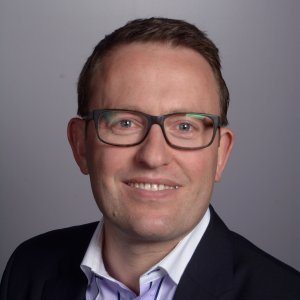 Karl Simp­son, Lift­stream
One of the biggest prob­lems, Simp­son notes, is that the same male-dom­i­nat­ed VC groups that staff pri­vate biotech boards still com­mand a big pres­ence well af­ter an IPO, deny­ing one op­por­tu­ni­ty for find­ing a short­er path to putting more women in key po­si­tions.
Simp­son al­so notes that this isn't some kind of al­tru­is­tic ex­er­cise on his part. Com­pa­nies with more di­ver­si­fied boards have a well-doc­u­ment­ed his­to­ry of do­ing bet­ter on the num­bers, with bet­ter re­cruit­ment ef­forts and cred­it for high­er per­for­mance lev­els, which he un­der­scored by find­ing that the biotechs with women on their boards ac­tu­al­ly saw their stock per­form bet­ter than shares be­long to their all-male coun­ter­parts in the in­dus­try.
I talked to Simp­son and two promi­nent VCs, Wende Hut­ton at Canaan and Ab­bie Cel­niker, who re­cent­ly be­came the first woman to be named an in­vest­ing part­ner at Third Rock af­ter wrap­ping up her stint as CEO of Eleven. Here are some ex­cerpts of our con­ver­sa­tion:
Karl Simp­son: There is ob­vi­ous­ly a strong re­liance on ven­ture cap­i­tal to fund the sec­tor and that's in­escapable. Prob­lem be­ing is that the ven­ture cap­i­tal com­mu­ni­ty is not a par­tic­u­lar­ly di­verse com­mu­ni­ty in it­self. And to re­ly on them to be more pro­gres­sive in their di­ver­si­fi­ca­tion — to get di­ver­si­fi­ca­tion on­to the boards of the port­fo­lio com­pa­nies — presents a par­tic­u­lar is­sue be­cause clear­ly they're not nec­es­sar­i­ly go­ing to di­ver­si­fy as quick­ly as we would like to hap­pen. The re­port def­i­nite­ly sug­gests there is an is­sue with VCs. So un­less we can di­ver­si­fy the VCs, we're go­ing to have to find oth­er, more cre­ative ap­proach­es to di­ver­si­fy the com­pa­nies that those VCs are in­vest­ed in. Giv­en that many of them, or most of them, are pri­vate or­ga­ni­za­tions, they're al­so sort of the breed­ing ground for di­rec­tors to grow their ca­pa­bil­i­ties, their skills and en­rich the pool of di­rec­tor tal­ent.
We need to find ways in which we can get more peo­ple on­to the boards of these pri­vate com­pa­nies ir­re­spec­tive of the fact that VCs are heav­i­ly dom­i­nat­ing those boards. So there's def­i­nite­ly one sys­temic chal­lenge.
An­oth­er sys­temic chal­lenge is the over-re­liance on per­son­al and pro­fes­sion­al net­works to ap­point di­rec­tors. I al­so be­lieve there's a lack of true un­der­stand­ing, clar­i­ty about what ex­pe­ri­ence, qual­i­ties, and qual­i­fi­ca­tions are need­ed on boards as or­ga­ni­za­tions evolve from the ear­ly stage to more ma­ture pub­lic en­ti­ties. I think a bet­ter un­der­stand­ing would bring bet­ter pre­dictabil­i­ty in­to the types of di­rec­tors you need to ap­point, and the skills and com­pe­ten­cies those peo­ple must dis­play, which would help us be bet­ter at plan­ning who to ap­point, when to ap­point, and where to find those peo­ple.
Wende Hut­ton: We have to step back and look at two ma­jor in­flec­tion points of how to get the num­ber of women on a board up in this ecosys­tem. The first is the time of fund­ing — and that might be a very close­ly held board of 5 to 7 mem­bers very much dri­ven by the ven­ture in­vestors and the spon­sors from the ven­ture firms sit­ting on the board. Some ad­di­tion­al mem­bers of the board are typ­i­cal­ly added who are in­de­pen­dents, and that's an op­por­tu­ni­ty to change the com­plex­ion of a pri­vate board. We have to bring more di­ver­si­ty in­to the ven­ture in­vestors, and who's spon­sor­ing deals and who steps on­to those boards, from day one to change that first point of in­flec­tion. We can do some of that through who we re­cruit as in­de­pen­dent num­bers.
The sec­ond point of in­flec­tion is cer­tain­ly re­set­ting the ta­ble at the time of the IPO and how board mem­bers are go­ing to evolve on and off the board. What I like about this re­port is it re­al­ly shines a bright light on a num­ber is­sues where there could be op­por­tu­ni­ties. There are things like an over-re­liance on both the pri­vate boards and the new­ly pub­lic boards on CEOs re­cruit­ing oth­er CEOs to sit on their boards. By de­f­i­n­i­tion, when you look at the sta­tis­tics that Karl point­ed out, if you're re­ly­ing on CEOs in the in­dus­try of that kind of stature, you can eas­i­ly fall back in­to that ar­gu­ment: Is the pool even there?
If you take broad­er look and say di­ver­si­ty is ex­treme­ly im­por­tant for per­for­mance — it's im­por­tant for re­cruit­ing the best peo­ple. It's im­por­tant for de­ci­sion mak­ing. It's im­por­tant to broad­en net­works for com­pa­ny to grow and do deals. If you take that broad­er view and say, 'wow, that CEO bud­dy I sat on his board now I'm go­ing to have him sit on my board,' and you toss that out the win­dow and say 'we're go­ing to look more broad­ly with pur­pose for di­ver­si­ty on the board,' I think there are rea­sons we can ac­cel­er­ate this pro­gres­sion. There are some ba­sic prob­lems that we have to break through.
Ab­bie Cel­niker: Lis­ten­ing to Wende, some­thing that oc­curred to me and some­thing we've all ex­pe­ri­enced as CEOs, is a lot times we get asked whether we are com­fort­able with some­body com­ing on as a board ob­serv­er. Even though you know the in­vestors who are stand­ing the deal are go­ing to be more like­ly to be men as a re­sult of just how the VC in­dus­try has been staffed, there may be some am­ple op­por­tu­ni­ty for firm board ob­servers to be named and to come on­to those boards ear­li­er such that when the ma­jor in­vestors are ready to step back or step off, they know that they still have firm rep­re­sen­ta­tion. Some­body who has been men­tored dur­ing ac­tive board ses­sions could take a lead role, and there could be some very in­ten­tion­al sub­sti­tu­tion even pre-IPO.
It just oc­curred to me that board ob­servers are of­ten learn­ing op­por­tu­ni­ties for folks who are com­ing in­to ven­ture but you could al­so be nam­ing board ob­servers who may not be nec­es­sar­i­ly part of a firm. That's one thing that oc­curred to me as I was putting that equa­tion to­geth­er.
The oth­er thing that oc­curs to me is that what Wende is say­ing is when you con­sid­er the di­ver­si­ty of a board and you con­sid­er even the in­de­pen­dents that are usu­al­ly brought through net­work­ing. We're al­ways look­ing with­in our same in­dus­try. There are some very tal­ent­ed peo­ple who are in sis­ter in­dus­tries who are in­ter­est­ing (or what you call ad­ja­cent in­dus­tries). There are some very tal­ent­ed peo­ple that we may be able to broad­en our hori­zons a lit­tle bit, and maybe we pull from those pools to find more women who could step on to bring what we're look­ing for. I think there is your ques­tion, 'was I sur­prised?' Sure, but I'm al­so one that just im­me­di­ate­ly jumps to what are some so­lu­tions. I think that there are some re­al­ly pret­ty sim­ple ones that we can start to think about as a re­sult of the sim­plic­i­ty of the prob­lem.
Wende Hut­ton: All male ven­ture cap­i­tal firms now are out ac­tive­ly try­ing to bring in their first fe­male in­vest­ment pro­fes­sion­al. When you start to bring in that di­ver­si­ty, you re­cruit the tal­ent. We have not low­ered our bar in any way shape or form. We have out­stand­ing ju­nior peo­ple we've brought on the team. When peo­ple start to make that move, they see their hori­zons broad­en, their tal­ent pool broad­ens, their re­cruit­ing prospects broad­en. We don't give our­selves a hall pass at all in per­for­mance. We'll put our num­bers up against any firm in the ven­ture world.
I think that re­al­iza­tion is start­ing to dawn on the ven­ture com­mu­ni­ty. They're al­so get­ting pres­sure from their lim­it­ed part­ners. Most of our lim­it­ed part­ners are from state pen­sion funds, and funds of funds, which have a much high­er per­cent­age of se­nior women in the in­vest­ment pro­fes­sion­als side of mon­ey man­age­ment. They're ranked and rat­ed on di­ver­si­ty, and back­ing di­verse pri­vate eq­ui­ty funds. They're get­ting some pres­sure from that stand­point as well.
Ab­bie Cel­niker: Mass­Bio has made it a re­al fo­cal point. By virtue of that, I think all of the com­pa­nies and VC firms in the Boston area have sort of been ral­lied and asked to lit­er­al­ly sign up to do some­thing proac­tive. I am hear­ing and see­ing a lot more about it.
(Third Rock co-founder) Mark Levin came up to me the oth­er day and said he was talk­ing to the head of HR that's done one of these proac­tive board readi­ness pro­grams for their ex­ec­u­tives and won­dered what we could be do­ing dif­fer­ent­ly for some of our ex­ecs with­in our port. I think that there is a lot of con­ver­sa­tion go­ing on about it.
Karl Simp­son: One of the things that this re­port pulls out is we see ev­i­dence of women join­ing boards. There are less com­pa­nies with all-male boards than there has been when we pre­vi­ous­ly stud­ied them. But women that are be­ing ap­point­ed to boards, they're not nec­es­sar­i­ly be­ing ap­point­ed to po­si­tions of pow­er on that board. So the chair, the CEO, chair­ing the com­mit­tees, their abil­i­ty to in­flu­ence, and that sug­gest per­haps a de­gree of to­kenism, a lack of in­clu­sive­ness. It's re­al­ly that cul­tur­al shift that has to take place. It's not just about chang­ing the num­bers, it's chang­ing the cul­ture so that women have a voice in the op­er­a­tional man­age­ment of the com­pa­ny if they're part of the ex­ec­u­tive team. If they're on the board, then ob­vi­ous­ly the board is think­ing about the strate­gic di­rec­tion of the com­pa­ny. That's re­al­ly an im­por­tant dis­tinc­tion to make.
John Car­roll: I'd like to wrap this up with one ques­tion. Based on what you know and based on the fig­ures that Karl put to­geth­er, it would take 40 years to reach gen­der par­i­ty in biotech, what are your own per­son­al guess­es? In terms of how long it's go­ing to take be­fore we see re­al gen­der par­i­ty in biotech com­pa­nies? Wende you want to start?
Wendy Hut­ton: Well with the crop of MDs and PhDs in the pipeline, my hope is we can eas­i­ly half that num­ber if we work at it. I'd love to see much more progress in the next 10 years on a more ac­cel­er­at­ed ex­po­nen­tial ba­sis.
John Car­roll: Ab­bie how about you?
Ab­bie Cel­niker: Yeah, I have to agree with Wende. I think that we're go­ing to see a lot of progress soon­er than 40 years. As far as hit­ting par­i­ty, I think that it's just go­ing to take a lit­tle bit longer. With a lot of work and ef­fort, you're prob­a­bly go­ing to get to a plateau of where you're start­ing to see the right bal­ance with­in prob­a­bly about 20 years. I'd go with Wende on the 10 years to see sub­stan­tial change and not go­ing to see par­i­ty be­fore 20.
John Car­roll: Okay, Karl, what do you think about that?
Karl Simp­son: You're go­ing to have more role mod­els, which will in­spire more women to have that kind of as­pi­ra­tion. I think it will ac­cel­er­ate the pace of change, but I would say par­i­ty is still 25 years away.