A snap­shot of up­beat PhII NASH da­ta — from a very small tri­al — trig­gers a fren­zy for Viking's stock
Viking Ther­a­peu­tics $VK­TX has proven once again that noth­ing whips up biotech in­vestors like pos­i­tive Phase II num­bers for NASH.
The San Diego-based biotech's shares rock­et­ed up more than 100% Tues­day morn­ing on Viking's boast that VK2809 slashed liv­er fat con­tent — a bio­mark­er for the dis­ease — while de­liv­er­ing a drop of 20% or more in LDL in the mid-stage study.
Jef­feries' Michael Yee looked it over and boiled the da­ta down to this: "57-60% me­di­an rel­a­tive change in liv­er fat by MRI-PDFF in­clud­ing a 77-91% re­spon­der rate on >30% fat re­duc­tion hur­dle; and they looked at 'su­per' re­spon­ders of >50% fat re­duc­tion of which was 61-73% re­sponse rate….while cross-tri­al in non-iden­ti­cal pop­u­la­tions, MDGL was a bit low­er at 36-42% me­di­an rel­a­tive change and 60-75% achiev­ing the >30% re­duc­tion thresh­old. (2) LDL-cho­les­terol re­duc­tion was 'greater than 20%' and in the ball­park of MDGL al­so 19-21% on an op­ti­mal dose of MGL-3196."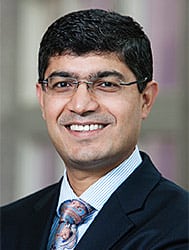 Ro­hit Loom­ba
That looks good rel­a­tive to the pack chas­ing a big ap­proval for NASH, a block­buster sized mar­ket, notes Yee. But he al­so ad­vis­es a lit­tle cau­tion be­fore the street los­es its head. The caveats: This is a 45-per­son Phase II, of­fer­ing lit­tle more than a snap­shot of the da­ta to come. Yee adds that he be­lieves that the biotech will need to run an­oth­er Phase II be­fore they move in­to a late-stage piv­otal, and that puts any po­ten­tial mar­ket­ing de­ci­sion years down the road.
He not­ed: "(D)ata is still ear­ly vs peers and has lim­it­ed safe­ty in­fo and will re­quire an­oth­er big­ger Phase II biop­sy study like­ly be­fore start­ing any Phase III."
Viking, though, was stay­ing strict­ly op­ti­mistic about its chances.
"Pre­vi­ous stud­ies by our group have shown that a 30% or greater re­duc­tion in MRI-PDFF is as­so­ci­at­ed with high­er odds of his­to­log­ic re­sponse in NASH. The quan­tum of liv­er fat re­duc­tion along with LDL-low­er­ing prop­er­ties of VK2809 are po­ten­tial­ly like­ly to be ben­e­fi­cial in pa­tients with non-al­co­holic steato­hep­ati­tis (NASH) who have a sig­nif­i­cant risk of not on­ly liv­er fi­bro­sis pro­gres­sion but al­so car­dio­vas­cu­lar dis­ease," stat­ed Ro­hit Loom­ba, a pro­fes­sor at Uni­ver­si­ty of Cal­i­for­nia at San Diego.