#AACR: Bris­tol-My­ers tunes out sta­t­ic, broad­casts im­pres­sive re­sults for Op­di­vo/Yer­voy lung can­cer com­bo
CHICA­GO — Bris­tol-My­ers Squibb $BMY ran smack dab in­to a high lev­el of pro­fes­sion­al sta­t­ic when it changed up its study de­sign for Check­mate-227, a piv­otal test for Op­di­vo plus Yer­voy in treat­ing new cas­es of non-small cell lung can­cer. But they've ar­rived at AACR with da­ta they say spell out a com­pelling case for their PD-1/CT­LA-4 com­bo.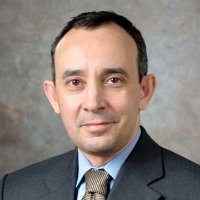 Fouad Namouni
"The da­ta we re­port here are ex­cit­ing," says Fouad Namouni, the on­col­o­gy de­vel­op­ment chief at Bris­tol-My­ers, "with an im­por­tant lev­el of ac­tiv­i­ty."
Their drug re­duced the risk of pro­gres­sion or death by 42% with a haz­ard ra­tio of 0.58.
At the one-year mark, Namouni told me in a pre­view of to­day's re­lease, the pro­gres­sion-free sur­vival rate in the com­bo arm was 43%, com­pared to on­ly 13% in the con­trol arm. And that's re­gard­less of PD-L1 ex­pres­sion sta­tus and his­tol­ogy, with no changes for squa­mous or non­squa­mous cas­es.
Re­searchers in­volved in the study ripped up the orig­i­nal tri­al de­sign, mesh­ing da­ta to­geth­er and claim­ing a suc­cess against a nov­el goal for pa­tients with a "high tu­mor mu­ta­tion bur­den." And they went their own way on defin­ing the TMB so that it in­clud­ed close to half of all pa­tients in the pop­u­la­tion, rather than the more min­i­mal sub­group tracked by the test mak­er Foun­da­tion Med­i­cine, which us­es a bar that is set twice as high to clas­si­fy pa­tients.
Clear­ly, Namouni says, this marks a big ad­vance for pa­tients — to say noth­ing about their in­tense ri­val­ry with Mer­ck. And he adds that it makes sense.
"A high tu­mor mu­ta­tion bur­den is a sur­ro­gate for neo-anti­gens," he adds, which makes the tu­mor more vis­i­ble to the im­mune sys­tem, and in turn makes it more like­ly to be re­spon­sive to a PD-1/L1 check­point.
Their work here, says Namouni, in­volves deep­en­ing the field's un­der­stand­ing of the bi­ol­o­gy of lung can­cer.
They've al­so got ev­i­dence to back up their po­si­tion that 10 mu­ta­tions/megabase is the right in­flec­tion point, rather than mov­ing the scale up even as high as 15. The Foun­da­tion test sets the mark at 20.
For some ri­vals, that kind of as­ser­tion looks like a boast that can't be proven at this ear­ly stage of the game. But in a chat with As­traZeneca's David Berman, their chief of I/O pro­grams, he agreed that their own work backed up the stan­dard used by Bris­tol-My­ers — not­ing that in lung can­cer specif­i­cal­ly 10 mu­ta­tions/megabase marked the right cut­off for the as­say on high TMB. Every can­cer type is dif­fer­ent, he adds, and they've been care­ful­ly study­ing this them­selves in their work on dur­val­um­ab in lung can­cer.
There are oth­er prob­lems that are pre­sent­ed by us­ing the test, though. One is that it cur­rent­ly takes about 2 weeks to get back re­sults on the tu­mor mu­ta­tion bur­den, and some crit­ics say pa­tients and doc­tors may not want to de­lay ther­a­py to run the test. But Bris­tol-My­ers' Namouni says that that is with­in the usu­al con­sul­ta­tion time it takes to de­cide on ther­a­py — adding that what takes 2 weeks now could be quick­ly sliced back to a cou­ple of days with the prop­er fo­cus.
Bris­tol-My­ers' ap­proach may con­tin­ue to raise hack­les among some ob­servers — but this is a high­ly re­spect­ed R&D or­ga­ni­za­tion that is de­ter­mined to re­main a leader in lung can­cer, come what may or might at Mer­ck or any of its oth­er ri­vals.
Namouni says they've been in con­ver­sa­tions with reg­u­la­to­ry groups about the da­ta, but he isn't of­fer­ing any time­lines on fil­ings.