Af­ter bil­lion-dol­lar drug deal, pa­tient death and tri­al hold crip­ple Mer­sana's shares
Just two years af­ter ink­ing a bil­lion-dol­lar deal on its lead drug, Mer­sana's can­cer pro­gram has been put on a par­tial clin­i­cal hold by the FDA due to a pa­tient death.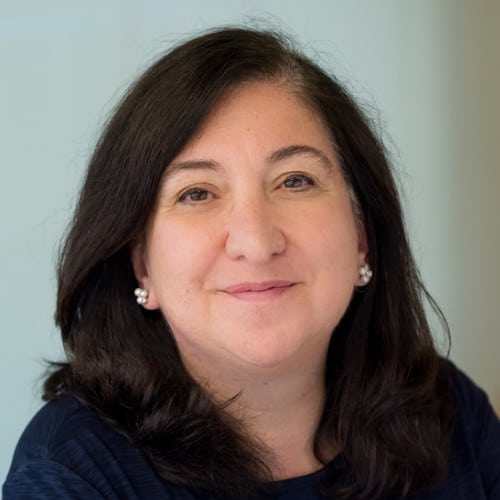 An­na Pro­topa­pas
The Cam­bridge, MA biotech re­port­ed Thurs­day that the pa­tient death could be re­lat­ed to its drug XMT-1522. Un­der the hold, Mer­sana $MRSN can't en­roll new pa­tients in the Phase I tri­al, which is test­ing the drug against breast, gas­tric, and non-small cell lung can­cers. Pa­tients al­ready in the study, how­ev­er, will con­tin­ue tak­ing XMT-1522.
The biotech — helmed by the high pro­file biotech vet and for­mer Mil­len­ni­um chief An­na Pro­topa­pas — has been boast­ing a new and dif­fer­ent kind of link­er tech that is de­signed to cre­ate new clus­ter bombs that can be aimed at can­cer. Cur­rent an­ti­body-drug con­ju­gates — or armed an­ti­bod­ies — can be lim­it­ed to just a few ther­a­pies. Mer­sana be­lieves it can link up with 12 to 15, cre­at­ing AD­Cs to go af­ter dis­eases that are cur­rent­ly be­yond the reach.
Back in 2016, Take­da swooped in with a $1 bil­lion deal to grab rights for XMT-1522 in ex-US ter­ri­to­ries. And just last year, the com­pa­ny went pub­lic on the promise of its pipeline. In the face of the clin­i­cal hold, how­ev­er, in­vestors are run­ning. Mer­sana's stock is down 43% — and count­ing — in pre-mar­ket trad­ing. In a state­ment, CEO Pro­topa­pas says there's hope yet.
"Pa­tient safe­ty is our ut­most con­cern," Pro­topa­pas said. "Based on the to­tal­i­ty of the da­ta we have for XMT-1522, we be­lieve that it con­tin­ues to be a promis­ing drug can­di­date in the sol­id tu­mor set­ting and we will be ini­ti­at­ing the prop­er steps with the ob­jec­tive of re­sum­ing en­roll­ment."
The par­tial clin­i­cal hold does not af­fect the on­go­ing clin­i­cal de­vel­op­ment of Mer­sana's oth­er prod­uct can­di­date XMT-1536, cur­rent­ly in Phase 1 clin­i­cal tri­als for NaPi2b-ex­press­ing can­cers.