Alnylam investors $ALNY can now start breathing again.
The big Cambridge, MA-based biotech says that their Phase III study of patisiran — partnered with Sanofi — scored a positive hit for the primary as well as all secondary endpoints in treating rare cases of hereditary ATTR amyloidosis with polyneuropathy.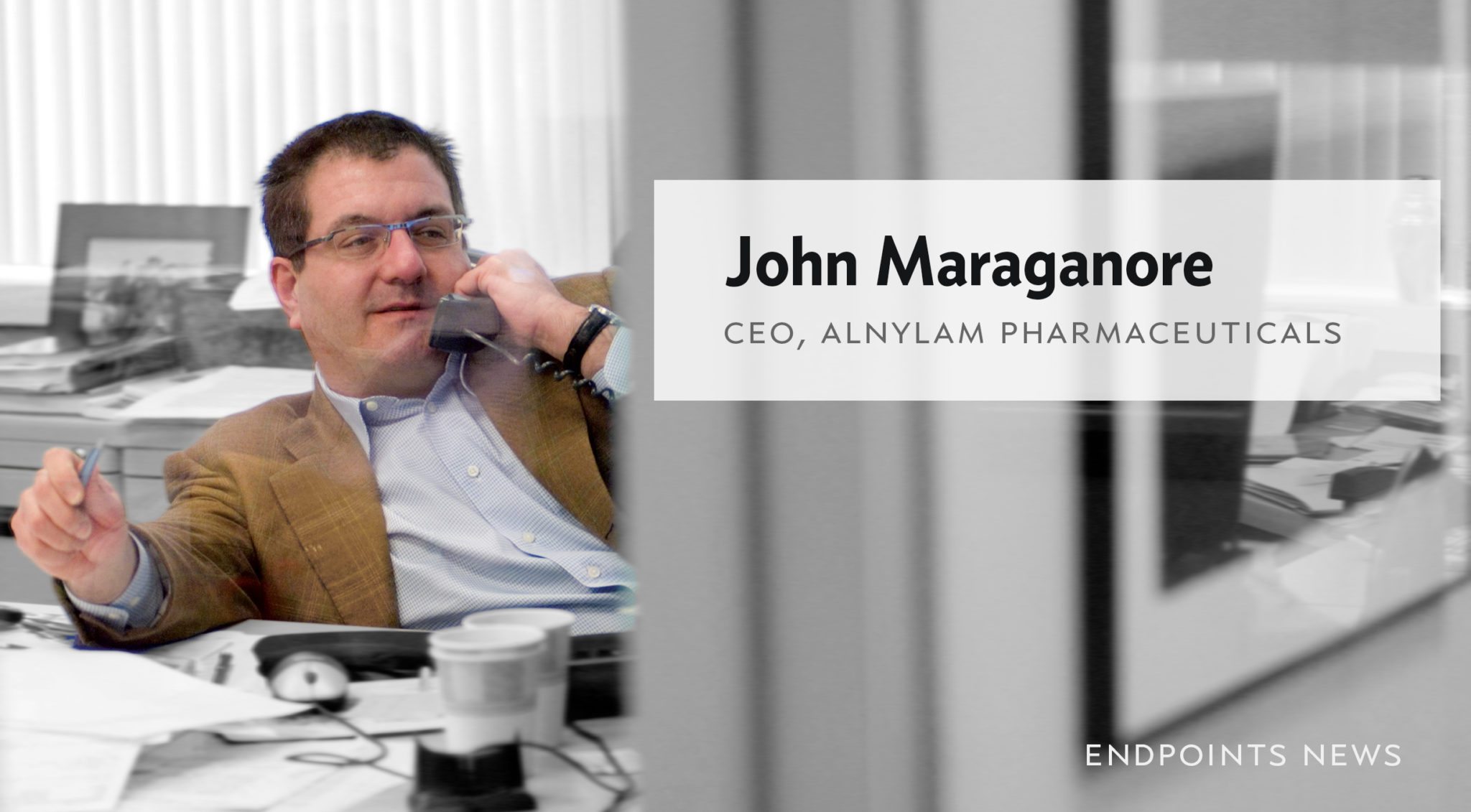 ---
The score sets up Alnylam's first new drug application with the FDA before the end of this year with a European filing following soon after, while Sanofi gears up for a slate of applications around the globe.
Shares of Alnylam shot up more than 20% in pre-market trading Wednesday, as the company added to a market cap that started today at just under $7 billion. But it didn't stop there, with shares up 32% in early trading as excitement about the news spread fast. By mid-afternoon, the stock was up 49%, worth more than $3 billion in market cap.
Alnylam's gung-ho CEO John Maraganore, who has steered the company through calm seas and maelstroms for more than a decade as he pioneered one of the biggest RNA ventures in the industry, was clearly beaming as the industry eagerly pounced on the news of the first positive Phase III study for an RNAi drug. He said:
This moment is the culmination of a 15-year journey of tireless work by countless contributors who have overcome enormous scientific and business challenges to make RNAi therapeutics a reality.
Sanofi, which bet big on Alnylam when it invested $700 million into the company more than three years ago, also cheered the results.
The success for patisiran comes after some big clinical setbacks for Alnylam, which has been dogged for years over the safety issues raised by RNAi therapies. About 8 years ago big pharma largely bailed on RNAi, disturbed by the development challenges and the time it would take to deliver major new therapies. But Maraganore never flinched, insisting throughout that his company could deliver on its pipeline promises.
All we know right now is what the top line results are.
The primary endpoint for the study was the change from baseline in the modified neuropathy impairment score, where researchers registered a statistically significant result. Patients on patisiran also scored an improvement in their quality of life. And there were hits on all 5 secondaries:
NIS-W, the subdomain of mNIS+7 assessing muscle strength;

Rasch-built Overall Disability Scale (R-ODS), a patient reported outcome measure of daily living and disability;

10-meter walk test, assessing gait speed;

Modified body mass index (mBMI), assessing nutritional status; and

COMPASS-31, a questionnaire to assess autonomic symptoms.
In addition, while details are lacking, the safety profile looked good. Patients in both groups experienced adverse events, but the drug arm compared favorably with what we know about the placebo group. Paul Matteis at Leerink noted:
In the wake of the recent fitusiran setback – and also the discontinuation of revusiran last fall – the positive patisiran result with seemingly clean safety is likely to improve sentiment significantly. Specifically, the mortality rate in the patisiran arm (4.7%) was lower than that seen on placebo (7.8%); given the small N it's debatable whether or not this constitutes a true improvement, but in any case it's very encouraging with respect to RNAi safety. Ironically, more recent setbacks for ALNY (revusiran and then fitusiran) have come from next-gen RNAi compounds that do not utilize the older, lipidnanoparticle technology, which is the case for patisiran. But even despite this difference, we expect the result this morning to read positively on the platform and technology overall.
But it won't help Ionis, which has a competing therapy. That drug is now being considered an also ran against Alnylam's therapy, with some analysts expecting patisiran to claim an 80% market share. Ionis stock $IONS plunged 10% this morning.
Maraganore, this year's BIO chairman, is one of the most familiar figures in the biotech world. And he had plenty of support today from the cheering section on Twitter.
Whew. +'ve Patisiran Ph3 data for $ALNY feel like an extra-inning Game 7 World Series win. And the drug is not even approved! @JohnCendpts

— Steven Dickman (@cbtadvisors) September 20, 2017
"This is a significant milestone that supports our belief that RNAi therapeutics have the potential to become an innovative new class of medicines for patients with rare genetic diseases," said Elias Zerhouni, the president of R&D at Sanofi. "The APOLLO data suggest that patisiran could help improve the lives of people living with hATTR amyloidosis with polyneuropathy, a patient population in urgent need of additional treatment options. We look forward to working with Alnylam to make patisiran available around the globe as quickly as possible."
Proud day! Validation of 15 years of scientific endeavor! 1st ever positive Ph3 results for #RNAi therapeutic. https://t.co/7fXlQFIebV

— John Maraganore (@JMaraganore) September 20, 2017
---
The best place to read
Endpoints News

? In your inbox.

Comprehensive daily news report for those who discover, develop, and market drugs. Join 51,300+ biopharma pros who read Endpoints News by email every day.

Free Subscription
---
---
---