Al­ny­lam achieves break­through RNAi suc­cess as PhI­II patisir­an study hits all goals, shares soar
Al­ny­lam in­vestors $AL­NY can now start breath­ing again.
The big Cam­bridge, MA-based biotech says that their Phase III study of patisir­an — part­nered with Sanofi — scored a pos­i­tive hit for the pri­ma­ry as well as all sec­ondary end­points in treat­ing rare cas­es of hered­i­tary AT­TR amy­loi­do­sis with polyneu­ropa­thy.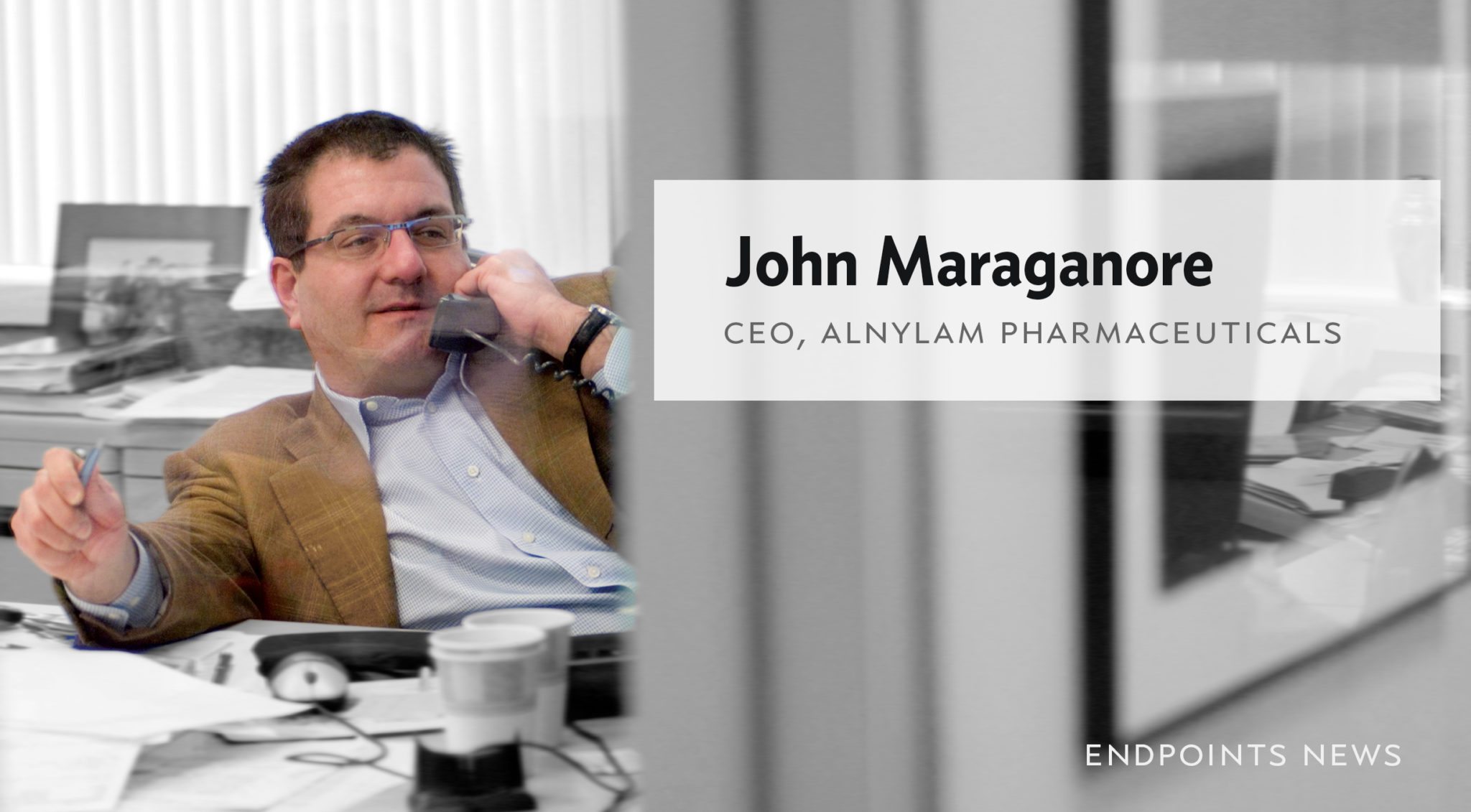 ---
The score sets up Al­ny­lam's first new drug ap­pli­ca­tion with the FDA be­fore the end of this year with a Eu­ro­pean fil­ing fol­low­ing soon af­ter, while Sanofi gears up for a slate of ap­pli­ca­tions around the globe.
Shares of Al­ny­lam shot up more than 20% in pre-mar­ket trad­ing Wednes­day, as the com­pa­ny added to a mar­ket cap that start­ed to­day at just un­der $7 bil­lion. But it didn't stop there, with shares up 32% in ear­ly trad­ing as ex­cite­ment about the news spread fast. By mid-af­ter­noon, the stock was up 49%, worth more than $3 bil­lion in mar­ket cap.
Al­ny­lam's gung-ho CEO John Maraganore, who has steered the com­pa­ny through calm seas and mael­stroms for more than a decade as he pi­o­neered one of the biggest RNA ven­tures in the in­dus­try, was clear­ly beam­ing as the in­dus­try ea­ger­ly pounced on the news of the first pos­i­tive Phase III study for an RNAi drug. He said:
This mo­ment is the cul­mi­na­tion of a 15-year jour­ney of tire­less work by count­less con­trib­u­tors who have over­come enor­mous sci­en­tif­ic and busi­ness chal­lenges to make RNAi ther­a­peu­tics a re­al­i­ty.
Sanofi, which bet big on Al­ny­lam when it in­vest­ed $700 mil­lion in­to the com­pa­ny more than three years ago, al­so cheered the re­sults.
The suc­cess for patisir­an comes af­ter some big clin­i­cal set­backs for Al­ny­lam, which has been dogged for years over the safe­ty is­sues raised by RNAi ther­a­pies. About 8 years ago big phar­ma large­ly bailed on RNAi, dis­turbed by the de­vel­op­ment chal­lenges and the time it would take to de­liv­er ma­jor new ther­a­pies. But Maraganore nev­er flinched, in­sist­ing through­out that his com­pa­ny could de­liv­er on its pipeline promis­es.
All we know right now is what the top line re­sults are.
The pri­ma­ry end­point for the study was the change from base­line in the mod­i­fied neu­ropa­thy im­pair­ment score, where re­searchers reg­is­tered a sta­tis­ti­cal­ly sig­nif­i­cant re­sult. Pa­tients on patisir­an al­so scored an im­prove­ment in their qual­i­ty of life. And there were hits on all 5 sec­on­daries:
NIS-W, the sub­do­main of mNIS+7 as­sess­ing mus­cle strength;

Rasch-built Over­all Dis­abil­i­ty Scale (R-ODS), a pa­tient re­port­ed out­come mea­sure of dai­ly liv­ing and dis­abil­i­ty;

10-me­ter walk test, as­sess­ing gait speed;

Mod­i­fied body mass in­dex (mB­MI), as­sess­ing nu­tri­tion­al sta­tus; and

COM­PASS-31, a ques­tion­naire to as­sess au­to­nom­ic symp­toms.
In ad­di­tion, while de­tails are lack­ing, the safe­ty pro­file looked good. Pa­tients in both groups ex­pe­ri­enced ad­verse events, but the drug arm com­pared fa­vor­ably with what we know about the place­bo group. Paul Mat­teis at Leerink not­ed:
In the wake of the re­cent fi­tusir­an set­back – and al­so the dis­con­tin­u­a­tion of re­vusir­an last fall – the pos­i­tive patisir­an re­sult with seem­ing­ly clean safe­ty is like­ly to im­prove sen­ti­ment sig­nif­i­cant­ly. Specif­i­cal­ly, the mor­tal­i­ty rate in the patisir­an arm (4.7%) was low­er than that seen on place­bo (7.8%); giv­en the small N it's de­bat­able whether or not this con­sti­tutes a true im­prove­ment, but in any case it's very en­cour­ag­ing with re­spect to RNAi safe­ty. Iron­i­cal­ly, more re­cent set­backs for AL­NY (re­vusir­an and then fi­tusir­an) have come from next-gen RNAi com­pounds that do not uti­lize the old­er, lipid­nanopar­ti­cle tech­nol­o­gy, which is the case for patisir­an. But even de­spite this dif­fer­ence, we ex­pect the re­sult this morn­ing to read pos­i­tive­ly on the plat­form and tech­nol­o­gy over­all.
But it won't help Io­n­is, which has a com­pet­ing ther­a­py. That drug is now be­ing con­sid­ered an al­so ran against Al­ny­lam's ther­a­py, with some an­a­lysts ex­pect­ing patisir­an to claim an 80% mar­ket share. Io­n­is stock $IONS plunged 10% this morn­ing.
Maraganore, this year's BIO chair­man, is one of the most fa­mil­iar fig­ures in the biotech world. And he had plen­ty of sup­port to­day from the cheer­ing sec­tion on Twit­ter.
Whew. +'ve Patisir­an Ph3 da­ta for $AL­NY feel like an ex­tra-in­ning Game 7 World Se­ries win. And the drug is not even ap­proved! @John­Cendpts

— Steven Dick­man (@cb­tad­vi­sors) Sep­tem­ber 20, 2017
"This is a sig­nif­i­cant mile­stone that sup­ports our be­lief that RNAi ther­a­peu­tics have the po­ten­tial to be­come an in­no­v­a­tive new class of med­i­cines for pa­tients with rare ge­net­ic dis­eases," said Elias Zer­houni, the pres­i­dent of R&D at Sanofi. "The APOL­LO da­ta sug­gest that patisir­an could help im­prove the lives of peo­ple liv­ing with hAT­TR amy­loi­do­sis with polyneu­ropa­thy, a pa­tient pop­u­la­tion in ur­gent need of ad­di­tion­al treat­ment op­tions. We look for­ward to work­ing with Al­ny­lam to make patisir­an avail­able around the globe as quick­ly as pos­si­ble."
Proud day! Val­i­da­tion of 15 years of sci­en­tif­ic en­deav­or! 1st ever pos­i­tive Ph3 re­sults for #RNAi ther­a­peu­tic. https://t.co/7fXlQ­FIebV

— John Maraganore (@JMaraganore) Sep­tem­ber 20, 2017