Armed with promis­ing alope­cia PhII, Con­cert edges for­ward with mod­i­fied JAK in­hibitor — but safe­ty will still be key
Con­cert Phar­ma has scored a fresh round of pos­i­tive Phase II da­ta for its JAK in­hibitor amid an on­go­ing ri­val­ry with Pfiz­er, paving the way for a late-stage show­down in alope­cia area­ta. It's al­so cau­tious­ly stak­ing a claim about safe­ty at a time the whole class is un­der a cloud of un­cer­tain­ty.
The glow­ing re­sults — in which both the 8 mg and 12 mg twice-dai­ly dos­es of CTP-543 hit the pri­ma­ry end­point of re­liev­ing hair loss — re­couped some en­thu­si­asm for the drug lost in its in­ter­im read­out. In­ves­ti­ga­tors re­port­ed that 58% of pa­tients in the 12 mg co­hort achieved at least 50% rel­a­tive re­duc­tion in the over­all Sever­i­ty of Alope­cia Tool (SALT) while 47% in the 8 mg group saw that im­prove­ment, com­pared to 9% for place­bo (p <0.001 in both cas­es).
Shares $CNCE climbed 2.48% to $10.32.
Con­cert is drop­ping the 4 mg dose from the up­com­ing Phase III study af­ter con­clud­ing its dif­fer­ence with place­bo is not sta­tis­ti­cal­ly sig­nif­i­cant.
The biotech is go­ing up against two Pfiz­er drugs for alope­cia area­ta, an au­toim­mune dis­or­der that can cause hair loss not just on the scalp but the beard, eye­brows, and oth­er ar­eas of the body for both men and women. CTP-543 in­hibits JAK1 and JAK2, while PF-06651600 tar­gets JAK3 and PF-06700841 blocks TYK2 and JAK1.
While JAK, or Janus ki­nase, are be­lieved to play an im­por­tant role in in­flam­ma­to­ry process­es via sig­nal­ing for over 50 cy­tokines and growth fac­tors, drugs in the class have re­cent­ly been im­pli­cat­ed for se­ri­ous side ef­fects. These con­cerns were in part ex­em­pli­fied by Pfiz­er's own block­buster Xel­janz af­ter FDA and EMA reg­u­la­tors re­strict­ed its use due to a high­er risk of blood clots and death. And Ab­b­Vie's FDA ap­proval for upadac­i­tinib (Rin­voq) days ago came with a black box warn­ing about in­fec­tions and throm­bo­sis.
In its press re­lease Con­cert high­light­ed that "no throm­boem­bol­ic events were re­port­ed dur­ing the tri­al," and the on­ly se­ri­ous ad­verse event pos­si­bly re­lat­ed to treat­ment was a bac­te­r­i­al in­fec­tion on the face (fa­cial cel­luli­tis).
Oth­er side ef­fects in­clude headache, na­sopharyn­gi­tis, up­per res­pi­ra­to­ry tract in­fec­tion and ac­ne. The break­down: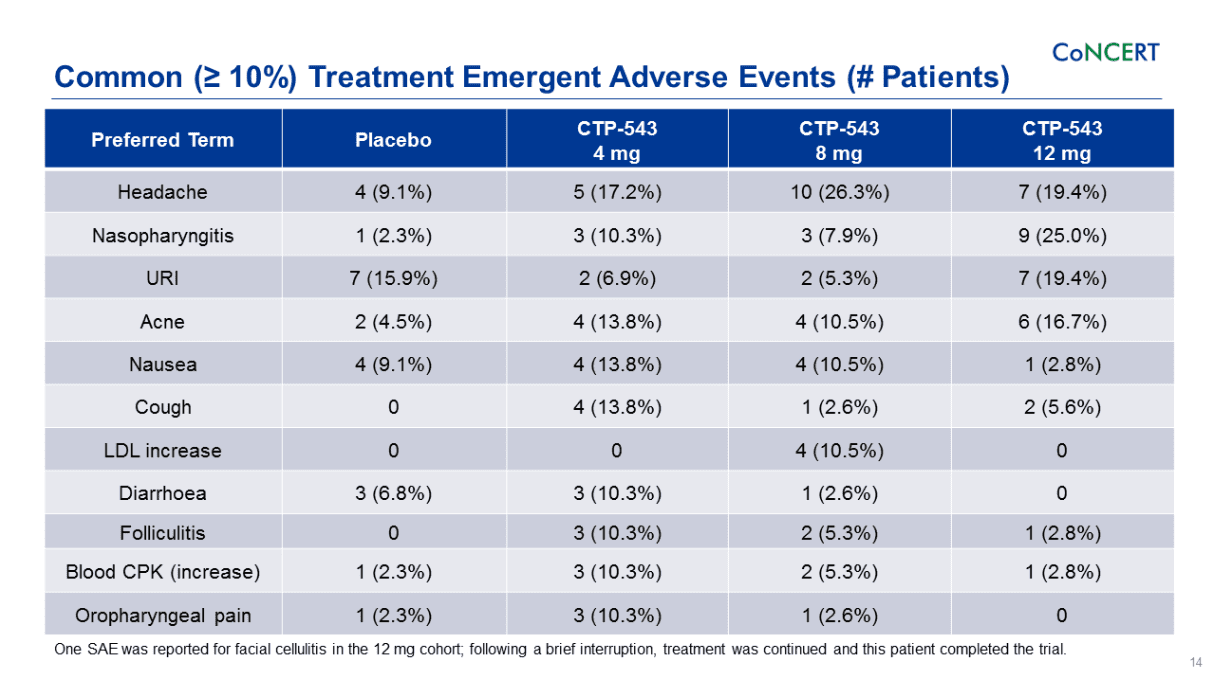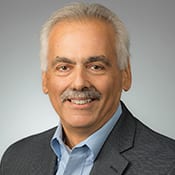 James Cas­sel­la Con­cert
Sim­i­lar­ly, Pfiz­er has ob­served in­fec­tions, gas­troin­testi­nal and skin/sub­cu­ta­neous tis­sue is­sues in their Phase II alope­cia area­ta study.
"We are high­ly fo­cused on the need for an ef­fec­tive and safe treat­ment for alope­cia area­ta, and we plan to ad­vance CTP-543 in­to Phase 3 test­ing next year," Con­cert chief de­vel­op­ment of­fi­cer James Cas­sel­la said in a state­ment.
But Con­cert will have more than one bat­tle to fight. Since CTP-543 is a deuter­at­ed ver­sion of Jakafi, In­cyte has filed — and won — a patent chal­lenge that it is now ap­peal­ing.
So­cial im­age: Alope­cia, Shut­ter­stock