Bio­gen hy­pes a fresh set of ear­ly, up­beat re­sults for Alzheimer's drug
New da­ta from an ear­ly-stage study of Bio­gen's Alzheimer's drug ad­u­canum­ab has demon­strat­ed a clear im­pact on de­posits of amy­loid be­ta, the tox­ic tan­gles in the brain sus­pect­ed of trig­ger­ing the mem­o­ry-wast­ing ail­ment. And while they couldn't pre­cise­ly prove it, the re­searchers spot­light­ed ad­di­tion­al ev­i­dence that the drug might al­so be slow­ing the steady cog­ni­tive de­cline of the peo­ple tak­ing the drug.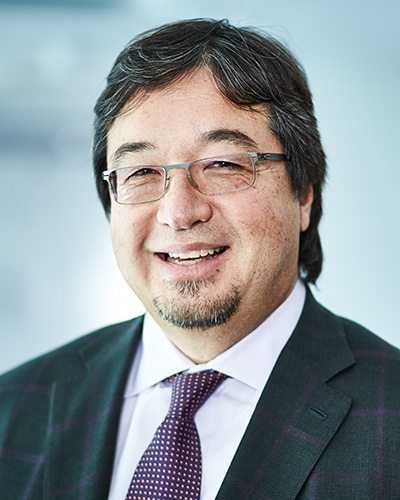 Al San­drock, Bio­gen Chief Med­ical Of­fi­cer
The ev­i­dence — a de­tailed re­tread of re­sults that have al­ready been re­viewed — im­me­di­ate­ly trig­gered the kind of re­lent­less hype that has sur­round­ed ad­u­canum­ab from the first ear­ly signs of its abil­i­ty to have an im­pact on the dis­ease. But there are some im­por­tant caveats that en­thu­si­asts nev­er­the­less need to keep in mind.
First, while amy­loid be­ta de­posits are a well de­fined tar­get, it's al­so not uni­ver­sal­ly ac­cept­ed as the sole cause of Alzheimer's. There are some who be­lieve it may not be in­volved at all, point­ing to pa­tients who have the clus­ters in their brains but no symp­toms of de­men­tia. In ad­di­tion, the re­searchers care­ful­ly not­ed that the study with 165 pa­tients was not pow­ered to pro­vide clear ev­i­dence of ef­fi­ca­cy.
The en­thu­si­asm among the ex­ecs and re­searchers in­volved, though, was pal­pa­ble. And Bio­gen, which bad­ly needs to whip up some ex­cite­ment for the com­pa­ny's pipeline, was not in the least bit re­luc­tant to pump the lat­est da­ta set that has now been pub­lished in Na­ture. Chief Med­ical Of­fi­cer Al San­drock re­marked:
"These ear­ly stud­ies of ad­u­canum­ab show its ef­fec­tive­ness in re­mov­ing amy­loid plaque from the brain as well as its po­ten­tial ef­fect on the slow­ing of cog­ni­tive de­cline in pa­tients suf­fer­ing from Alzheimer's dis­ease. Pub­li­ca­tion in Na­ture is an achieve­ment we share with the many sci­en­tists and clin­i­cal in­ves­ti­ga­tors who con­duct­ed this re­search as well as the pa­tients who vol­un­teered to par­tic­i­pate in our clin­i­cal tri­al; we are grate­ful to all of them."
There is, how­ev­er, a long way to go from a suc­cess­ful Phase Ib study to a piv­otal win, which is where Bio­gen is now fo­cused.
Shares of Bio­gen re­mained down slight­ly for the day.
In ad­di­tion to the pos­i­tive signs that the high dose was most ef­fec­tive, there were al­so some con­cerns.
Check­ing on safe­ty, 38% of the pa­tients in the high, 10 mg kg arm of the study dropped out, many cit­ing side ef­fects, com­pared to 25% of the place­bo arm.
Bio­gen's progress on Alzheimer's has helped whip up fresh en­thu­si­asm for the amy­loid be­ta hy­poth­e­sis, even spurring Roche to keep one of its failed drugs, gan­tenerum­ab, in the pipeline. Sev­er­al late-stage drugs, in­clud­ing solanezum­ab at Eli Lil­ly, al­so at­tack a-be­ta, look­ing to prove their ef­fec­tive­ness in very ear­ly-stage pa­tients, be­fore the dis­ease caus­es se­ri­ous brain dam­age. New imag­ing tech­niques are al­so bet­ter able to iden­ti­fy pa­tients who are most like­ly to ben­e­fit.
Lil­ly is ex­pect­ed to de­liv­er piv­otal da­ta from its sec­ond Phase III pro­gram lat­er in the year. But it's al­so been back­ing away from a key end­point on dai­ly func­tion, sig­nal­ing that it ex­pects to be able to prove an im­pact on cog­ni­tion.
Bio­gen, mean­while, is see­ing off CEO George Scan­gos at a time the biotech com­pa­ny has been un­der heavy pres­sure to do some­thing now to prove it has im­por­tant new drugs in the pipeline that can make up for flag­ging sales of its flag­ship drug, Tec­fidera. Still some ways from their piv­otal read out, and un­able so far to come up with the kind of deal that can gen­er­ate some cheers from Wall Street an­a­lysts, Bio­gen will set­tle for trum­pet­ing an­oth­er ear­ly snap­shot for ad­u­canum­ab.
Jef­feries' Bri­an Abra­hams not­ed:
Much of the clin­i­cal de­tails, sub-analy­ses and pre­clin­i­cal da­ta have all been ex­ten­sive­ly pre­sent­ed, and we didn't de­tect any­thing ma­te­ri­al­ly new in the ar­ti­cle; it did cite cau­tion in in­ter­pret­ing cog­ni­tive end­points giv­en lack of pow­er­ing for these mea­sures and no im­pu­ta­tion for miss­ing val­ues, and point­ed out the pos­si­bil­i­ty the need for MRIs in pa­tients de­vel­op­ing ARIA could have un­blind­ed the study. Still, the dose-de­pen­dent plaque re­duc­tions and cor­re­la­tion be­tween plaque clear­ance and cog­ni­tive ben­e­fits con­tin­ue to look most com­pelling to us, and we con­tin­ue to see a 45% prob­a­bil­i­ty of ul­ti­mate­ly gen­er­at­ing $2B+ rev­enues to BI­IB by 2025.