Biotech has a bad day af­ter politi­cos pounce on an­oth­er drug pric­ing scan­dal
Call it the Hillary ef­fect. Or Mar­tin Shkre­li on steroids.
The Nas­daq biotech stock in­dex slid 3.5% Wednes­day af­ter­noon af­ter the tsuna­mi of pub­lic out­rage over My­lan's EpiPen pric­ing dis­as­ter cre­at­ed a po­lit­i­cal back­lash that left a deep dent in a va­ri­ety of drug de­vel­op­ers' stock price.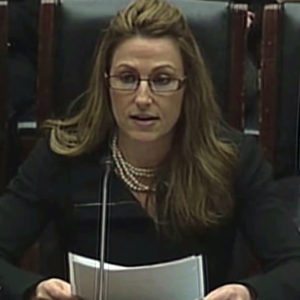 Heather Bresch, CEO of My­lan, tes­ti­fy­ing in front of the House En­er­gy and Com­merce Com­mit­tee
My­lan, run by Heather Bresch, the daugh­ter of U.S. Sen­a­tor Joe Manchin of West Vir­ginia, kicked up this ruckus af­ter a large seg­ment of the me­dia found that the com­pa­ny had more than quin­tu­pled the price of a drug/de­liv­ery de­vice that many peo­ple need to sur­vive a se­vere al­ler­gic re­ac­tion. This in­cludes chil­dren and adults who don't have good enough in­sur­ance cov­er­age to en­sure ac­cess at a rea­son­able price.
"It's wrong when drug com­pa­nies put prof­its ahead of pa­tients, rais­ing prices with­out jus­ti­fy­ing the val­ue be­hind them," re­spond­ed Hillary Clin­ton, echo­ing a Tweet from ear­li­er in the year that trig­gered an­oth­er in­dex avalanche.
At that point it was biotech bad boy Mar­tin Shkre­li — who raced to My­lan's de­fense, or what­ev­er you want to call it — who was in Clin­ton's cross hairs.
This quote came at about the same time Sen­a­tors Su­san Collins (R-ME) and Claire Mc­Caskill (D-MO) de­mand­ed that Bresch turn up in Wash­ing­ton in the next two weeks to at­tend an "ur­gent brief­ing" on the mat­ter.
The pri­mal fear is that a gale force wind that blows in bio­phar­ma's di­rec­tion could sink more than one boat de­pen­dent on rou­tine price hikes. Take Eli Lil­ly, for ex­am­ple, which sold the os­teo­poro­sis drug For­teo for $974.20 in 2010 and jacked the price to $2,551.77 this year.
Mak­ing steep an­nu­al drug price hikes for ag­ing ther­a­pies is an in­dus­try stan­dard. If the rest of the big me­dia groups wake up to those im­pli­ca­tions, or the pub­lic turns its at­ten­tion from sin­gle cas­es to in­dus­try prac­tices, the dam­age could be much worse for every­one.