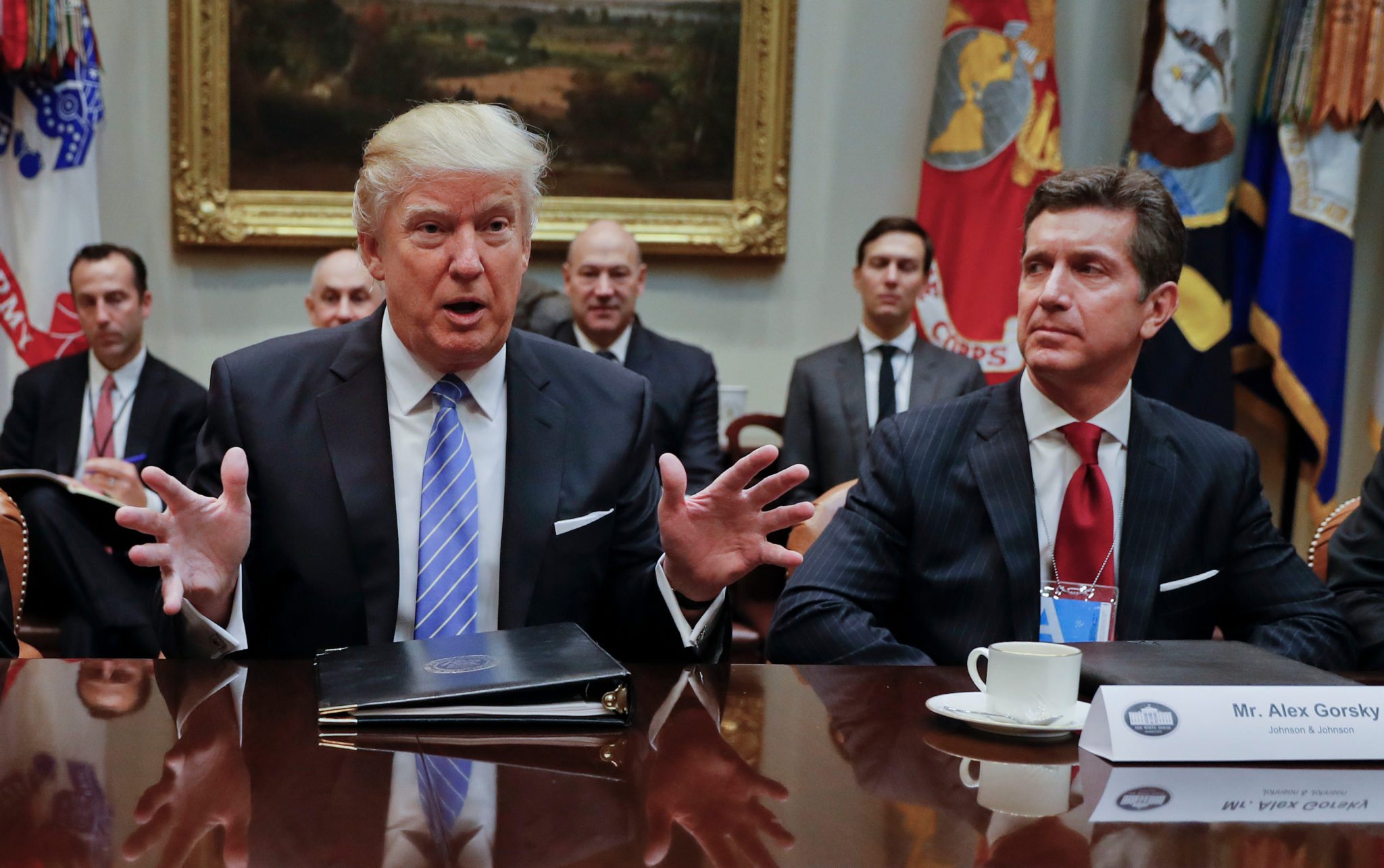 As Trump lash­es out at Fra­zier again, J&J's Alex Gorsky says he's not aban­don­ing pres­i­den­t's coun­cil
See the lat­est up­date here.
J&J CEO Alex Gorsky isn't join­ing any ex­o­dus off of the pres­i­dent's man­u­fac­tur­ing coun­cil. And he of­fered his rea­sons why just be­fore Trump un­leashed a new at­tack on Mer­ck CEO Ken Fra­zier and the oth­ers who have fol­lowed him out of the White House group while fresh­ly stir­ring a pot of con­tro­ver­sy.
For more than a day, J&J kept qui­et in the face of queries from me and many oth­ers cov­er­ing bio­phar­ma whether its CEO Alex Gorsky would fol­low the lead of Mer­ck CEO Ken Fra­zier and re­sign from the coun­cil in protest to the way Pres­i­dent Don­ald Trump han­dled a dead­ly en­counter in Char­lottesville, VA over the week­end be­tween right-wing ex­trem­ists and the pro­test­ers who greet­ed them.
Ini­tial­ly, Trump on­ly con­demned "many sides" in the vi­o­lent show­down, which erupt­ed in­to a vi­ral dis­pute over the pres­i­dent's un­will­ing­ness to shout out against neo-Nazis, the KKK and oth­ers. That ran­kled Fra­zier, one of the few black CEOs of a For­tune 500 com­pa­ny, who de­part­ed from the coun­cil in high-pro­file fash­ion Mon­day morn­ing, trig­ger­ing an an­gry se­ries of tweets from Trump which once again point­ed­ly raised ear­li­er crit­i­cism of high drug prices.
Tues­day af­ter­noon, though, J&J put out a state­ment from Gorsky, who said he'll stick with the coun­cil as a way to ex­press "the val­ues of Our Cre­do as cru­cial pub­lic pol­i­cy is dis­cussed and de­vel­oped."
"Ours is an im­por­tant voice on health­care," the state­ment con­tin­ues. "One that glob­al lead­ers at every lev­el, in and out of gov­ern­ment, need to hear. If we aren't in the room ad­vo­cat­ing for glob­al health as a top pri­or­i­ty, if we aren't there stand­ing up for our be­lief in di­ver­si­ty and in­clu­sion, or if we fail to speak out if the sit­u­a­tion de­mands it, then we have ab­di­cat­ed our Cre­do re­spon­si­bil­i­ty. We must en­gage if we hope to change the world and those who lead it."
As of Tues­day af­ter­noon, four oth­er ex­ecs had joined Fra­zier in jump­ing ship, keep­ing the pot boil­ing on spec­u­la­tion of who else will fol­low. AFL-CIO chief Richard Trum­ka was the lat­est to bow out.
I can­not sit on a coun­cil for a Pres­i­dent that tol­er­ates big­otry and do­mes­tic ter­ror­ism; I re­sign, ef­fec­tive im­me­di­ate­ly. pic.twit­ter.com/ip6F2nsoog

— Richard Trum­ka (@RichardTrum­ka) Au­gust 15, 2017
Gorsky, though, made a rare pub­lic pledge to stay with the coun­cil, which may well draw an an­gry re­ac­tion from the pres­i­dent's grow­ing le­gions of crit­ics.
In a press con­fer­ence Tues­day af­ter­noon, Trump once again blast­ed Fra­zier and the oth­ers who joined with him, this time crit­i­ciz­ing Mer­ck for its man­u­fac­tur­ing work out­side the US. Fra­zier and the oth­ers, said the pres­i­dent, are leav­ing af­ter he's lec­tured them on bring­ing jobs back to this coun­try.
"We want prod­ucts made in the coun­try," said Trump. "Now I have to tell you some of the folks that will leave (the coun­cil), they're leav­ing out of em­bar­rass­ment be­cause they make their prod­ucts out­side" of the US. "You have to bring this work back to this coun­try."
Trump, though, dogged­ly stuck by his ini­tial com­ments on Char­lottesville, in­sist­ing that all sides in the con­fronta­tion were re­spon­si­ble for the vi­o­lence, and sin­gling out left­ists for their at­tack on the last sym­bols of the Con­fed­er­a­cy that still stand in the town. That po­si­tion will leave the con­tro­ver­sy front and cen­ter in the me­dia, which will make Gorsky's de­ci­sion tough to weath­er.
The bio­phar­ma in­dus­try, in­clud­ing J&J, has been lob­by­ing hard for tax re­form, which would po­ten­tial­ly al­low the multi­na­tion­als to repa­tri­ate bil­lions in over­seas ac­counts at a low­er tax rate. And none of them have been hap­py about Trump's erup­tions on drug prices.
As for Trump, he's al­so still tweet­ing about how an­gry the de­fec­tions have made him.
For every CEO that drops out of the Man­u­fac­tur­ing Coun­cil, I have many to take their place. Grand­standers should not have gone on. JOBS!

— Don­ald J. Trump (@re­al­Don­aldTrump) Au­gust 15, 2017
---
Alex Gorsky with Don­ald Trump in the White House AP IM­AGES