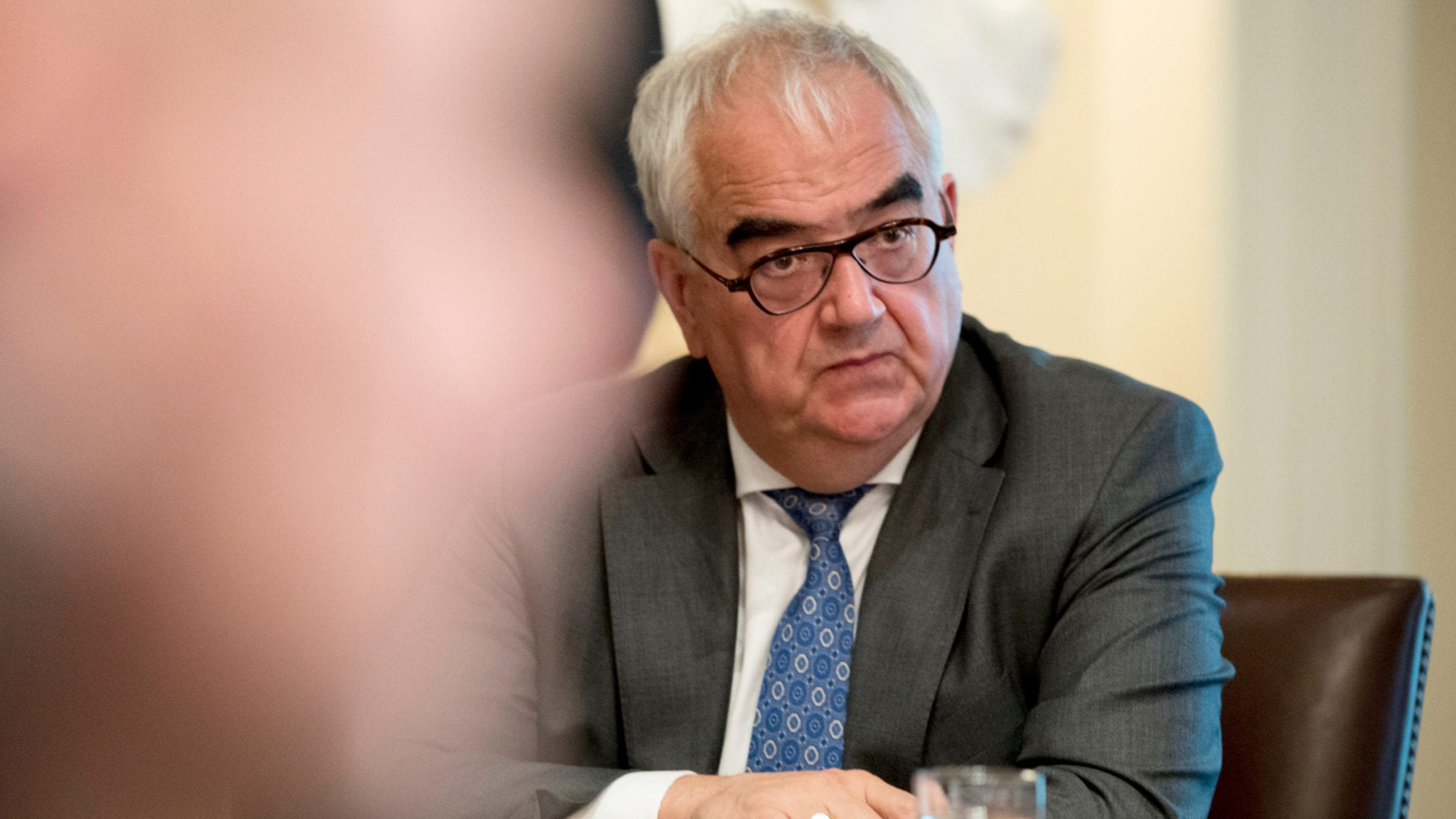 Paul Stoffels, J&J CSO (Andrew Harnik/AP Images)
Ebo­la vac­cine built on same tech­nol­o­gy as Covid-19 jab from J&J shows long-last­ing suc­cess
Just weeks af­ter a J&J can­di­date failed its first tri­al in an ef­fort to build a vac­cine against HIV, that same vac­cine tech­nol­o­gy scored the com­pa­ny a vic­to­ry in the fight against a virus that has emerged yet again, and threat­ens to cause hav­oc in Africa if left unchecked along­side Covid-19.
A two-dose vac­cine reg­i­men from J&J to fight Ebo­la was long-last­ing dur­ing tri­als in adults and chil­dren, the com­pa­ny said Mon­day, as the im­mune re­sponse lasts in adults for at least two years.
The reg­i­men — which us­es Zab­de­no (Ad26.ZE­BOV) for one shot, and Mv­abea (MVA-BN-Fi­lo) for the next, 56 days lat­er — spurred no safe­ty con­cerns, and J&J said that a boost­er shot could be ad­min­is­tered two years af­ter the ini­tial vac­ci­na­tion, as it showed a strong im­mune re­sponse sev­en days lat­er.
Vac­ci­na­tion against Ebo­la is wel­comed: The virus has killed about half of the peo­ple it in­fects. The World Health Or­ga­ni­za­tion has put West Africa on no­tice, as new out­breaks have put pres­sure on African health­care sys­tems that are of­ten al­ready work­ing with lim­it­ed re­sources.
"These peer-re­viewed da­ta sup­port the pro­phy­lac­tic use of the John­son & John­son Ebo­la vac­cine reg­i­men to pro­tect peo­ple at risk of Ebo­la, which is es­sen­tial to our vi­sion of pre­vent­ing Ebo­la out­breaks be­fore they can be­gin," J&J CSO Paul Stof­fels said in a state­ment. "Re­cent and on­go­ing out­breaks in Africa un­der­score that the threat of Ebo­la is not go­ing away, which is why we col­lab­o­rat­ed to de­vel­op a vac­cine reg­i­men ca­pa­ble of in­duc­ing long-term im­mu­ni­ty against Ebo­la and are now work­ing to en­sure that it is ac­ces­si­ble to peo­ple in need."
Zab­de­no is cre­at­ed on an ade­n­ovirus-based plat­form that ge­net­i­cal­ly mod­i­fies those virus­es to pre­vent them from repli­cat­ing in hu­mans as they fer­ry im­mu­ni­ty-in­duc­ing gly­co­pro­teins in­to the body, while Mv­abea is de­liv­ered on a mod­i­fied Ankara vec­tor.
Be­cause chil­dren ac­count for a large por­tion of Ebo­la cas­es and deaths, a ran­dom­ized, dou­ble-blind­ed tri­al in Sier­ra Leone, a re­gion heav­i­ly af­fect­ed by the 2014-2016 West African Ebo­la out­break that was the worst on record to date, J&J said, was con­duct­ed in healthy chil­dren be­tween the ages of 1 and 17. They were split up in­to three co­horts — ages 1-3, 4-11 and 12-17 — and there were 192 chil­dren in each group.
As far as side ef­fects are con­cerned, the most com­mon was in­jec­tion site pain, the Lancet pa­per said. The com­pa­ny said that there were no treat­ment-re­lat­ed deaths, and the an­ti­body re­sponse 21 days af­ter the sec­ond dose was ob­served in 98% of chil­dren.
The vac­cine reg­i­men was ap­proved in Eu­rope in Ju­ly 2020, and re­ceived pre­qual­i­fi­ca­tion from the WHO in April 2021, which al­lows it to be used in de­vel­op­ing coun­tries.
Ear­li­er this year, out­breaks in Sier­ra Leone and Guinea caused J&J to an­nounce the do­na­tion of 200,000 dos­es of the jab.