Ei­sai launch­es biotech di­vi­sion in Mass­a­chu­setts aimed at Alzheimer's, I/O and au­toim­mune dis­eases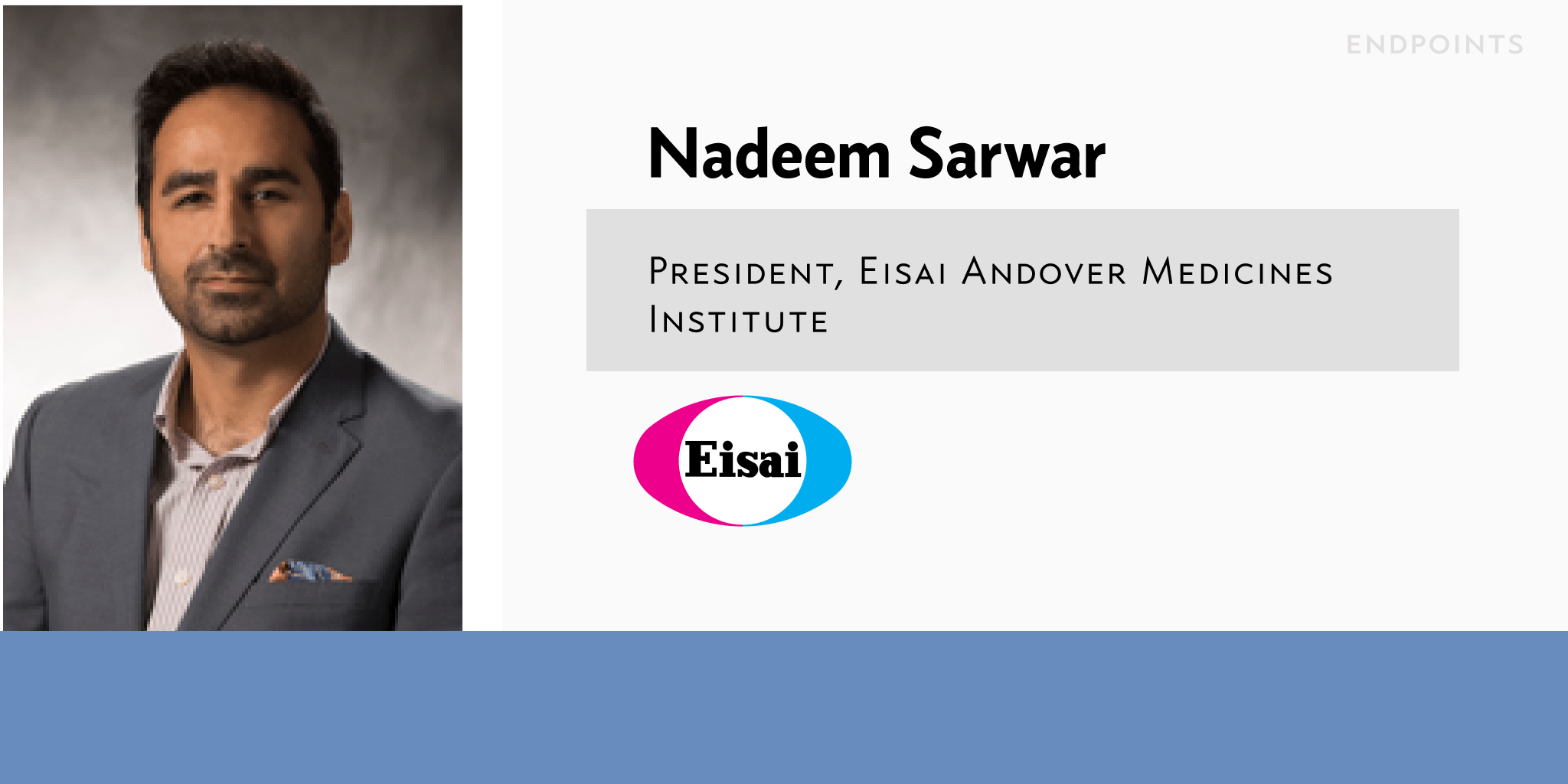 ---
Ei­sai is tack­ling Alzheimer's, au­toim­mune dis­eases and the tu­mor mi­croen­vi­ron­ment with a new "biotech-like" re­search unit in An­dover, MA that has al­ready brought to­geth­er 90 re­searchers whose ex­per­tise cuts across a va­ri­ety of dis­ci­plines.
The new unit has been dubbed the Ei­sai An­dover in­no­v­a­tive Med­i­cines (AiM) In­sti­tute, which is op­er­at­ing in a 220,000-square foot fa­cil­i­ty. And it's mak­ing ex­ter­nal col­lab­o­ra­tions with the ex­ten­sive sci­en­tif­ic and biotech com­mu­ni­ty in the big Boston hub a top pri­or­i­ty.
The Japan­ese phar­ma com­pa­ny in­tends for the in­sti­tute's in­ves­ti­ga­tors to ex­plore im­mune dys­func­tion and the role of neu­roim­mune tar­gets for con­trol­ling de­men­tia, and specif­i­cal­ly Alzheimer's, look­ing to new ge­net­ics re­search to help guide their dis­cov­ery and de­vel­op­ment work. Ei­sai al­so plans to fol­low up on its de­vel­op­ment work for E7046, an oral EP4 re­cep­tor ag­o­nist, for its im­muno-on­col­o­gy ef­forts. And there will be a pro­gram for small mol­e­cules that tar­get toll-like re­cep­tors and prostaglandins for au­toim­mune dis­eases, start­ing with lu­pus.
The new in­sti­tute is in­tend­ed to be a unique­ly struc­tured dis­cov­ery group, says Nadeem Sar­war, the group chief at Ei­sai who ear­li­er com­plet­ed a stint as an aca­d­e­m­ic re­searcher at the Uni­ver­si­ty of Cam­bridge.
"We've been set up to ex­clu­sive­ly re­al­ize hu­man ge­net­ics drug dis­cov­ery," Sar­war tells me this morn­ing.
Sar­war un­der­stands full well that Alzheimer's in par­tic­u­lar has de­fied in­ves­ti­ga­tors en­gaged in mas­sive­ly ex­pen­sive re­search projects. So Ei­sai has de­cid­ed to see if it can change the par­a­digm "and take a fun­da­men­tal­ly dif­fer­ent ap­proach."
All of their fo­cus will cen­ter on im­mune dys­func­tion, he says, with an ex­clu­sive aim at nov­el tar­gets val­i­dat­ed by hu­man ge­net­ics tech­nol­o­gy.
"Drug tar­gets sup­port­ed by hu­man ge­net­ics are twice as like­ly to be suc­cess­ful," says Sar­war. And his group will be work­ing on im­mune dys­func­tion un­der the neu­rol­o­gy arm of the com­pa­ny, which is set up to march through a prover­bial­ly seam­less sys­tem from dis­cov­ery through com­mer­cial­iza­tion.
Sar­war has al­ready re­cruit­ed com­pa­ny re­searchers as well as out­side ex­perts to the new ef­fort, with the staff of 90 in place. And he plans to add to that, though he can't say right now just how large the op­er­a­tion will grow ul­ti­mate­ly. An­dover of­fered a site with ded­i­cat­ed lab space that Sar­war need­ed, and he says he's not very far from the Cam­bridge clus­ter, where Ei­sai will be ac­tive­ly look­ing to part­ner with acad­e­mia, phar­ma, CROs and oth­ers as they look to aug­ment their own tech­nolo­gies and pro­vide ac­cess to oth­ers work­ing in the same fields.
Ei­sai's de­ci­sion to fo­cus on the Boston hub fol­lows a trend al­ready well de­fined by a group of phar­ma gi­ants like Pfiz­er and Mer­ck, which have been mi­grat­ing R&D di­vi­sions in­to the glob­al biotech clus­ter. The Japan­ese com­pa­nies haven't ig­nored that trend. Take­da re­cent­ly an­nounced its own plans to con­cen­trate more work in the Boston hub as it down­sizes in the UK and oth­er spots, trans­fer­ring 300 staffers to a CRO in the process.
They're all hop­ing to pol­li­nate new drugs with what they hope is a more pro­duc­tive ap­proach to de­vel­op­ment.