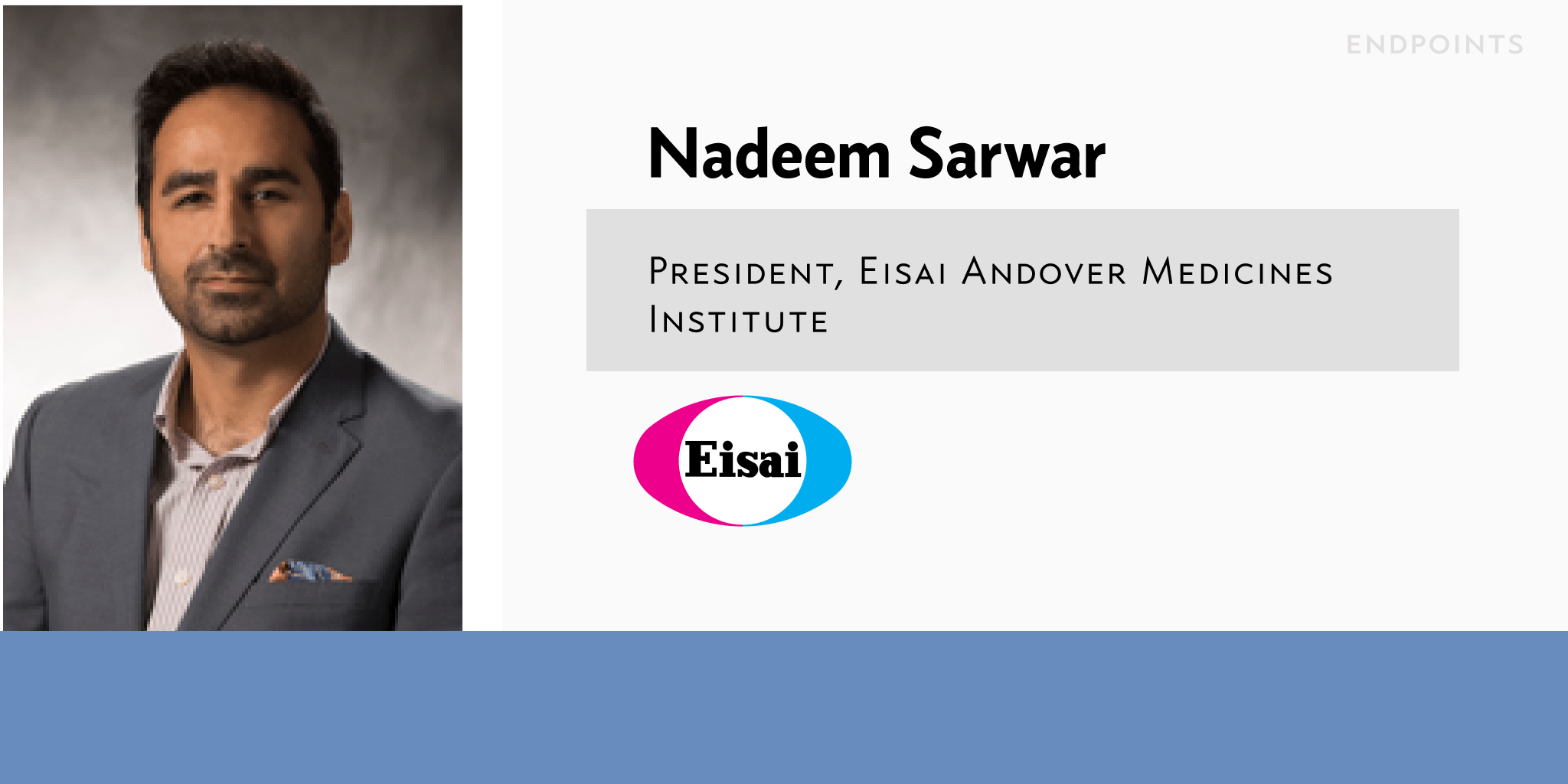 ---
Eisai is tackling Alzheimer's, autoimmune diseases and the tumor microenvironment with a new "biotech-like" research unit in Andover, MA that has already brought together 90 researchers whose expertise cuts across a variety of disciplines.
The new unit has been dubbed the Eisai Andover innovative Medicines (AiM) Institute, which is operating in a 220,000-square foot facility. And it's making external collaborations with the extensive scientific and biotech community in the big Boston hub a top priority.
The Japanese pharma company intends for the institute's investigators to explore immune dysfunction and the role of neuroimmune targets for controlling dementia, and specifically Alzheimer's, looking to new genetics research to help guide their discovery and development work. Eisai also plans to follow up on its development work for E7046, an oral EP4 receptor agonist, for its immuno-oncology efforts. And there will be a program for small molecules that target toll-like receptors and prostaglandins for autoimmune diseases, starting with lupus.
The new institute is intended to be a uniquely structured discovery group, says Nadeem Sarwar, the group chief at Eisai who earlier completed a stint as an academic researcher at the University of Cambridge.
"We've been set up to exclusively realize human genetics drug discovery," Sarwar tells me this morning.
Sarwar understands full well that Alzheimer's in particular has defied investigators engaged in massively expensive research projects. So Eisai has decided to see if it can change the paradigm "and take a fundamentally different approach."
All of their focus will center on immune dysfunction, he says, with an exclusive aim at novel targets validated by human genetics technology.
"Drug targets supported by human genetics are twice as likely to be successful," says Sarwar. And his group will be working on immune dysfunction under the neurology arm of the company, which is set up to march through a proverbially seamless system from discovery through commercialization.
Sarwar has already recruited company researchers as well as outside experts to the new effort, with the staff of 90 in place. And he plans to add to that, though he can't say right now just how large the operation will grow ultimately. Andover offered a site with dedicated lab space that Sarwar needed, and he says he's not very far from the Cambridge cluster, where Eisai will be actively looking to partner with academia, pharma, CROs and others as they look to augment their own technologies and provide access to others working in the same fields.
Eisai's decision to focus on the Boston hub follows a trend already well defined by a group of pharma giants like Pfizer and Merck, which have been migrating R&D divisions into the global biotech cluster. The Japanese companies haven't ignored that trend. Takeda recently announced its own plans to concentrate more work in the Boston hub as it downsizes in the UK and other spots, transferring 300 staffers to a CRO in the process.
They're all hoping to pollinate new drugs with what they hope is a more productive approach to development.
---
The best place to read
Endpoints News

? In your inbox.

Comprehensive daily news report for those who discover, develop, and market drugs. Join 51,000+ biopharma pros who read Endpoints News by email every day.

Free Subscription
---
---
---