Eli Lil­ly shut­ters the last PhI­II so­la study, cer­tain of fail­ure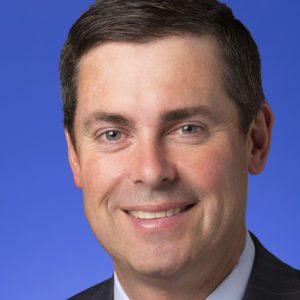 David Ricks, Lil­ly
Eli Lil­ly has tak­en an­oth­er big re­verse step in its re­treat from solanezum­ab, the Alzheimer's drug once con­sid­ered the com­pa­ny's lot­tery tick­et in R&D.
Fol­low­ing the fail­ure of Ex­pe­di­tion 3, Lil­ly's mas­sive­ly ex­pen­sive third at­tempt to come up with sol­id da­ta of its ef­fi­ca­cy, in­ves­ti­ga­tors have now washed their hands of Ex­pe­di­tion Pro, an­oth­er Phase III study mount­ed for pa­tients with prodomal dis­ease, when their mem­o­ry be­gins to fade but they can still func­tion well on a dai­ly ba­sis.
In a call with an­a­lysts on Tues­day, CEO David Ricks says that in light of the over­lap in Ex­pe­di­tion 3 and the Ex­pe­di­tion Pro study, there was no sci­en­tif­ic ba­sis to be­lieve they would find a "mean­ing­ful ben­e­fit to pa­tients with prodomal Alzheimer's dis­ease."
Lil­ly had set out to re­cruit 2,450 patents for Ex­pe­di­tion Pro, which was due to wrap in 2021.
In an­oth­er note, Lil­ly's Q4 up­date in­clud­ed the end of a Phase I study for "A ß An­ti­body Fab PEG," a new bi­o­log­ic en­ti­ty that had been stud­ied for Alzheimer's dis­ease.
Ricks took over as CEO at the start of his year, and gets to start his tenure by large­ly bury­ing what re­mains of one of the biggest late-stage ef­forts in the in­dus­try, long pur­sued by John Lech­leit­er. An­a­lysts have long been re­luc­tant to give Lil­ly good odds on the drug, but in the off chance they were suc­cess­ful, many be­lieved it could have racked up $10 bil­lion in an­nu­al sales.
In­stead, the drug has be­come the lat­est vic­tim in a near com­plete clin­i­cal rout on the Alzheimer's front, where re­searchers have been shut out of any im­por­tant ad­vances for the past decade.
Lil­ly is not quite fin­ished with so­la, though. The pre­clin­i­cal study in Alzheimer's dis­ease (An­ti-Amy­loid Treat­ment in Asymp­to­matic Alzheimer's "A4"), and Dom­i­nant­ly In­her­it­ed Alzheimer's Dis­ease, known as "DI­AN," con­tin­ue).
Lil­ly's most ad­vanced Alzheimer's ef­fort now cen­ters on a BACE drug it in-li­censed from As­traZeneca (AZD3293), to re­place its own pro­gram that was scut­tled by tox­i­c­i­ty.
Dur­ing Tues­day's Q&A with an­a­lysts, Lil­ly chief sci­en­tist Jan Lund­berg was giv­en the task of ex­plain­ing the com­pa­ny's at­ti­tudes about the A be­ta hy­poth­e­sis, which it's been ex­plor­ing for years. So­la was de­signed to get rid of tox­ic con­cen­tra­tions of amy­loid be­ta, which many be­lieve is a cause of the dis­ease. It's worth quot­ing him at length.
The amy­loid-be­ta hy­poth­e­sis and the con­nec­tion to Alzheimer's dis­ease has strong ev­i­dence from ge­net­ics, where if you have too much amy­loid in your brain, you get ear­ly Alzheimer's dis­ease. And al­so the op­po­site, if you have less amy­loid-be­ta pro­duc­tion then by mu­ta­tions in the APP in the BACE1 cleav­age side, you al­so seem to be pro­tect­ed from de­men­tia.

The key ques­tion is so how do you trans­late then these ge­net­ics in­to re­al­i­ties of phar­ma­co­log­i­cal treat­ment in an aged pa­tient? And here there are a va­ri­ety of ap­proach­es that have been used. And it's al­so a key one here to think about if you have an an­ti­body with ac­cess to brain, 0.1% through the blood/brain bar­ri­er, how can you com­pare that re­sult then to, for in­stance, an oral BACE in­hibitor, which some of them go 100% in­to the brain and are I think more like­ly to have a marked ef­fect than on the free amy­loid be­ta?

And the sec­ond ques­tion is clear­ly then how ear­ly do you have to treat? And I think we should rec­og­nize that even if you have mild Alzheimer's dis­ease, your brain has been ac­cu­mu­lat­ing amy­loids for decades, and you al­most have max­i­mum amy­loid in your brain al­ready. So I think there could be two com­po­nents here, like I say. If solanezum­ab re­al­ly en­tered the brain enough to af­fect amy­loid be­ta, I think our bio­mark­ers like amy­loid PET didn't re­al­ly change very much by solanezum­ab, nor did the ac­tu­al­ly tau then changes, which are more re­lat­ed to neu­rode­gen­er­a­tion change. So from that stand­point, we didn't see any ob­jec­tive mea­sures I think that we changed the amy­loid con­tent in the brain, nor then neu­rode­gen­er­a­tion.

Is this against or does this prove that the amy­loid hy­poth­e­sis is wrong? My view is it's too ear­ly to say. We need to wait for even more pow­er­ful agents. And the next in turn are the oral-based in­hibitors, which are more like­ly I think to have an even stronger ef­fect on the amy­loid be­ta in the brain. And in ad­di­tion then, we need to look at ear­li­er stages of Alzheimer's.