Failed piv­otal study? You can still have break­through ther­a­py sta­tus — FDA sig­nals to Resver­logix
A small Cana­di­an biotech­nol­o­gy com­pa­ny has con­vinced the FDA to re­ward its sole ex­per­i­men­tal drug break­through ther­a­py sta­tus as a pre­ven­ta­tive ther­a­py for ma­jor ad­verse car­diac events, de­spite a failed late-stage study.
Last Sep­tem­ber, Cal­gary, Al­ber­ta-based Resver­logix Corp said its in­ves­ti­ga­tion­al apa­betalone did not meet the main piv­otal study goal of re­duc­ing ma­jor ad­verse car­dio­vas­cu­lar events (MACE) — de­fined as car­dio­vas­cu­lar death, non-fa­tal my­ocar­dial in­farc­tion, and stroke — when added to stan­dard care in pa­tients with type II di­a­betes, re­cent acute coro­nary syn­drome, and low HDL cho­les­terol.
Apa­betalone is a se­lec­tive in­hibitor of the BET fam­i­ly of pro­teins that play a role in the reg­u­la­tion of cell growth, dif­fer­en­ti­a­tion, and in­flam­ma­tion. BET in­hi­bi­tion is an epi­ge­net­ic mech­a­nism — and the drug is de­signed to re­store bi­o­log­i­cal func­tions, al­tered by se­ri­ous ill­ness­es, back to a healthy state.
If DNA is the hard­ware, epi­ge­net­ics is the soft­ware. DNA con­tains the code that dic­tates what cells do — while epi­ge­net­ic changes mod­u­late the ef­fect of those mes­sages, like a dim­mer switch telling cells which pro­teins to make more of and where to lim­it pro­tein pro­duc­tion.
De­tailed da­ta from the 2,425-pa­tient, place­bo-con­trolled Phase III tri­al — dubbed BE­Ton­MACE — were dis­closed in No­vem­ber. The re­sults showed the MACE find­ings on the apa­betalone arm were 10.3%, while the place­bo pa­tients chalked up 12.4% (p = 0.11). All oth­er sec­ondary goals, apart from stroke, fa­vored the drug but did not in­duce a sta­tis­ti­cal­ly sig­nif­i­cant ef­fect.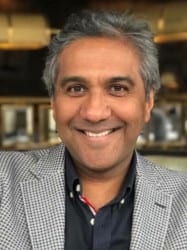 Kausik Ray Im­pe­r­i­al Col­lege Lon­don
Kausik Ray, the BE­Ton­MACE study chair and pro­fes­sor of pub­lic health and con­sul­tant car­di­ol­o­gist at Im­pe­r­i­al Col­lege Lon­don, sug­gest­ed that while apa­betalone was not found su­pe­ri­or to place­bo — the drug "on­ly just missed sta­tis­ti­cal sig­nif­i­cance" and it ap­peared that the tri­al was "a bit un­der­pow­ered to show a ben­e­fit due to low­er than ex­pect­ed event rates."
"Giv­en the promis­ing signs…we think this (drug) holds con­sid­er­able promise, and per­haps a slight­ly larg­er study with a few more events would al­low us to as­sess more ro­bust­ly whether this drug will pro­vide a 20% treat­ment ef­fect in this pa­tient pop­u­la­tion," he said in an in­ter­view with the Amer­i­can Heart As­so­ci­a­tion.
As for Resver­logix, it is con­vinced the ex­per­i­men­tal ther­a­py works. On its web­site the com­pa­ny says:
"From da­ta col­lect­ed in our clin­i­cal tri­als, we now know that apa­betalone – through its ef­fects on epi­ge­net­ics – ben­e­fits mul­ti­ple process­es which con­tribute to the on­set and wors­en­ing of dis­ease. This is con­sis­tent with ob­served re­duc­tions in ma­jor ad­verse car­diac events (MACE) in study par­tic­i­pants. Pa­tients who take apa­betalone have few­er heart at­tacks, strokes, and car­diac-re­lat­ed deaths."
On Mon­day, the FDA grant­ed the drug break­through sta­tus in com­bi­na­tion with stan­dard care for the sec­ondary pre­ven­tion of ma­jor ad­verse car­diac events in pa­tients with type II di­a­betes mel­li­tus and re­cent acute coro­nary syn­drome.
Heart dis­ease — the lead­ing killer in de­vel­oped na­tions (al­though can­cer is catch­ing up) — is a lu­cra­tive bat­tle­ground for drug­mak­ers big and small, al­though the field is lit­tered with fail­ure.
Resver­logix is al­so test­ing apa­betalone in pa­tients with Fab­ry dis­ease.