Safe­ty threat forces FDA to put a hold on Re­gen­eron, Te­va's big NGF pain drug fas­inum­ab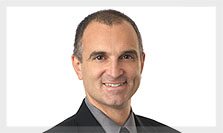 George Yan­copou­los, Re­gen­eron
Just one month af­ter Te­va agreed to pay Re­gen­eron $250 mil­lion in cash to part­ner on its NGF pain pro­gram, the FDA has slapped a clin­i­cal hold on their Phase IIb study of fas­inum­ab for low­er back pain.
The hold was trig­gered af­ter a pa­tient in the study suf­fer­ing from ad­vanced os­teoarthri­tis de­vel­oped a case of ad­ju­di­cat­ed arthropa­thy – joint dis­ease. And the new part­ners are coun­ter­ing the hold by plan­ning to ex­clude os­teoarthri­tis pa­tients from a planned Phase III.
The deal be­tween the two com­pa­nies, which al­so in­clud­ed $2.3 bil­lion in mile­stones, was the lat­est in a se­ries of ad­vance­ments in the late-stage field. And the hold rais­es old fears that these drugs could de­stroy pa­tients' joints.
NGF drugs were all the rage un­til five years ago, when some of the pa­tients in clin­i­cal stud­ies be­gan to blow out their joints with meds de­signed to si­lence nerve growth fac­tors. The safe­ty is­sues side­lined the drugs, once tapped as like­ly block­busters, but de­vel­op­ers slow­ly worked out a plan to pro­tect pa­tients, and Pfiz­er got back in­to the clin­ic, with Eli Lil­ly sign­ing on to part­ner in a $1.8 bil­lion deal. J&J came back in right along­side, with fal­ranum­ab, in-li­censed from Am­gen.
Even though J&J had a huge Phase III ef­fort un­der­way, with four late-stage stud­ies, the phar­ma gi­ant de­cid­ed to aban­don the work ear­li­er this year, say­ing on­ly that it was repri­or­i­tiz­ing its pipeline.
In­ves­ti­ga­tors on the fas­inum­ab pro­gram say that as a re­sult of the FDA de­ci­sion they com­plet­ed an un­planned in­ter­im re­view of the da­ta that showed "clear ev­i­dence of ef­fi­ca­cy." But at least one an­a­lyst says that the set­back may spur sec­ond thoughts at Te­va, which is still on the hook for pay­ing half of a bil­lion-dol­lar Phase III pro­gram.
"Te­va has paid $250M up­front to REGN, but the more se­ri­ous cash out­lays are yet to hap­pen (i.e., Ph 3 out­comes)," notes Umer Raf­fat at Ever­core ISI. "This may be a good time to cut the loss­es – es­pe­cial­ly with this new up­date on clin­i­cal hold (does it trig­ger some "MAC" clause?)."
And Ge­of­frey Porges at Leerink was with­er­ing in his as­sess­ment of the drug, which he is now writ­ing off as a com­plete loss:
Based on this hold, and the his­to­ry of the class, we are re­duc­ing our prob­a­bil­i­ty of suc­cess to ze­ro, and re­mov­ing all fas­inum­ab rev­enue (and fu­ture mile­stones) from our mod­el and REGN val­u­a­tion. The hold is for the low back pain pro­gram (phase IIb) but al­so in­volves ad­di­tion­al scruti­ny and changes to the de­vel­op­ment plans for the os­teoarthri­tis pro­gram as well. We be­lieve that these dis­clo­sures sug­gest that fas­inum­ab will have all of the li­a­bil­i­ties of pri­or drugs in this class, and will face the same re­peat­ed de­lays, in­creased scruti­ny and la­belling lim­i­ta­tions that plagued oth­er pro­grams in the same class.
The NGF tar­get has re­mained a tempt­ing field in pain R&D, es­pe­cial­ly as fresh alarms over the epi­dem­ic of opi­oid ad­dic­tion rais­es fears from coast-to-coast in the US. Find­ing a new way to treat pain with­out opi­oids would open up a big mar­ket, as reg­u­la­tors look for al­ter­na­tives that can re­place ad­dic­tive treat­ments. And the Re­gen­eron/Te­va team are com­mit­ted to mak­ing their drug work.
"We are mak­ing da­ta-dri­ven de­ci­sions on Phase 3 fas­inum­ab dos­ing that we be­lieve will max­i­mize po­ten­tial ben­e­fit for pa­tients in need, while min­i­miz­ing the like­li­hood of side ef­fects," said George D. Yan­copou­los, Re­gen­eron's high pro­file CSO, in a state­ment. "We look for­ward to work­ing with glob­al health au­thor­i­ties to ad­vance this im­por­tant in­ves­ti­ga­tion­al ther­a­py for pa­tients with of­ten dif­fi­cult-to-treat os­teoarthri­tis pain and chron­ic low back pain."