First the US, now the EU: Pfiz­er's 20-va­lent pneu­mo­coc­cal jab for in­fants head­ed to reg­u­la­tors 
About five weeks af­ter Pfiz­er said its 20-va­lent vac­cine fol­low-up to Pre­vnar 13 was ef­fec­tive in in­fants in a US study, the Big Phar­ma now has the da­ta from an EU late-stage tri­al that will send the jab to the con­ti­nent's reg­u­la­tors by year's end.
Both the US and Eu­ro­pean Med­i­cines Agency are ex­pect­ed to have the fil­ings in hand for 20vP­nC for in­fants be­fore the first ba­bies of 2023 are born. The US green­lit the vac­cine, known as Pre­vnar 20, for adults in June 2021, and for the same pop­u­la­tion in the EU, where it's known as Apexxnar, on Valen­tine's Day of this year.
The da­ta come in three months af­ter ri­val Mer­ck se­cured the FDA ap­proval for the 15-va­lent Vaxneu­vance for kids.
In a study of 1,258 in­fants in Eu­rope and Aus­tralia, be­tween Sep­tem­ber 2020 and April 2022, Pfiz­er's three-dose vac­cine se­ries showed that it led to "long-term pro­tec­tion," Pfiz­er said Mon­day morn­ing. Re­searchers in­oc­u­lat­ed in­fants at 2, 4 and 11-12 months of age and com­pared the vac­cine to Pre­ve­nar 13.
Re­searchers looked at three key out­comes, in­clud­ing non-in­fe­ri­or­i­ty of im­munoglob­u­lin G, or IgG, geo­met­ric mean con­cen­tra­tions four weeks af­ter the third dose. Of the 20 serotypes, 19 met that end­point, Pfiz­er said.
SVB Se­cu­ri­ties an­a­lysts said the re­sults "should fur­ther sup­port" the vac­cine's pro­file in doc­u­ments shipped to reg­u­la­tors.
"Re­call that in the US study, on­ly 14/20 STs met NI on this end­point which we saw as con­cern­ing be­cause it im­plied PFE's 20-va­lent vac­cine didn't match (cross-tri­al) MRK's (OP) 15-va­lent Vaxneu­vance ef­fi­ca­cy in chil­dren," SVB Se­cu­ri­ties an­a­lysts wrote in a note short­ly af­ter the da­ta drop.
The US study test­ed four dos­es. Re­gard­ing the dif­fer­ences in num­ber of shots be­tween the two re­gions, Pfiz­er said in an email to End­points News that Eu­rope's reg­u­la­tors' im­mu­niza­tion sched­ule looks at two in­fant dos­es and one tod­dler dose for pneu­mo­coc­cal con­ju­gate vac­cines. How­ev­er, the rec­om­men­da­tion for some vul­ner­a­ble in­fants re­mains four over­all dos­es, de­pend­ing on the coun­try, the spokesper­son said. The four dose se­ries in the US re­flects the FDA and ACIP rec­om­mend­ed sched­ule, they added.
The study al­so looked at the same met­ric at an ear­li­er point: one month af­ter the sec­ond dose. Six­teen of the 20 serotypes met non-in­fe­ri­or­i­ty. And on the fi­nal co-pri­ma­ry out­come — the non-in­fe­ri­or­i­ty of the per­cent­age of pa­tients with pre­de­fined serotype-spe­cif­ic IgG con­cen­tra­tions one month af­ter dose 2 — nine of the 20 serotypes met the NI cri­te­ria.
"Strong func­tion­al an­ti­body re­spons­es" were seen across all 20 vac­cine serotypes, sim­i­lar to that seen with the first two it­er­a­tions of Pre­ve­nar, Pfiz­er said. Boost­er re­spons­es al­so in­creased af­ter dos­es 2 and 3.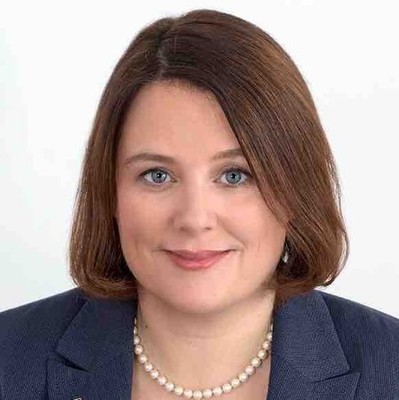 An­naliesa An­der­son
"Based on the to­tal­i­ty of im­muno­genic­i­ty and safe­ty da­ta, we feel con­fi­dent that 20vP­nC is like­ly to be pro­tec­tive against all vac­cine serotypes in a three-dose se­ries," said An­naliesa An­der­son, Pfiz­er CSO for vac­cines R&D and SVP, in a state­ment.
Safe­ty find­ings came in "sim­i­lar to Pre­ve­nar 13," Pfiz­er said. "Con­comi­tant use with com­mon pe­di­atric vac­cines were sup­port­ed." De­tailed safe­ty and im­muno­genic­i­ty da­ta will be pre­sent­ed "at a fu­ture date," once the analy­sis has wrapped up.
The goal is to pre­vent pneu­mo­coc­cal bac­te­ria from spurring pneu­mo­nia, in­va­sive pneu­mo­coc­cal dis­ease and acute oti­tis me­dia so that long-term neu­ro­log­i­cal dam­age doesn't oc­cur.
Pfiz­er and Mer­ck have long been ri­vals in the pneu­mo­coc­cal vac­cine space. Mer­ck had a 23-va­lent jab ap­proved back in the 1980s, but the pneu­mo­coc­cal poly­sac­cha­ride vac­cine's ef­fi­ca­cy didn't hold up in younger chil­dren, so sci­en­tists shift­ed to con­ju­gat­ed vac­cines.
Mer­ck pre­vi­ous­ly agreed to pay Pfiz­er a small per­cent­age of net sales on all pneu­mo­coc­cal con­ju­gate vac­cine shots through 2035.
Ed­i­tor's note: This sto­ry was up­dat­ed to in­clude in­for­ma­tion from a Pfiz­er spokesper­son.