For Rigel, a sur­pris­ing place­bo re­sponse spurs a PhI­II fail, stock beat­ing. But it's been here be­fore
A Cal­i­for­nia biotech fa­mil­iar with speed bumps ran in­to an­oth­er ear­ly Wednes­day as it tries to push its on­ly ap­proved drug in­to an­oth­er in­di­ca­tion.
Rigel Phar­ma­ceu­ti­cals re­port­ed a Phase III fail for its bleed­ing dis­or­der drug fos­ta­ma­tinib, say­ing the pri­ma­ry end­point did not achieve sta­tis­ti­cal sig­nif­i­cance when com­pared to place­bo. The biotech at­tempt­ed to in­duce a durable he­mo­glo­bin re­sponse in pa­tients with warm au­toim­mune he­molyt­ic ane­mia, or wAI­HA, but came up short due to what ex­ecs said were "ge­o­graph­i­cal dif­fer­ences" be­tween the drug and place­bo co­horts.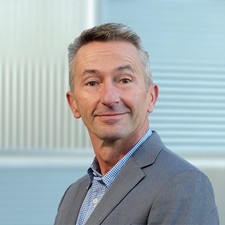 Wolf­gang Dum­mer
In par­tic­u­lar, Rigel ob­served place­bo arm pa­tients in east­ern Eu­ro­pean coun­tries achieve high­er rates of durable re­sponse than those in the ac­tive co­hort. A post-hoc analy­sis showed a sta­tis­ti­cal­ly sig­nif­i­cant drug re­sponse for Amer­i­can, Cana­di­an, Aus­tralian and west­ern Eu­ro­pean pa­tients, but it's not yet clear what caused the dis­crep­an­cy, CMO Wolf­gang Dum­mer said on an in­vestor call Wednes­day morn­ing.
What­ev­er the rea­son, in­vestors were not thrilled with the fi­nal out­come. Rigel shares $RIGL were slashed in half in ear­ly Wednes­day trad­ing, falling be­low $1 apiece for the first time.
The biotech is at­tempt­ing to ex­pand fos­ta­ma­tinib's foot­print in­to oth­er bleed­ing dis­or­ders af­ter it was ap­proved in 2018 to treat adults with chron­ic im­mune throm­bo­cy­tope­nia who failed on pre­vi­ous treat­ments. Brand­ed as Tavalisse, the drug was be­ing stud­ied in 90 wAI­HA pa­tients across the globe.
Over­all, re­searchers ran­dom­ized the pa­tients 1-to-1 to the drug and place­bo groups. Of the 45 in­di­vid­u­als tak­ing fos­ta­ma­tinib, 16 saw durable he­mo­glo­bin re­spons­es, com­pared to 12 of 45 in the place­bo group. Those re­spec­tive rates, 35.6% and 26.7%, trans­lat­ed to a p-val­ue of p=0.398.
But Rigel ex­ecs in­sist­ed the place­bo re­sponse from east­ern Eu­ro­pean pa­tients spurred on the Phase III miss. Ac­cord­ing to Rigel's analy­sis, nine of the 12 place­bo re­spon­ders came from this part of the world.
Asked on Wednes­day's call whether the com­pa­ny found such a place­bo re­sponse sur­pris­ing, Dum­mer an­swered in the af­fir­ma­tive and blamed the rel­a­tive lack of oth­er avail­able ther­a­pies.
"In east­ern Eu­rope, drugs like rit­ux­imab are less reg­u­lar­ly avail­able, so the pa­tients that are out there are ap­par­ent­ly less treat­ment-ex­pe­ri­enced, and the sites found the pa­tients that were more re­cent­ly di­ag­nosed with AI­HA," Dum­mer said. "Now is that a sur­prise? I don't know how any­body would be able to pre­dict what pre­cise pa­tients would en­roll in the study, oth­er than say­ing bi­o­log­ics are less avail­able in east­ern Eu­ro­pean coun­tries."
Dum­mer added in re­sponse to a fol­low-up ques­tion that the Russ­ian in­va­sion of Ukraine did not af­fect the study's re­sults, say­ing "not one" place­bo re­spon­der came from ei­ther coun­try. Most of the place­bo re­spon­ders came from Bul­gar­ia and the Czech Re­pub­lic, Dum­mer said.
Raul Ro­driguez
De­spite the miss in this study, CEO Raul Ro­driguez said Rigel is hope­ful it can come to an agree­ment with the FDA on the best path for­ward for ap­proval. The meet­ing will like­ly take place ei­ther in the third or fourth quar­ter this year, he said.
Rigel is no stranger to head­winds, par­tic­u­lar­ly with fos­ta­ma­tinib, as the drug's ear­li­er road to ap­proval was lit­tered with set­backs. In 2016, a Phase III study for im­mune throm­bo­cy­tope­nia missed the pri­ma­ry af­ter a pa­tient in the place­bo group achieved a re­sponse in ad­di­tion to those tak­ing the drug.
While Rigel's first Phase III came in sta­tis­ti­cal­ly sig­nif­i­cant with a p-val­ue of p=0.03, the oth­er's sin­gle place­bo re­sponse in­duced a p=0.26 p-val­ue. But the FDA went ahead with the throm­bo­cy­tope­nia ap­proval, with reg­u­la­tors will­ing to over­look the miss and make the drug avail­able to pa­tients with­out an ad­vi­so­ry com­mit­tee.
With Wednes­day's tri­al harken­ing back to the 2018 sit­u­a­tion, Ro­driguez pro­ject­ed con­fi­dence that this next FDA go-around would be no dif­fer­ent.
"Those pa­tients got a prod­uct that was im­mense­ly help­ful and we be­lieve these [wAI­HA] pa­tients de­serve no less," Ro­driguez said.