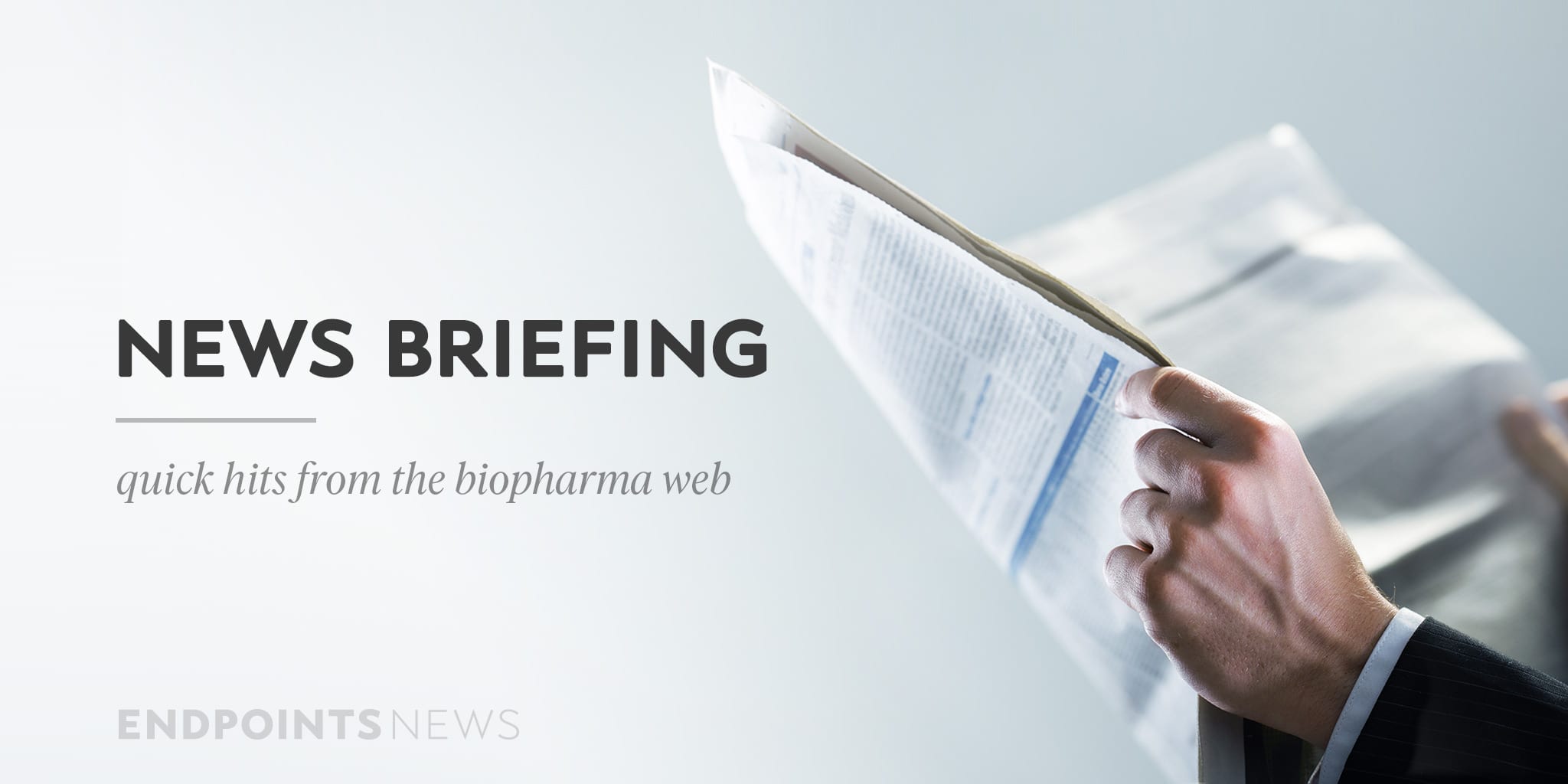 FTC pulls re­main­ing case against Ab­b­Vie; New EU clin­i­cal tri­als sys­tem com­ing in 2022; Abing­worth bets big on CymaBay
The Fed­er­al Trade Com­mis­sion on Fri­day with­drew its re­main­ing case against Ab­b­Vie af­ter the Supreme Court de­clined to re­view a low­er court's rul­ing.
The punt by SCO­TUS means that while the Illi­nois phar­ma com­pa­ny il­le­gal­ly blocked pa­tients' ac­cess to low­er-cost al­ter­na­tives to its testos­terone drug An­dro­Gel, the FTC will no longer be able to re­turn about $500 mil­lion di­rect­ly to An­dro­Gel con­sumers.
"This case high­lights the press­ing need for leg­is­la­tion re­in­stat­ing the FTC's au­thor­i­ty to seek eq­ui­table mon­e­tary re­lief for con­sumers in com­pe­ti­tion cas­es," Hol­ly Ve­do­va, FTC's act­ing di­rec­tor of the Bu­reau of Com­pe­ti­tion, said in a state­ment. "Con­gress should act quick­ly to re­store Sec­tion 13(b) of the FTC act and the Com­mis­sion's abil­i­ty to re­turn to con­sumers mon­ey lost due to il­le­gal an­ti­com­pet­i­tive be­hav­ior by phar­ma­ceu­ti­cal com­pa­nies." — Zachary Bren­nan
Eu­rope's new clin­i­cal tri­al sys­tem com­ing in 2022
The long-await­ed Eu­ro­pean Clin­i­cal Tri­als In­for­ma­tion Sys­tem is set to go live on Jan. 31, 2022, the Eu­ro­pean Med­i­cines Agency an­nounced Mon­day.
The launch of the CTIS will mean spon­sors no longer have to sub­mit tri­al ap­pli­ca­tions to sep­a­rate na­tion­al au­thor­i­ties and can in­stead send them to a sin­gle en­try point for sub­mis­sion, au­tho­riza­tion and safe­ty re­port­ing in the EU, Ice­land, Liecht­en­stein and Nor­way.
"With CTIS, spon­sors can ap­ply for clin­i­cal tri­al au­tho­ri­sa­tion in up to 30 EEA coun­tries with a sin­gle ap­pli­ca­tion," the EMA said, not­ing the up­com­ing tran­si­tion pe­ri­od.
EU mem­ber states will work in CTIS af­ter it goes live, but for one year, un­til Jan. 31, 2023, ap­pli­cants can still choose whether to sub­mit their ap­pli­ca­tion to start a clin­i­cal tri­al ac­cord­ing to the cur­rent sys­tem, Ethe MA says. Af­ter that date, sub­mis­sion to the new sys­tem is manda­to­ry, and by Jan. 31, 2025, all on­go­ing tri­als ap­proved un­der the old sys­tem will need to mi­grate to the new one. — Zachary Bren­nan
Abing­worth bets $100M on CymaBay's up­com­ing Phase III
A year af­ter the FDA lift­ed a clin­i­cal hold on CymaBay's se­ladel­par and gave it a green light fol­low­ing safe­ty fears, Abing­worth is step­ping up with a $100 mil­lion bet on a Phase III gam­ble.
Abing­worth will hand over $75 mil­lion of that over the next six months to fund their late-stage ef­fort on pri­ma­ry bil­iary cholan­gi­tis (PBC). And CymaBay will have an op­tion on the fourth tranche.
In re­turn, the biotech agreed to a six-year re­pay­ment plan, de­pend­ing on po­ten­tial ap­provals in the US and EU. And it will al­so pay out sales mile­stones.
Abing­worth has a not­ed in­ter­est in risk-shar­ing deals, par­tic­u­lar­ly on late-stage piv­otal ef­forts.
"By thought­ful­ly risk-shar­ing de­vel­op­ment costs with Abing­worth, who shares our be­lief in the po­ten­tial of se­ladel­par to serve as an im­proved sec­ond-line treat­ment for pa­tients with PBC, we have se­cured the ad­di­tion­al fund­ing need­ed for the Phase 3 pro­gram," says CymaBay CEO Su­jal Shah. — John Car­roll
Irish Tax Ap­peals Com­mis­sion up­holds as­sess­ment of Shire's break fee
Take­da's at­tempts to ap­peal a tax as­sess­ment from a break fee Shire re­ceived from Ab­b­Vie back in 2014 have failed. But the com­pa­ny's not giv­ing up just yet.
Ab­b­Vie backed out of a pro­posed $55 bil­lion pur­chase of Shire near­ly sev­en years ago, cit­ing rule changes by the US Trea­sury De­part­ment in­tend­ed to cur­tail deals in which US com­pa­nies would re­domi­cile over­seas to take ad­van­tage of low­er cor­po­rate tax rates, ac­cord­ing to a Reuters re­port. When it walked away, Ab­b­Vie paid the Irish com­pa­ny $1.64 bil­lion. And in 2018, Shire re­ceived a tax as­sess­ment from the Irish Rev­enue Com­mis­sion­ers for €398 mil­lion ($472.7 mil­lion).
Take­da ac­quired Shire in 2019, and ap­pealed the tax as­sess­ment in a hear­ing late last year. On Fri­day, the Irish Tax Ap­peals Com­mis­sion de­cid­ed to up­hold the as­sess­ment.
"Take­da in­tends to chal­lenge this out­come through all avail­able le­gal means in­clud­ing ap­peal­ing the de­ci­sion to the Irish courts," the com­pa­ny said in a state­ment. — Nicole De­Feud­is
New da­ta show promise for a six-week reg­i­men of Bio­gen's Tysabri
While Bio­gen's mul­ti­ple scle­ro­sis drug Tysabri is cur­rent­ly ap­proved to be ad­min­is­tered every four weeks, one analy­sis showed that giv­ing every six weeks could low­er pa­tients' risk of de­vel­op­ing pro­gres­sive mul­ti­fo­cal leukoen­cephalopa­thy (PML), a rare but se­ri­ous brain in­fec­tion.
On Mon­day, the com­pa­ny un­veiled new da­ta show­ing that the six-week reg­i­men is no less ef­fec­tive than the four-week one.
Ac­cord­ing to Bio­gen, pa­tients who re­ceived Tysabri every four weeks saw a mean num­ber of new or new­ly en­larg­ing T2 hy­per­in­tense le­sions at week 72 of 0.05, com­pared to 0.02 for the pa­tients re­ceiv­ing the drug every six weeks. That fig­ure isn't clin­i­cal­ly mean­ing­ful, the com­pa­ny said, adding that the p-val­ue was 0.0755.
Ac­cord­ing to new da­ta from a two-year study, Bio­gen's mul­ti­ple scle­ro­sis drug Tysabri shows no mean­ing­ful dif­fer­ence in ef­fi­ca­cy when giv­en every six weeks as op­posed to the cur­rent­ly every four.
"The nu­mer­i­cal dif­fer­ence was dri­ven by a high num­ber of le­sions oc­cur­ring in two par­tic­i­pants in the Q6W arm – one pa­tient who de­vel­oped le­sions three months af­ter treat­ment dis­con­tin­u­a­tion and a sec­ond pa­tient who de­vel­oped asymp­to­matic pro­gres­sive mul­ti­fo­cal leukoen­cephalopa­thy (PML)…" Bio­gen said in a state­ment.
The pro­por­tion of pa­tients who de­vel­oped new or new­ly en­larg­ing T2 le­sions was 4.1% in the four-week arm, and 4.3% in the six-week arm.
A com­plete analy­sis of the da­ta is on­go­ing and more de­tailed re­sults will be shared in a fu­ture sci­en­tif­ic fo­rum, Bio­gen said. — Nicole De­Feud­is