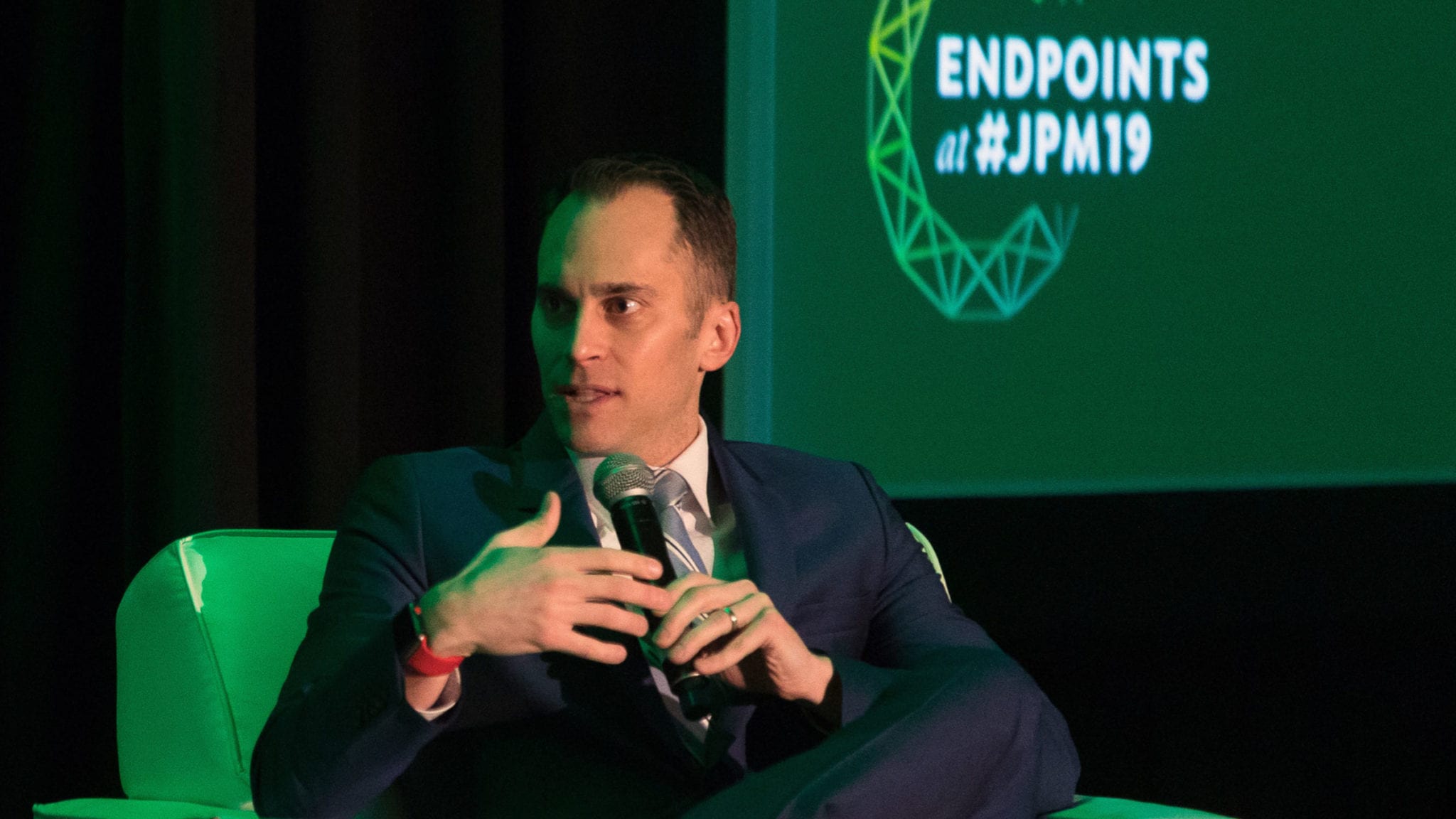 Jeff Marrazzo, Spark CEO (Credit: Endpoints News)
FTC to Roche: OK, go ahead and com­plete your $4.3B Spark buy­out — we're con­vinced now this is­n't an­ti­com­pet­i­tive
Af­ter putting Roche through mul­ti­ple de­lays dur­ing a 10-month re­view, the FTC has de­ter­mined that Roche isn't spend­ing $4.3 bil­lion to buy Spark so it can de­stroy a po­ten­tial com­peti­tor, or use it to re­place one of their new block­busters. And the phar­ma gi­ant fol­lowed up soon af­ter to say that it had 60.4% of Spark's stock and will for­mal­ly wrap the buy­out to­day.
The FTC an­nounced Mon­day evening that the com­mis­sion­ers vot­ed 5 to 0 to close the in­ves­ti­ga­tion af­ter de­ter­min­ing the ev­i­dence "did not in­di­cate that Roche would have the in­cen­tive to de­lay or ter­mi­nate Spark's de­vel­op­men­tal ef­fort for its he­mo­phil­ia A gene ther­a­py, or that the ac­qui­si­tion would af­fect Roche's in­cen­tives re­gard­ing [its he­mo­phil­ia treat­ment drug] Hem­li­bra."
In a state­ment, the FTC ex­plained that they need­ed to as­sure them­selves that Roche was ac­tu­al­ly sin­cere. Their ri­vals in he­mo­phil­ia A helped con­vince them that com­pe­ti­tion would on­ly dri­ve Roche faster — some­thing that might seem ob­vi­ous to any­one even ca­su­al­ly ac­quaint­ed with bio­phar­ma.
Among oth­er things, Spark is on­ly one of sev­er­al com­pa­nies cur­rent­ly de­vel­op­ing a gene ther­a­py treat­ment for he­mo­phil­ia A. As the oth­er com­pa­nies en­deav­or to bring their gene ther­a­pies to mar­ket, Roche would have the in­cen­tive to ac­cel­er­ate, rather than de­cel­er­ate the de­vel­op­ment of Spark's gene ther­a­py in or­der to com­pete for gene ther­a­py pa­tients.
For much of the year the FTC kept the bio­phar­ma in­dus­try guess­ing on what its con­cerns were, amp­ing up con­cerns af­ter the two De­mo­c­ra­t­ic ap­pointees in­di­cat­ed a ba­sic prob­lem with all kinds of M&A deals in the drug in­dus­try.
Spark CEO Jeff Mar­raz­zo told End­points News they hadn't ex­pect­ed the pro­tract­ed de­lay, and it set­back some of their work.
"It was ob­vi­ous­ly a process that we thought would con­clude ear­li­er," he said. "We're dis­ap­point­ed we weren't able to go about in­vest­ing in re­search and de­vel­op­ment."
The move comes just hours af­ter the UK's chief reg­u­la­to­ry group for M&A of­fered its own green light, leav­ing the phar­ma gi­ant free to com­plete what they al­ways in­sist­ed was a sim­ple buy­out aimed at cre­at­ing a new cen­ter for gene ther­a­py R&D. And Spark's he­mo­phil­ia pro­gram is go­ing up against ri­vals at Bio­Marin and Sang­amo/Pfiz­er.