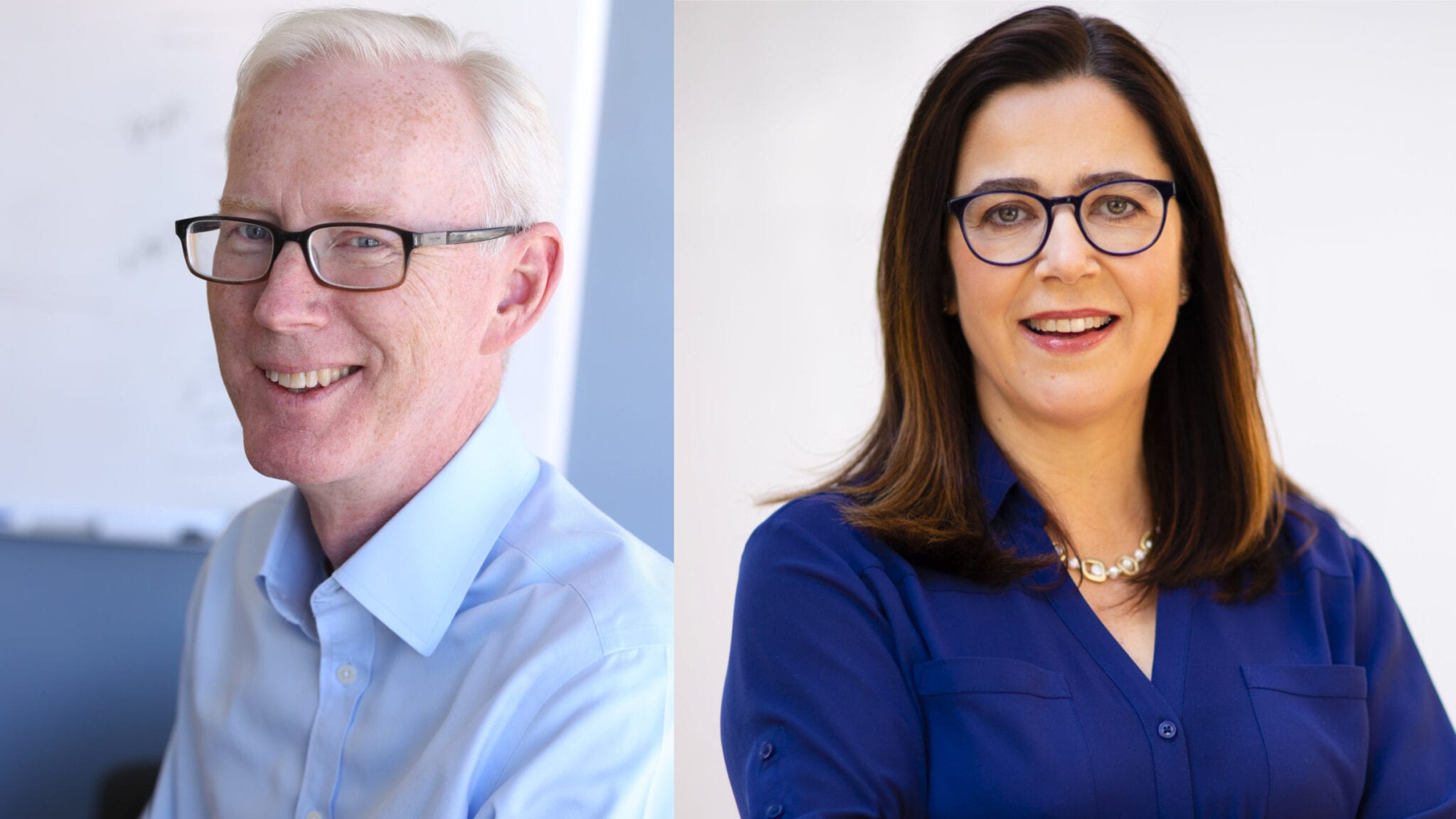 Charlie Albright and Petra Kaufmann
Gene edit­ing ex­pert Char­lie Al­bright tells us why he hopped from Ed­i­tas to a new role as CSO of an up­start biotech out to en­gi­neer gene ther­a­py 2.0
We now know where Char­lie Al­bright was head­ed when he jumped ship at CRISPR gene edit­ing pi­o­neer Ed­i­tas a few weeks ago.
Al­bright has skipped across town to Waltham, MA-based Affinia, the new­ly hatched gene ther­a­py biotech — from AveX­is vets Sean Nolan and Rick Mo­di — look­ing to de­vel­op next-gen AAV de­liv­ery ve­hi­cles for a new wave of once-and-done ther­a­pies. And he's been joined on the team by Pe­tra Kauf­mann, a vet from No­var­tis Gene Ther­a­pies — un­til re­cent­ly known as AveX­is.
"We're re­al­ly at the be­gin­ning of a new era of drug de­vel­op­ment with gene ther­a­py," Al­bright tells me, point­ing to some big ad­vances, as well as ac­knowl­edg­ing some daunt­ing set­backs that have oc­curred.
"It's not sur­pris­ing we're see­ing both suc­cess­es and some set­backs," he adds. "I came to Affinia be­cause I thought we had the po­ten­tial to ad­dress some of the fun­da­men­tal is­sues in AAV gene ther­a­py. And af­ter my first 4 weeks here I be­lieve that even more than when I took the job."
The big idea at Affinia, what at­tract­ed Al­bright to the com­pa­ny, is the be­lief that the in­sights Luk Van­den­berghe made in his Har­vard lab can trans­late in­to new and much bet­ter cap­sids that can sig­nif­i­cant­ly im­prove ef­fi­ca­cy, guard against tox­i­c­i­ty and tar­get a va­ri­ety of new tis­sues that can open the door to a host of dis­eases now out­side the reach of the cur­rent­ly avail­able tech. The tech al­so has the po­ten­tial to avoid re­sis­tance mech­a­nisms, nat­u­ral­ly re­oc­cur­ring an­ti­bod­ies, and help solve man­u­fac­tur­ing chal­lenges.
"My job is to take that tech­nol­o­gy from an aca­d­e­m­ic set­ting and in­dus­tri­al­ize that tech­nol­o­gy and at the same time point it to­ward the right com­bi­na­tion of where the tech­nol­o­gy works and the un­met need is high," says Al­bright.
"The plat­form is based on AAV cap­sids that come from the re­con­struc­tion of the an­ces­tral se­quences… We take this li­brary of po­ten­tial an­ces­tors and we bar­cod­ed them so we can see which an­ces­tor we're look­ing at, or which cap­sids we're look­ing at, and then we can in­ject them in­to an­i­mals and see which ones get more broad­ly dis­trib­uted in the cen­tral ner­vous sys­tem, which ones al­low bet­ter pen­e­tra­tion in­to car­diac tis­sue, and there­by iden­ti­fy cap­sids that al­low us to get the dose down and the amount of gene ther­a­py we de­liv­er way up."
These vari­ants based on an­ces­tral se­quences have high func­tion­al­i­ty, he notes. "We have ev­i­dence that that ac­tu­al­ly will work. In par­tic­u­lar, we found a cap­sid that de-tar­gets the liv­er, one of the ma­jor sites of tox­i­c­i­ty that comes from high dos­es of sys­temic AAV. An­oth­er dis­trib­utes gene ther­a­py more broad­ly in the brain, though lum­bar punc­ture, that out­per­forms AAV9." Both are ex­am­ples of what dif­fer­en­ti­ates Affinia from the rest of the field, which has been ex­plod­ing with new pro­grams over the last few years.
Affinia still has a long way to go, but at this point in the jour­ney, Al­bright feels he's found a spot right on the cut­ting edge of the gene ther­a­py boom. And he plans to ride it out to the clin­ic.