In a set­back, Re­gen­eron re­ports a mid-stage flop for next-gen Eylea com­bo
Re­gen­eron has run in­to a rare clin­i­cal set­back. The big biotech re­ports that one of its next-gen Eylea com­bos flopped in a Phase II study, falling short on the pri­ma­ry as well as sec­ondary end­points. And an­a­lysts quick­ly start­ed to as­sess the po­ten­tial im­pli­ca­tions for a ri­val com­bo now in Phase III at Oph­thotech.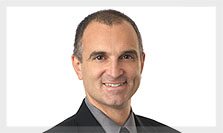 R&D Chief George Yan­copou­los
Re­gen­eron added the an­ti-PDGF an­ti­body rin­u­cum­ab to its block­buster drug for age-re­lat­ed mac­u­lar de­gen­er­a­tion. Af­ter 12 weeks of ther­a­py the pa­tients in the com­bo group demon­strat­ed a 5.8-let­ter im­prove­ment in a com­mon­ly used eye test. But that com­pared poor­ly against the 7.5-let­ter im­prove­ment for Eylea alone.
That's not all. Adding rin­u­cum­ab to Eylea "showed no ben­e­fit on anatom­ic end­points in­clud­ing re­duc­tion in reti­nal thick­ness or in res­o­lu­tion of sub­reti­nal hy­per-re­flec­tive ma­te­r­i­al," Re­gen­eron re­ports. "Oc­u­lar ad­verse events at 12 weeks were more com­mon in the com­bi­na­tion treat­ment groups (23.5 and 20 per­cent) com­pared to afliber­cept alone (16 per­cent), pri­mar­i­ly dri­ven by an in­crease in con­junc­ti­val he­m­or­rhage, eye ir­ri­ta­tion and eye pain."
Jef­feries' Biren Amon says the mid-stage fail­ure may cast a cloud over Oph­thotech $OPHT, which is deep in­to a Phase III adding Fo­vista (an­oth­er an­ti-PDGF) to Lu­cen­tis. Its shares dropped 12% in pre-mar­ket trad­ing.
There will be more read­outs af­ter 28 and 52 weeks, but Re­gen­eron didn't sound op­ti­mistic. It's chang­ing its fo­cus on a next-gen com­bo ap­proach to in­clude an an­ti-an­giopoi­etin 2 an­ti­body.
CSO George D. Yan­copou­los had this to say in a state­ment:
"The ad­di­tion of rin­u­cum­ab did not im­prove on the ef­fi­ca­cy of afliber­cept alone. We are com­mit­ted to con­tin­u­ing to in­no­vate for pa­tients with se­ri­ous vi­sion-threat­en­ing dis­eases, and look for­ward to the re­sults of our on­go­ing com­bi­na­tion stud­ies of afliber­cept and nes­vacum­ab, an an­ti-an­giopoi­etin 2 an­ti­body, for which the pre­clin­i­cal da­ta is more sup­port­ive."