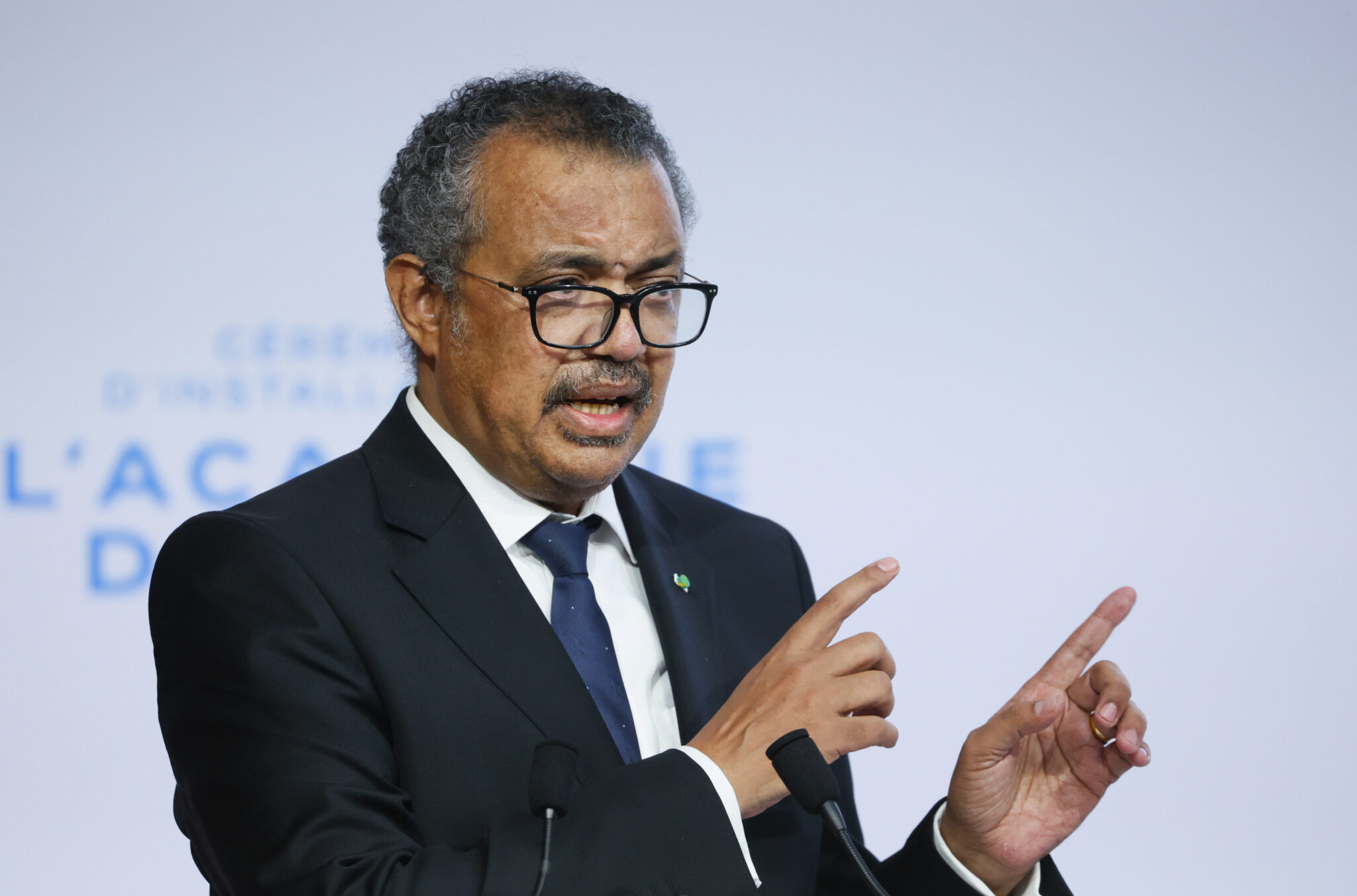 Tedros Adhanom Ghebreyesus (Denis Balibouse/Pool Photo via AP Images)
In 'his­toric' pub­lic health step, WHO ful­ly en­dors­es Glax­o­SmithK­line's malar­ia shot
Glax­o­SmithK­line won a big en­dorse­ment from the WHO on Wednes­day.
The or­ga­ni­za­tion has ap­proved the British drug­mak­er's malar­ia vac­cine for chil­dren, it an­nounced, paving the way for full de­ploy­ment through­out sub-Sa­ha­ran Africa af­ter a pi­lot pro­gram in Ghana, Kenya and Malawi rolled out in 2019. It's large­ly seen as a huge win in a par­a­sitic dis­ease that kills rough­ly half a mil­lion peo­ple each year, in­clud­ing more than a quar­ter mil­lion chil­dren un­der 5, al­most all of whom live on the African con­ti­nent.
"This is a his­toric mo­ment. The long-await­ed malar­ia vac­cine for chil­dren is a break­through for sci­ence, child health and malar­ia con­trol," said WHO Di­rec­tor-Gen­er­al Tedros Ad­hanom Ghe­breye­sus in a state­ment. "Us­ing this vac­cine on top of ex­ist­ing tools to pre­vent malar­ia could save tens of thou­sands of young lives each year."
GSK's vac­cine was first ap­proved by the EMA in 2015, but didn't im­press the WHO im­me­di­ate­ly. Con­cerns arose over the shot's ef­fi­ca­cy, which in clin­i­cal tri­als reached 50% against se­vere malar­ia af­ter the first year but fell to ze­ro two to three years lat­er. Some ex­perts al­so ques­tioned the shot's abil­i­ty to pre­vent death, giv­en that stud­ies did not di­rect­ly mea­sure mor­tal­i­ty.
The shot must al­so be ad­min­is­tered in four dos­es, be­gin­ning when chil­dren reach five months of age un­til they turn three years old. But cur­rent­ly, the best tools to fight malar­ia have been spray­ing in­sec­ti­cides in the home and wrap­ping mat­tress­es with spe­cial nets to ward off the mos­qui­toes that car­ry the par­a­site.
Rather than ap­prove the shot for wide use, the WHO launched a pi­lot pro­gram in 2019 to ex­am­ine the shot's ef­fec­tive­ness. Per Wednes­day's an­nounce­ment, the pro­gram showed that more than two-thirds of chil­dren in the three coun­tries who are not sleep­ing un­der a bed­net are ben­e­fit­ing from the vac­cine, which is known as Mosquir­ix or RTS,S.
The WHO al­so high­light­ed that even in ar­eas where nets are in high use, adding the shot re­duced deaths from se­vere malar­ia by 30%. One out­side mod­el showed the shot will pre­vent more than 5 mil­lion cas­es and 23,000 deaths an­nu­al­ly in chil­dren un­der five in ar­eas with the high­est in­ci­dence rates.
GSK had pre­vi­ous­ly an­nounced plans to pro­vide 10 mil­lion dos­es for use in the pi­lots and will com­mit to 15 mil­lion dos­es an­nu­al­ly now that the shot has been ap­proved for wider use. The Big Phar­ma re­cent­ly shift­ed pro­duc­tion of its vac­cine to Bharat Biotech in In­dia, aim­ing for the biotech to be the sole man­u­fac­tur­er of the shot's pro­tein by 2029.
There are oth­er malar­ia vac­cines in de­vel­op­ment, but GSK's shot is the first to gain WHO ap­proval — and the first shot ever OK'ed in any par­a­sitic dis­ease. No­vavax and Ox­ford Uni­ver­si­ty tout­ed a 75% ef­fi­ca­cy in a Phase III study in April, while BioN­Tech is gear­ing up to make an mR­NA-based malar­ia shot fol­low­ing the suc­cess of its Covid-19 vac­cines.