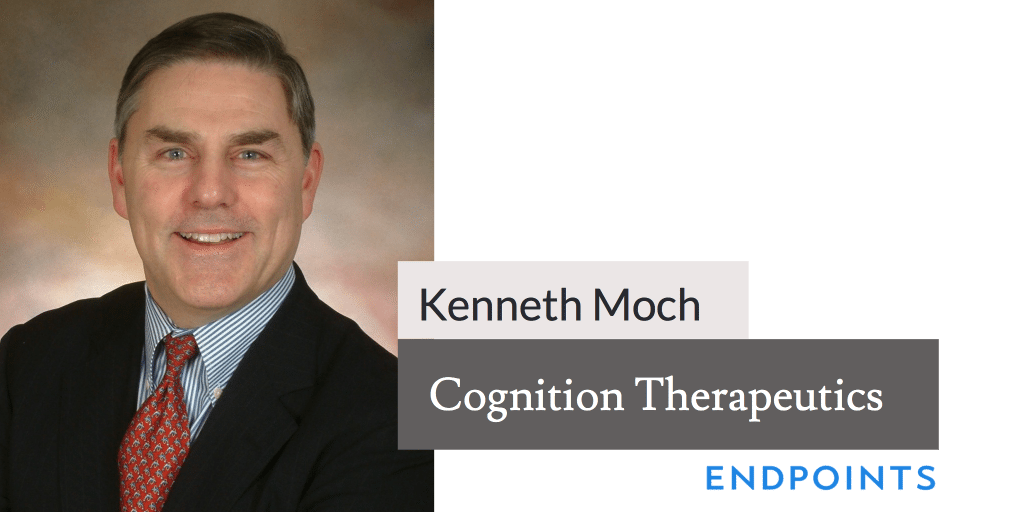 In­dus­try vet Ken Moch jumps to the helm of a small biotech with big dreams for treat­ing Alzheimer's
Long­time biotech vet Ken Moch will be spend­ing a good part of his work­ing hours in Pitts­burgh from now on. The for­mer Chimerix CEO has land­ed the helm of Cog­ni­tion Ther­a­peu­tics, a small biotech which is pur­su­ing ear­ly-stage work on a new Alzheimer's drug.
"I've known the com­pa­ny for awhile," Moch tells me about his move, two years af­ter he left Chimerix in the wake of a vi­ral con­tro­ver­sy over ac­cess to that com­pa­ny's lead an­ti-vi­ral. Cog­ni­tion (AKA CogRx), he says, "has very ex­cit­ing tech­nol­o­gy."
Moch has 25+ years ex­pe­ri­ence in biotech, so he knows go­ing in to the new job that Alzheimer's is one of the most com­plex are­nas in drug R&D. The past 10 years has seen the dis­as­trous string of ex­per­i­men­tal Alzheimer's drug fail­ures grow in­to a ver­i­ta­ble Boot Heel of dead pro­grams, ruth­less­ly claim­ing the com­pa­nies and teams that have tried to beat it — so far.
For any­one who's met him, though, Moch is an un­quench­able op­ti­mist, and he'll bring all his trade­mark en­thu­si­asm to bear in push­ing Cog­ni­tion along, ex­pand­ing the team, rais­ing new funds, search­ing out fresh part­ners to work with.
"The found­ing sci­en­tist is Su­san Cata­lano," Moch says, an ex­pert in synap­tic plas­tic­i­ty. "What I found most de­light­ful is how she ded­i­cat­ed 8 years of her life push­ing from the con­cept in­to the clin­ic." It took a lot of pas­sion to push along a small mol­e­cule like this, rais­ing $27 mil­lion from an­gel in­vestors and $11 mil­lion from foun­da­tions and NIH grants to get the com­pa­ny where it is to­day.
And now Moch will cham­pi­on the work she's do­ing tar­get­ing the sig­ma-2/PGRMC1 re­cep­tor, "which be­haves as a sat­urable bind­ing site for sol­u­ble Abe­ta (amy­loid be­ta) and me­di­ates its synap­to­tox­i­c­i­ty."
The risk of fail­ure in Alzheimer's may be as­tro­nom­i­cal­ly high, but the po­ten­tial re­wards for suc­cess are huge. For now, Moch — who's re­cent­ly had to con­tend with a nasty li­bel suit filed by Chimerix in­vestor Pap­pas In­vestors — will fo­cus on the re­wards as the biotech's lead pro­gram com­pletes Phase I in Aus­tralia.