Io­n­is, Akcea boost­ed by a pos­i­tive PhII for their No­var­tis castoff car­dio drug — and they plan to push ahead in­to piv­otals
Late last year No­var­tis aban­doned a car­dio drug from Io­n­is' spin­off Akcea just af­ter the phar­ma gi­ant snapped up in­clisir­an, go­ing the RNAi way in guard­ing against heart dis­ease in the $9.7 bil­lion Med­co buy­out.
Now the phar­ma go­liath — which is head­ed down the PC­SK9 road with a drug it be­lieves can be used in a mass pop­u­la­tion — can get a clear­er pic­ture of just what they gave up.
Akcea $AK­CA and the moth­er com­pa­ny $IONS put out a state­ment ear­ly Wednes­day say­ing that their Phase II study of AKCEA-APOC­I­II-LR de­liv­ered sol­id ef­fi­ca­cy da­ta, with the high dose clear­ly out­per­form­ing place­bo in sig­nif­i­cant­ly re­duc­ing triglyc­erides as a means to cut­ting the risk of car­dio­vas­cu­lar dis­ease. In ad­di­tion, in­ves­ti­ga­tors con­clud­ed that the drug slashed apoC-III, very low-den­si­ty lipopro­tein and rem­nant cho­les­terol while boost­ing "good" HDL lev­els.
Specif­i­cal­ly, in the high dose 50 mg arm of the study, "more than 90% of pa­tients achieved serum triglyc­erides of ≤ 150 mg/dL, com­pared to less than 5% of pa­tients in the place­bo group; mean triglyc­eride lev­els of pa­tients at base­line was 285 mg/dL."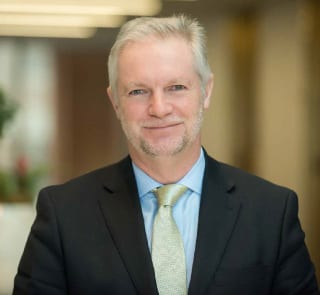 Louis O'Dea Akcea
Louis O'Dea, the chief med­ical of­fi­cer at Akcea, says the da­ta con­firmed the po­ten­tial for this drug, leav­ing them on course to pur­sue de­vel­op­ment for fa­mil­ial chy­lomi­crone­mia syn­drome, or FCS, as well as oth­er rare and com­mon car­dio ail­ments.
Akcea shares surged 17% ahead of the bell on Wednes­day.
AKCEA-APOC­I­II-LRx is a lig­and con­ju­gat­ed an­ti­sense drug de­signed to re­duce the pro­duc­tion of apolipopro­tein C-III.
Stifel's Paul Mat­teis sees some up­side here, but not in FCS.
Akcea plans to rapid­ly pur­sue FCS, a dis­ease where we see a high prob­a­bil­i­ty-of-suc­cess (at least on a sur­ro­gate), though we are skep­ti­cal sur­round­ing the size of the mar­ket op­por­tu­ni­ty. Thus, for the stock, we think this pro­gram be­comes more/most im­pact­ful if/when Akcea/Io­n­is for­mu­late plans to go in­to broad­er pop­u­la­tions (ie. maybe TG of >500mg/dl?); this was men­tioned as un­der con­sid­er­a­tion in the PR.
This drug was orig­i­nal­ly part of a $1.65 bil­lion deal that No­var­tis signed off on 3 years ago. And over the last year, its ex­it on this drug was just one of a num­ber of dis­rup­tions that hit Akcea. With its stock suf­fer­ing on poor mar­ket­ing per­for­mance, the top 3 ex­ecs hit the ex­it at Akcea in Sep­tem­ber.