Left for dead af­ter a fail­ure in neu­ro­path­ic pain, Aptinyx latch­es on­to pos­i­tive PhII da­ta in PTSD
Al­most two years af­ter a Phase II fail sent in­vestors run­ning for the hills, Aptinyx $AP­TX may have found a new life­line.
The Evanston, IL-based biotech, which fo­cus­es on brain and cen­tral ner­vous sys­tem dis­or­ders, an­nounced pos­i­tive Phase II da­ta in post-trau­mat­ic stress dis­or­der Mon­day af­ter­noon with one of its NM­DA re­cep­tor mod­u­la­tors. Armed with the topline ef­fi­ca­cy and safe­ty re­sults, Aptinyx now plans to be­gin a piv­otal study some­time in 2021.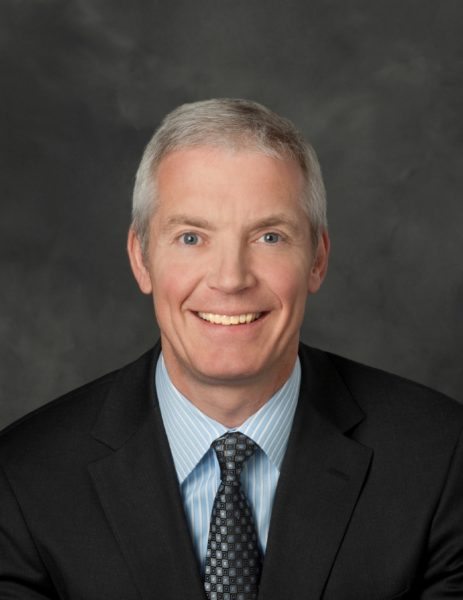 Nor­bert Riedel
"We are very pleased with these im­pres­sive re­sults, which sur­passed our ex­pec­ta­tions for this ini­tial ex­plorato­ry study," CEO Nor­bert Riedel said in a state­ment.
Aptinyx's shares near­ly dou­bled af­ter the bell Mon­day, soar­ing as high as 96% less than two hours af­ter the com­pa­ny re­port­ed the da­ta.
The dri­ving force be­hind this re­bound is a pro­gram called NYX-783, an oral NM­DA re­cep­tor mod­u­la­tor. De­signed to en­hance what's known as ex­tinc­tion learn­ing, Aptinyx says NYX-783 can al­le­vi­ate symp­toms of the con­di­tion such as ir­ri­tabil­i­ty, ag­gres­sion, reck­less or self-de­struc­tive be­hav­ior and lack of con­cen­tra­tion.
NYX-783 was stud­ied in a place­bo-con­trolled, dou­ble-blind­ed and ran­dom­ized tri­al with 153 pa­tients. The Phase II took place over two four-week stages and mea­sured two dif­fer­ent dos­es, 10 mg and 50 mg, both of which showed sta­tis­ti­cal­ly sig­nif­i­cant im­prove­ments (p=0.049 and p=0.040, re­spec­tive­ly) on the CAPS-5 Arousal and Re­ac­tiv­i­ty Score, a clin­i­cian-ad­min­is­tered in­ter­view de­signed to eval­u­ate PTSD pa­tients.
Aptinyx al­so re­port­ed CAPS-5 To­tal Score da­ta from the first stage of the Phase II, which it said showed clin­i­cal­ly mean­ing­ful im­prove­ments that trend­ed to­ward sig­nif­i­cance. In the drug arm, 78% of pa­tients tak­ing the 50 mg dose achieved a 30% im­prove­ment from base­line af­ter four weeks, com­pared to 44% tak­ing place­bo (p=0.008). With­in the same arm, 50% of pa­tients saw a 50% im­prove­ment from base­line against 26% on place­bo (p=0.044).
The pri­ma­ry end­point of the study was the change in CAPS-5 To­tal Score and sub­scores for Stage 1 and Stage 2, com­bined as weight­ed ef­fects.
In a con­fer­ence call with in­vestors Tues­day morn­ing, Aptinyx elab­o­rat­ed on the da­ta and em­pha­sized that in Stage 1, two-thirds of the pa­tient pop­u­la­tion was ran­dom­ized in­to place­bo. As the tri­al moved in­to Stage 2 af­ter four weeks, all of the pa­tients in the orig­i­nal drug arm were placed in­to place­bo, and the orig­i­nal place­bo group was di­vid­ed in­to re­spon­ders and non-re­spon­ders. Each group was then ran­dom­ized for the next four-week pe­ri­od to re­ceive place­bo, the 10 mg dose or the 50 mg dose at a 2:1:1 rate.
Aptinyx sci­en­tists stressed on the call that this en­sured no in­di­vid­ual re­ceived more than four weeks of treat­ment at any point.
SVBLeerink's Marc Good­man pegged this as a good sign for Aptinyx, writ­ing to in­vestors:
The stock has been in the "penal­ty box" since the neg­a­tive Phase 2 read­out of its lead­ing as­set NYX-2925 in painful di­a­bet­ic pe­riph­er­al neu­ropa­thy over a year ago, which has re­sult­ed in in­creased in­vestor skep­ti­cism re­gard­ing its NM­DA mod­u­la­tion plat­form, so this is very wel­come news which should help re­ju­ve­nate con­fi­dence in this MoA. Giv­en how neg­a­tive in­vestor sen­ti­ment has been, we are not sur­prised to see the stock up >80% in af­ter-mar­ket trad­ing.
Ex­tinc­tion learn­ing it­self is a psy­cho­log­i­cal phe­nom­e­non that's used to re­con­di­tion the brain in re­sponse to cer­tain stim­uli. Specif­i­cal­ly, it refers to the de­creas­ing re­sponse to a known stim­u­lus when it's pre­sent­ed with­out re­in­force­ment. Think Pavlov's dog: af­ter the dog was trained to sali­vate at the sound of a bell, Pavlov be­gan ring­ing the bell with­out giv­ing any food. Soon, the dog stopped sali­vat­ing.
Sim­i­lar meth­ods are used to help PTSD pa­tients dis­as­so­ci­ate from their fears. NYX-783 boosts this ac­tiv­i­ty, Aptinyx says, mod­u­lat­ing the NM­DA re­cep­tor to dri­ve ac­tiv­i­ty to por­tions of the brain where pa­tients have al­tered con­nec­tiv­i­ty when re­call­ing trau­mat­ic events.
Mon­day's news could mark the start of a turn­around for the biotech af­ter their pro­gram for di­a­bet­ic pe­riph­er­al neu­ropa­thy flopped hard back in Jan­u­ary 2019. The for­mer lead can­di­date, an­oth­er NM­DA re­cep­tor mod­u­la­tor, failed to meet the pri­ma­ry end­point in a Phase II in any of the three dos­es be­ing test­ed, send­ing their stock price plum­met­ing 70%. Af­ter mak­ing its pub­lic de­but in June 2018 at $20 per share, Aptinyx has trad­ed be­low $6 ever since that bust.
PTSD has proved a no­to­ri­ous­ly tough in­di­ca­tion to crack, and NM­DA pro­grams test­ed in oth­er fields have not seen much suc­cess ei­ther. Al­ler­gan bought out Nau­rex for $560 mil­lion sev­er­al years ago hop­ing to uti­lize its ex­per­i­men­tal NM­DA drugs to treat de­pres­sion, but that led to a Phase III dud in March 2019.