Make that 2 prospec­tive block­buster ap­provals in 1 day for No­var­tis as FDA OKs tar­get­ed can­cer ther­a­py
May 24 is go­ing to go down as a big day in No­var­tis' 2019 high­light reel.
Not on­ly did the FDA stamp an OK on the prospec­tive gene ther­a­py block­buster Zol­gens­ma, with a record-set­ting $2.1 mil­lion price tag, reg­u­la­tors al­so green-light­ed alpelis­ib, one of their oth­er top block­buster can­di­dates of the year.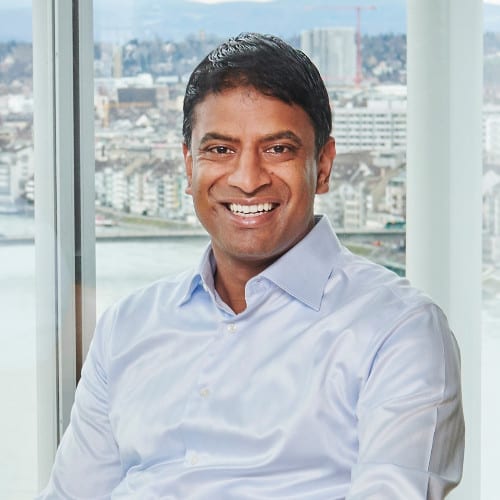 Vas Narasimhan Linkedin
These are 2 of the slate of 4 block­busters the phar­ma gi­ant $NVS high­light­ed for a com­mer­cial roll­out this year. And it's the third big ap­proval this year, be­hind the MS drug Mayzent, mak­ing 2019 a wa­ter­shed year for the com­pa­ny and new CEO Vas Narasimhan.
Alpelis­ib, ini­tial­ly code-named BYL719, will now hit the mar­ket as Piqray. It will be sold for HR+/HER2- ad­vanced breast can­cer with a PIK3CA mu­ta­tion — the first such tar­get­ed ther­a­py OK'd by the agency.
The da­ta cleared all the hur­dles need­ed for the FDA. Piqray plus ful­ves­trant near­ly dou­bled me­di­an pro­gres­sion-free sur­vival com­pared to ful­ves­trant alone in HR+/HER2- ad­vanced breast can­cer pa­tients with a PIK3CA mu­ta­tion (me­di­an PFS 11.0 months vs 5.7 months; HR=0.65). The ORR for the com­bo was 35.7% vs 16.2% for ful­ves­trant alone, p=0.0002.
It won't come cheap. The drug will be sold at a whole­sale ac­qui­si­tion price of $15,500 a month, or right around $200,000 a year.
That's a win­ner. It's al­so a source of pride for No­var­tis R&D. The multi­na­tion­al bought Zol­gens­ma a year ago when it was well on its way, but they brought this drug all the way up from their dis­cov­ery group at NI­BR, mak­ing it a home­grown suc­cess sto­ry. And the FDA ex­e­cut­ed the ap­proval as the first un­der its re­al-time re­view pro­gram, which lets reg­u­la­tors start con­sid­er­ing an ap­proval be­fore the for­mal sub­mis­sion of the ap­pli­ca­tion.
More amaz­ing news. Thrilled to share this mile­stone ap­proval of our new tar­get­ed ther­a­py. More than ten years in the mak­ing, this pro­gram was sup­port­ed by count­less in­ter­nal NI­BR cham­pi­ons. Con­grats to all who car­ried this ther­a­py through to pa­tients. https://t.co/fb­Jt­DRqITx

— Jay Brad­ner, M.D. (@jay­brad­ner) May 24, 2019
"To­day's ap­proval is ex­pect­ed to change the way we prac­tice med­i­cine in ad­vanced breast can­cer. For the first time, physi­cians can test for PIK3CA bio­mark­ers and de­vel­op a treat­ment plan based on the ge­nom­ic pro­file of a pa­tient's can­cer," said Fab­rice An­dré, a pro­fes­sor in the de­part­ment of med­ical on­col­o­gy at In­sti­tut Gus­tave Roussy in Ville­juif, France, and the lead in­ves­ti­ga­tor in the study.
No­var­tis is fresh off mak­ing some bold promis­es to an­a­lysts about the 25-plus prospec­tive drugs it has in the pipeline. That gives the still new CEO Narasimhan a sol­id foun­da­tion to build his com­pa­ny on new drug cam­paigns, with the in-house de­vel­op­ment work sup­ple­ment­ed by a slate of planned bolt-on deals.