Medicxi's new fund jumps off the beat­en biotech path to lead a $30M round for di­a­betes pro­gram
Medicxi jumped far off the beat­en biotech track and joined with some ir­reg­u­lars on the in­vest­ment side for the first bet with its new ven­ture fund, back­ing a late-stage de­vel­op­ment pro­gram tar­get­ed at di­a­betes — one of the tough­est gam­bles in R&D.
The Eu­ro­pean VC led a $30 mil­lion round for Di­a­some Phar­ma­ceu­ti­cals, a Cleve­land-based biotech that's de­vel­op­ing a new tech aimed at amp­ing up the ef­fec­tive­ness of in­sulin. Join­ing with Medicxi: JDRF T1D Fund in Boston, Black Beret Life Sci­ences in Hous­ton and an in­vestor group led by Mc­Don­ald Part­ners. The move comes just a few weeks af­ter Medicxi un­veiled their new $300 mil­lion fund, look­ing for more ad­vanced clin­i­cal pro­grams to back on both sides of the At­lantic.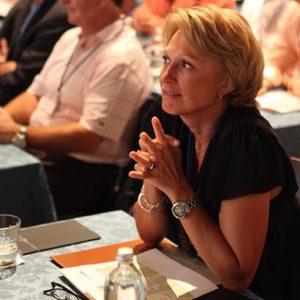 Michèle Ol­lier
Di­a­some has a Phase III-bound pro­gram in the clin­ic that adds "He­pa­to­cyte Di­rect­ed Vesi­cles" to com­mer­cial­ly avail­able in­sulin. Es­sen­tial­ly, it's a pig­gy­back tech that mar­ries liv­er-tar­get­ing mol­e­cules with in­sulin, de­liv­er­ing them un­changed where it can do the most good. It's cur­rent­ly in a Phase IIb tri­al.
For some time now, di­a­betes has been a no-go zone for biotechs, which typ­i­cal­ly can't af­ford a late-stage pro­gram on their own in an in­dus­try dom­i­nat­ed by a hand­ful of gi­ants like Eli Lil­ly, No­vo Nordisk and Sanofi.
By go­ing af­ter a de­liv­ery tech­nol­o­gy that can be added to in­sulin in the vial, though, Di­a­some is keep­ing it sim­ple and ev­i­dent­ly with­in reach. As a fol­low-up, they al­so have an oral in­sulin pro­gram in de­vel­op­ment with mid-stage da­ta to back it up for glu­cose con­trol in Type 1 and Type 2 di­a­betes. There's al­so a pre­clin­i­cal Type 2 oral drug in the pipeline as well.
What at­tract­ed Medicxi? Found­ing part­ner Michèle Ol­lier put it this way:
It has nev­er been un­der­stood why in­sulin as a hor­mone re­place­ment ther­a­py can­not mim­ic the en­doge­nous in­sulin ac­tiv­i­ty. With HDV liv­er-tar­get­ed in­sulin, Di­a­some is pro­vid­ing a sim­ple and el­e­gant an­swer to this prob­lem, with their pre­lim­i­nary hu­man da­ta show­ing that HDV makes com­mer­cial in­sulin more phys­i­o­log­i­cal, and there­fore, sig­nif­i­cant­ly more ef­fec­tive. We look for­ward to as­sess­ing the re­sults of the on­go­ing Phase II stud­ies.