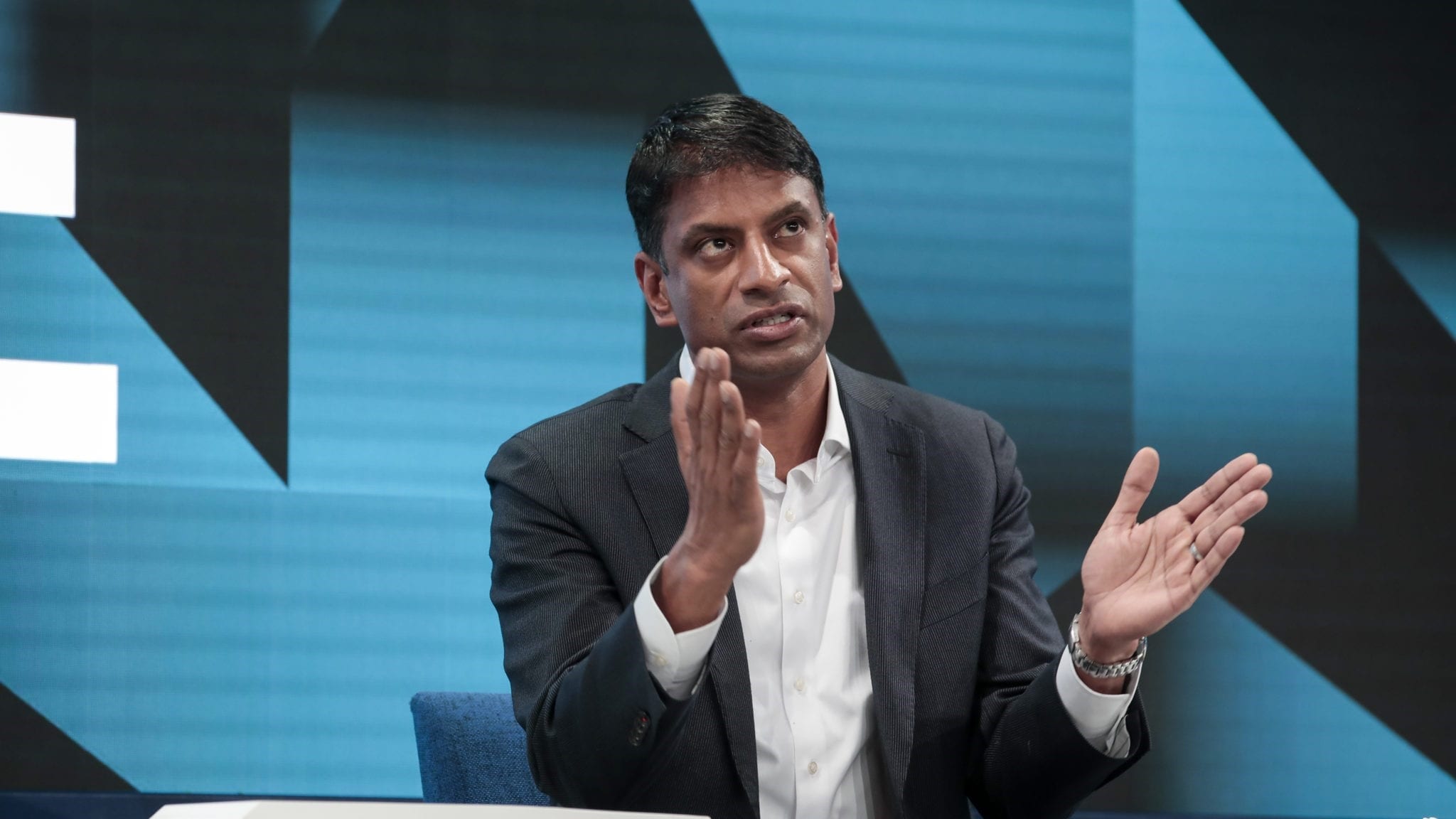 Vas Narasimhan, Novartis CEO (Jason Alden/Bloomberg via Getty Images)
No­var­tis gets the green light to start mar­ket­ing its next prospec­tive block­buster. And they're charg­ing a pre­mi­um for con­ve­nience
A last-minute holdup at the FDA has been cleared up as reg­u­la­tors stamped their ap­proval on No­var­tis' new mul­ti­ple scle­ro­sis drug ofa­tu­mum­ab.
The FDA had de­layed the de­ci­sion a cou­ple of months ago — large­ly elim­i­nat­ing the ad­van­tage that No­var­tis had paid for with a pri­or­i­ty re­view vouch­er — rais­ing some ques­tions about what kind of last-minute hic­cups may have been in­volved. But the phar­ma gi­ant has avoid­ed the fate of Gilead and Bio­Marin, an­nounc­ing the ap­proval on Thurs­day and sound­ing the open­ing shot on what will be a block­buster chase for $1 bil­lion-plus in an­nu­al sales.
No­var­tis $NVS got this drug from Glax­o­SmithK­line in their big vac­cines-for-can­cer ther­a­pies swap some years back. But No­var­tis nev­er had much suc­cess sell­ing it as a leukemia ther­a­py.
They've whet­ted an­a­lysts' ap­petites, though, with a B-cell blaster that can be ad­min­is­tered at home, cut­ting ahead of the line of the ri­vals in the mar­ket that re­quire a trip to an in­fu­sion cen­ter. And they're charg­ing for the con­ve­nience.
A spokesper­son for No­var­tis tells me that the whole­sale price of the drug — to be mar­ket­ed as Kes­imp­ta — is $83,000, more in line with Rebif ($86,000) than Roche's hot ri­val Ocre­vus, which hit the mar­ket at a dis­count­ed price of $65,000. The price of in­fu­sion, No­var­tis notes, dri­ves up the over­all cost of drugs like Ocre­vus.
Cowen's Steve Scala picked up on the pric­ing ar­gu­ment in a note out Thurs­day af­ter­noon. Fac­tor­ing in the in­fu­sion costs, he writes:
No­var­tis notes that the to­tal an­nu­al cost of Ocre­vus is es­ti­mat­ed to be on av­er­age $100,500, and can vary sig­nif­i­cant­ly de­pend­ing on where the in­fu­sion is ad­min­is­tered. Rel­a­tive to this com­par­i­son, Kes­imp­ta is priced at a dis­count, and it will be re­im­bursed through a phar­ma­cy ben­e­fits mod­el.
That's in­spired es­ti­mates av­er­ag­ing around $1.3 bil­lion in peak sales for MS, mak­ing it a top-10 late-stage drug when ranked by prospec­tive sales. CEO Vas Narasimhan al­so hasn't been shy about en­cour­ag­ing am­bi­tious goals. Roche, mean­while, re­port­ed sales of $2.2 bil­lion for the first half of this year, mak­ing it one of their fastest-grow­ing fran­chis­es.
Here's the Phase III da­ta that won over reg­u­la­tors:
Kes­imp­ta demon­strat­ed a sig­nif­i­cant re­duc­tion in ARR (an­nu­al­ized re­lapse rate) by 51% (0.11 vs 0.22) and 59% (0.10 vs 0.25) com­pared with ter­i­fluno­mide (Sanofi's ag­ing Auba­gio) (P<.001 in both stud­ies) in AS­CLE­PIOS I and II, re­spec­tive­ly (pri­ma­ry end­point). Kes­imp­ta al­so showed a rel­a­tive risk re­duc­tion of 34.4% (P=.002) in 3-month CDP com­pared with ter­i­fluno­mide in pre-spec­i­fied meta-analy­sis, as de­fined in AS­CLE­PIOS1.