No­var­tis takes an­oth­er step for­ward in glob­al Kym­ri­ah roll­out as Japan OKs the drug at $305K
No­var­tis has won an ap­proval to sell its land­mark CAR-T ther­a­py Kym­ri­ah in Japan at a dis­count price as it con­tin­ues its slow roll­out around the globe while it grad­u­al­ly builds up its man­u­fac­tur­ing op­er­a­tions.
Japan's Cen­tral So­cial In­sur­ance Med­ical Coun­cil of­fered No­var­tis a shot at of­fer­ing the drug to an es­ti­mat­ed 216 new can­cer pa­tients a year suf­fer­ing from acute lym­phoblas­tic leukemia and adult pa­tients with dif­fuse large B-cell lym­phoma.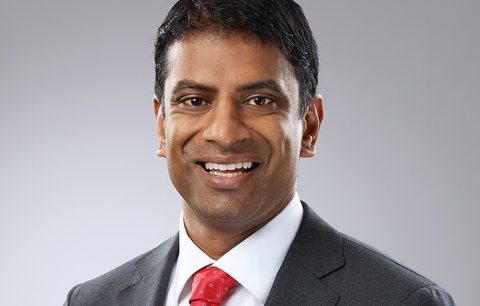 Vas Narasimhan
It's a small mar­ket, but a step along CEO Vas Narasimhan's plan to make Kym­ri­ah — with on­ly $45 mil­lion in Q1 sales — a block­buster at some point. The OK in Japan comes with a price of $305,000, com­pared to $475,000 for ALL pa­tients in the US.
That price has been crit­i­cized by a num­ber of groups, in­clud­ing Pa­tients for Af­ford­able Drugs, who be­lieve it should be sold for far less.
A com­pa­ny spokesper­son told Reuters that the phar­ma gi­ant's roll­out in Japan will avoid the chal­lenge on prod­uct spec­i­fi­ca­tion stan­dards that have forced the phar­ma gi­ant to pro­vide the drug for free some­times in the US. The FDA set a high­er stan­dard for com­mer­cial spec­i­fi­ca­tions that No­var­tis has strug­gled to main­tain.
No­var­tis has al­so been dogged by an in­abil­i­ty to de­liv­er the drug re­li­ably when need­ed.
In the mean­time, Gilead has been mak­ing progress with its ri­val CAR-T — Yescar­ta, with $96 mil­lion in Q1 rev­enue — as a host of ri­vals line up off-the-shelf pro­grams aimed at re­plac­ing the per­son­al­ized treat­ments built with pa­tient cells.