On­coSec shares turn hot as mi­cro­cap re­ports promis­ing PhII da­ta for an I/O one-two punch
Shares of tiny San Diego-based On­coSec Med­ical ig­nit­ed Wednes­day morn­ing when the mi­cro­cap biotech re­port­ed that its lead drug pro­duced promis­ing Phase II melanoma da­ta.
Re­searchers for the com­pa­ny say that a com­bi­na­tion of their drug, Im­munoPulse IL-12, plus Keytru­da (pem­brolizum­ab) pro­duced a 57% pro­gres­sion free re­sponse rate at 15 months among a small group of pa­tients who were deemed "un­like­ly" to re­spond to a PD-1. They say there was a 100% (11/11) du­ra­tion of re­sponse with no me­di­an PFS rate yet de­ter­mined. And that builds on an ear­li­er mark of a 41% com­plete re­sponse rate, which would be im­pres­sive if it con­tin­ues to hold up.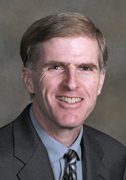 Alain Al­gazi
On­coSec, which start­ed the day with a mar­ket cap of on­ly $37 mil­lion, saw its shares $ONCS rock­et up 43% as word spread.
The strat­e­gy here is to take pa­tients re­sis­tant to check­point ther­a­py and match up an in­nate and adap­tive im­mune sys­tem com­bo that can mount a more ef­fec­tive fight against can­cer. Their drug is de­signed to trig­ger the ex­pres­sion of IL-12 in the tu­mor mi­croen­vi­ron­ment, dri­ving an im­mune at­tack while the check­point takes the brakes off im­mune cells.
The da­ta — which ar­rive the day af­ter biotech ex­ec Daniel O'Con­nor was named CEO — will be de­tailed at the SITC meet­ing com­ing up this week­end.
"Over­all, the Phase 2 tri­al re­sults, in­clud­ing pro­gres­sion free sur­vival be­yond two years in mul­ti­ple pa­tients, du­ra­tion of re­sponse, best over­all re­sponse rate, and tol­er­a­bil­i­ty of the com­bi­na­tion, pro­vide a strong and con­sis­tent theme across mul­ti­ple end­points, un­der­scor­ing the promise of Im­munoPulse IL-12 plus pem­brolizum­ab as a vi­able treat­ment op­tion for pa­tients di­ag­nosed with metasta­t­ic melanoma," said Alain Al­gazi, the lead in­ves­ti­ga­tor.