Plot­ting to go toe-to-toe with heavy­weight Pfiz­er, lit­tle Ei­dos plans quick score in PhI­II AT­TR-CM study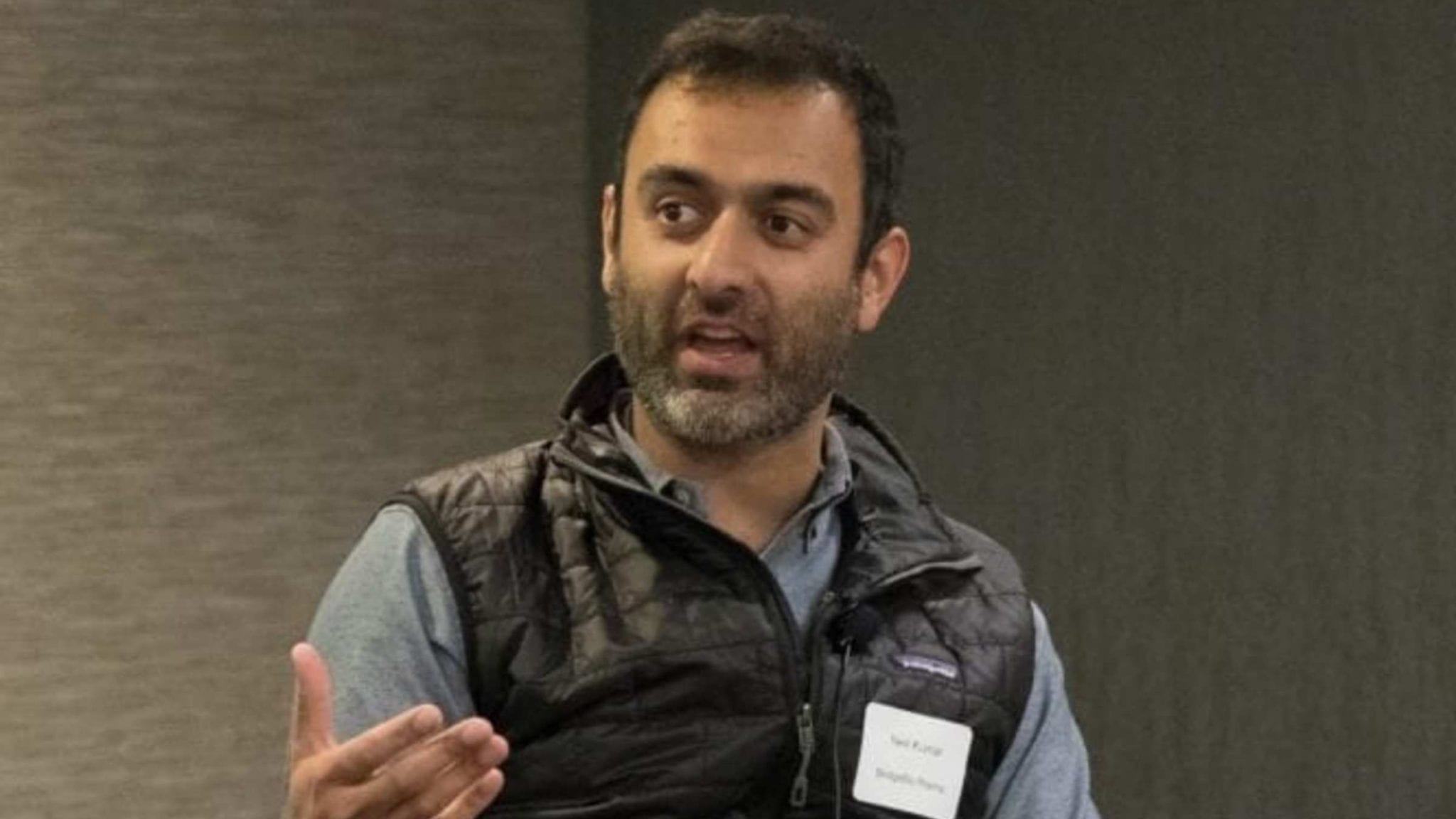 Neil Ku­mar at an End­points event. (Jeff Ru­mans for End­points News)
---
So how does a small cap biotech go toe-to-toe with the likes of Pfiz­er, when the phar­ma gi­ant is lin­ing up for one of the most care­ful­ly watched FDA de­ci­sions in bio­phar­ma?
Ei­dos Ther­a­peu­tics $EI­DX thinks it has the an­swer as they play David to Pfiz­er's Go­liath.
The biotech to­day out­lined its piv­otal strat­e­gy for AG10, an oral small mol­e­cule de­signed to treat transthyretin amy­loid car­diomy­opa­thy, AT­TR-CM. Work­ing with the FDA, the biotech came up with a Phase III tri­al de­sign that the ex­ecs in charge say gives them two po­ten­tial piv­otal dead­lines. The first ar­rives af­ter 12 months of treat­ment, as pa­tients are giv­en a 6-minute walk test. The next comes af­ter 30 months, as re­searchers eval­u­ate pa­tient da­ta on all-cause mor­tal­i­ty and fre­quen­cy of car­dio­vas­cu­lar-re­lat­ed hos­pi­tal­iza­tions.
That tri­al starts to­day. And Pfiz­er gets its FDA de­ci­sion — a like­ly yes — in Ju­ly. That puts them right up against Al­ny­lam, which got a pi­o­neer­ing OK for its RNAi ther­a­py last year.
Tri­al launch­es by and large don't get a lot of cov­er­age. In this heat­ed de­vel­op­ment era we're in, it's hard to gain much at­ten­tion for your piv­otal time­line — es­pe­cial­ly if you're play­ing catch-up. But Ei­dos hopes to pre­pare a case­book ex­am­ple of how to carve out a time­line that can give you a shot at com­pet­ing rel­a­tive­ly quick­ly with the heavy­weights of the world. And it's worth a look as we be­gin to track their late-stage progress.
"If you are com­ing from be­hind with a bet­ter drug, you should get it to the mar­ket­place," says Neil Ku­mar, who runs Bridge­Bio, the um­brel­la or­ga­ni­za­tion that con­trols Ei­dos and a slate of oth­er star­tups.
"It's a pret­ty cool path," says Ku­mar, "a 12-month place­bo-con­trolled tri­al, which is a great op­tion for pa­tients with no ac­cess to any small mol­e­cule sta­bi­liz­er."
Ku­mar doesn't want to talk price right now — no one does in this busi­ness ahead of an FDA ap­proval. But you can pret­ty much bet that if it can get out ear­ly with 12-month da­ta, pric­ing will be key if it wants to carve away at the fran­chise Pfiz­er will have al­ready built.
The phar­ma gi­ant has been un­der the gun on pric­ing, and just about every­one ex­pects they'll come up with an ag­gres­sive 6-fig­ure price tag on their drug, once it's ap­proved — par­tic­u­lar­ly if they can't keep rais­ing the price af­ter it hits the mar­ket.
In ad­di­tion, a lot of these pa­tients will be on Medicare, and could be fac­ing a big out-of-pock­et ex­pense as long as the donut hole re­mains. If Ei­dos comes up with a much bet­ter price, they stand a bet­ter chance at win­ning over mar­ket share. And they can move in af­ter Pfiz­er helps iden­ti­fy the pa­tient pop­u­la­tion — which Ku­mar says is in the hun­dreds of thou­sands — through im­proved di­ag­no­sis.
"It's al­most like Alzheimer's of the heart, one of the biggest ge­net­ic mar­kets out there," he adds.
Ei­dos shares got a 10% boost on the plan, but the biotech is play­ing a tough game, against tough odds.
Pfiz­er's mar­ket­ing ma­chine is one of the biggest and best in the busi­ness. Any new launch like this will be giv­en a top pri­or­i­ty. And they'll have an ear­ly mover ad­van­tage, which in this mar­ket­place comes with a ton of built-in ad­van­tages.
Ei­dos al­so is hop­ing to score ear­ly with 12-month da­ta against the more sub­stan­tial 30-month out­come da­ta that Pfiz­er al­ready has on hand. Ku­mar coun­ters, though, that his team will be able to demon­strate im­proved ef­fi­ca­cy where it counts with the spe­cial­ists who mat­ter the most. Then they can fol­low up with ri­val 30-month da­ta to seal the deal.
There are, of course, no guar­an­tees that he's right.
We'll see how this plays out.