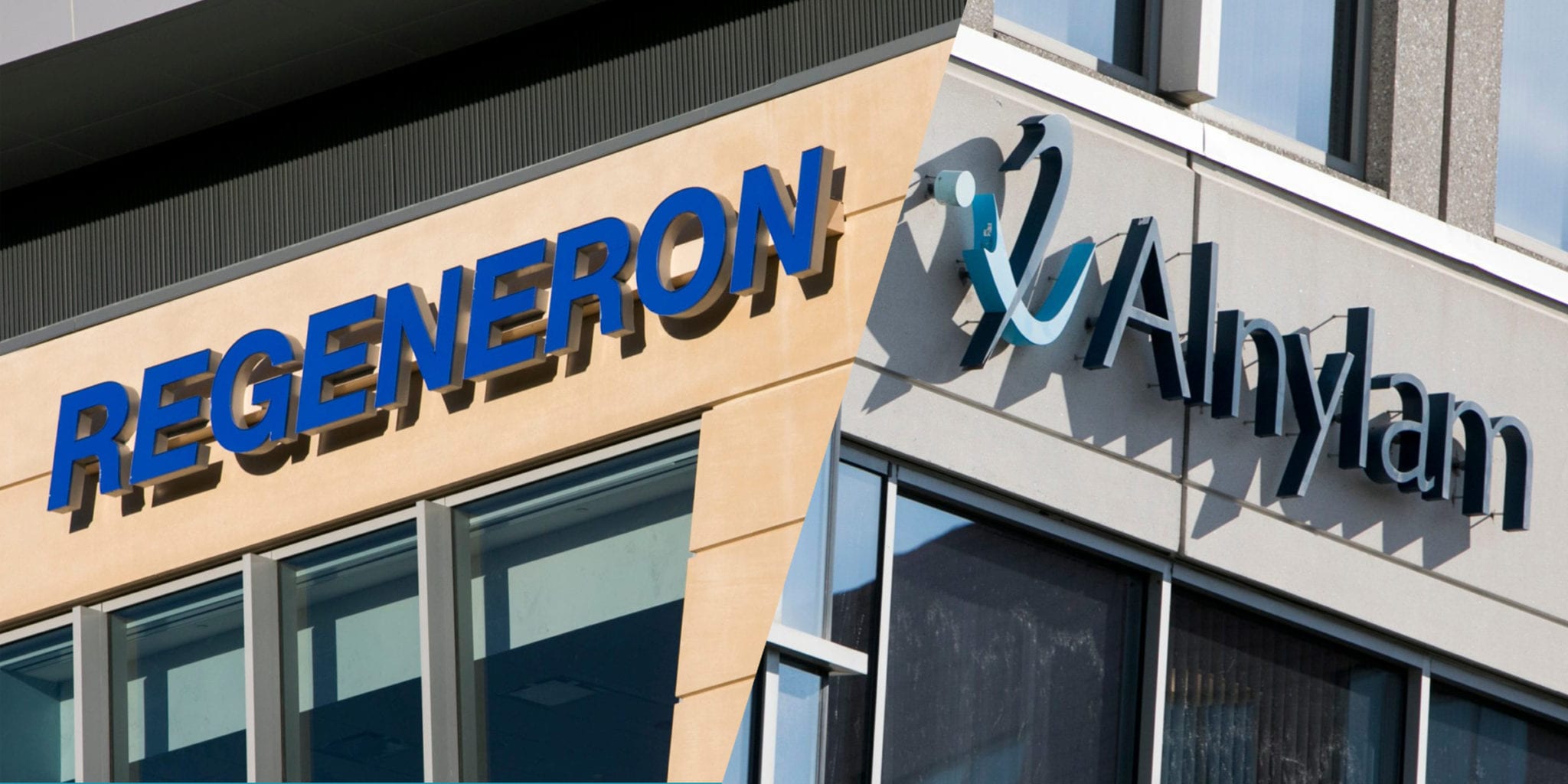 Re­gen­eron, Al­ny­lam spell out a re­search al­liance that could run be­yond a decade, with bil­lions built in for suc­cess
Re­gen­eron $REGN and Al­ny­lam $AL­NY have laid a foun­da­tion for an en­dur­ing R&D al­liance that could go out well past a decade, with bil­lions of dol­lars on the line if they're suc­cess­ful.
We al­ready know that Re­gen­eron is pay­ing $800 mil­lion for the up­front and eq­ui­ty stake, with an­oth­er $200 mil­lion for proof-of-prin­ci­ple mile­stones — which we've not­ed makes it one of the top plat­form deals in in­dus­try his­to­ry.
In an SEC fil­ing Wednes­day, Re­gen­eron went deep­er in­to the num­bers and terms. These added deal terms are par­tic­u­lar­ly im­por­tant as they cre­ate a bond that rep­re­sents a whole new gen­er­a­tion of drug de­vel­op­ment work for two of the most im­por­tant biotechs in the in­dus­try. And it ar­rives as each are turn­ing from col­lab­o­ra­tions with Sanofi and de­sign­ing a new fu­ture for them­selves.
There's an au­to­mat­ic ex­ten­sion built in­to the deal that could ex­tend this pact by 7 years. And Re­gen­eron holds an op­tion to add 5 years that would be worth any­where from $200 mil­lion to $400 mil­lion for Al­ny­lam. The ac­tu­al amount will be based on ac­cep­tance of their INDs, with the part­ners plan­ning on 6 new tar­gets each year.
Re­gen­eron, as we al­ready know, is tak­ing the lead on the eye, where it's look­ing to Al­ny­lam to help es­tab­lish a durable de­fen­sive bar­ri­er around the fran­chise it's built for Eylea. Then they'll al­ter­nate lead roles for CNS dis­eases and liv­er pro­grams, with a shot at co-col­lab­o­ra­tions where they'll split the prof­its.
That lead role won't come cheap. The lead will pay the part­ner up to $150 mil­lion in mile­stones, plus roy­al­ties, on each pro­gram.
Then there's a $325 mil­lion mile­stone con­sid­er­a­tion that's be­ing built in­to a spe­cial al­liance for their two C5 pro­grams, com­ing to­geth­er as a com­bi­na­tion ther­a­py to take on Alex­ion's cash cow Soliris and the suc­ces­sor drug that just hit the mar­ket.
Al­ny­lam CEO John Maraganore al­so built in some safe­guards against see­ing Re­gen­eron go hos­tile in a takeover at­tempt af­ter it's bought in­to the com­pa­ny. Re­gen­eron agreed to lim­it any eq­ui­ty pur­chas­es of Al­ny­lam stock to 30% of the com­pa­ny dur­ing the length of the col­lab­o­ra­tion.
And Re­gen­eron can ter­mi­nate the al­liance with 90 days no­tice, in case the ex­ecs aren't hap­py.
If they're suc­cess­ful, they can both en­joy big­ger pipelines and more com­mer­cial roll­outs. Fail­ure in­cin­er­ates the fi­nan­cials that are baked in now.
---
Im­age source: AP