Roche CEO Sev­erin Schwan is keep­ing his hand on the bud­get ax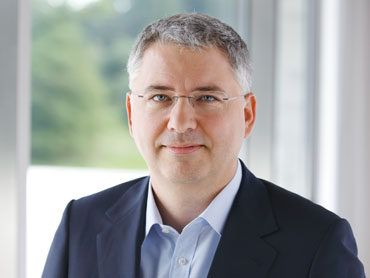 Sev­erin Schwan
Just a few weeks af­ter Roche brought out the ax and chopped more than 200 jobs out of Genen­tech in an un­usu­al cost-cut­ting move in R&D for the phar­ma gi­ant, CEO Sev­erin Schwan is like­ly rais­ing some added ten­sions with a pledge to root out in­ef­fi­cien­cies.
In an in­ter­view with Reuters that will be close­ly read to­day by the rank and file, Schwan said that the com­pa­ny is stream­lin­ing its glob­al busi­ness units in a move that will af­fect "scores of jobs."
Roche is los­ing patent pro­tec­tion on its big three ag­ing drug fran­chis­es for Rit­ux­an, Her­ceptin and Avastin as it ramps up new rev­enue from fresh stars like Ocre­vus. The change­up will like­ly blunt near-term rev­enue, putting the heat on the Basel-based op­er­a­tion to cut costs where it can.
Roche has been care­ful to leave Genen­tech and its unique cul­ture as un­mo­lest­ed as pos­si­ble in the years since the takeover. And it's been loathe to in­ter­fere much with the al­ter­na­tive pRED group since the big re­or­ga­ni­za­tion that came through at the same time. An­a­lysts, though, will be look­ing care­ful­ly to see what the year ahead will bring to the com­pa­ny's re­search op­er­a­tions, which con­sumes a bud­get of about $11 bil­lion a year — the biggest among the top 15 R&D groups in the world.