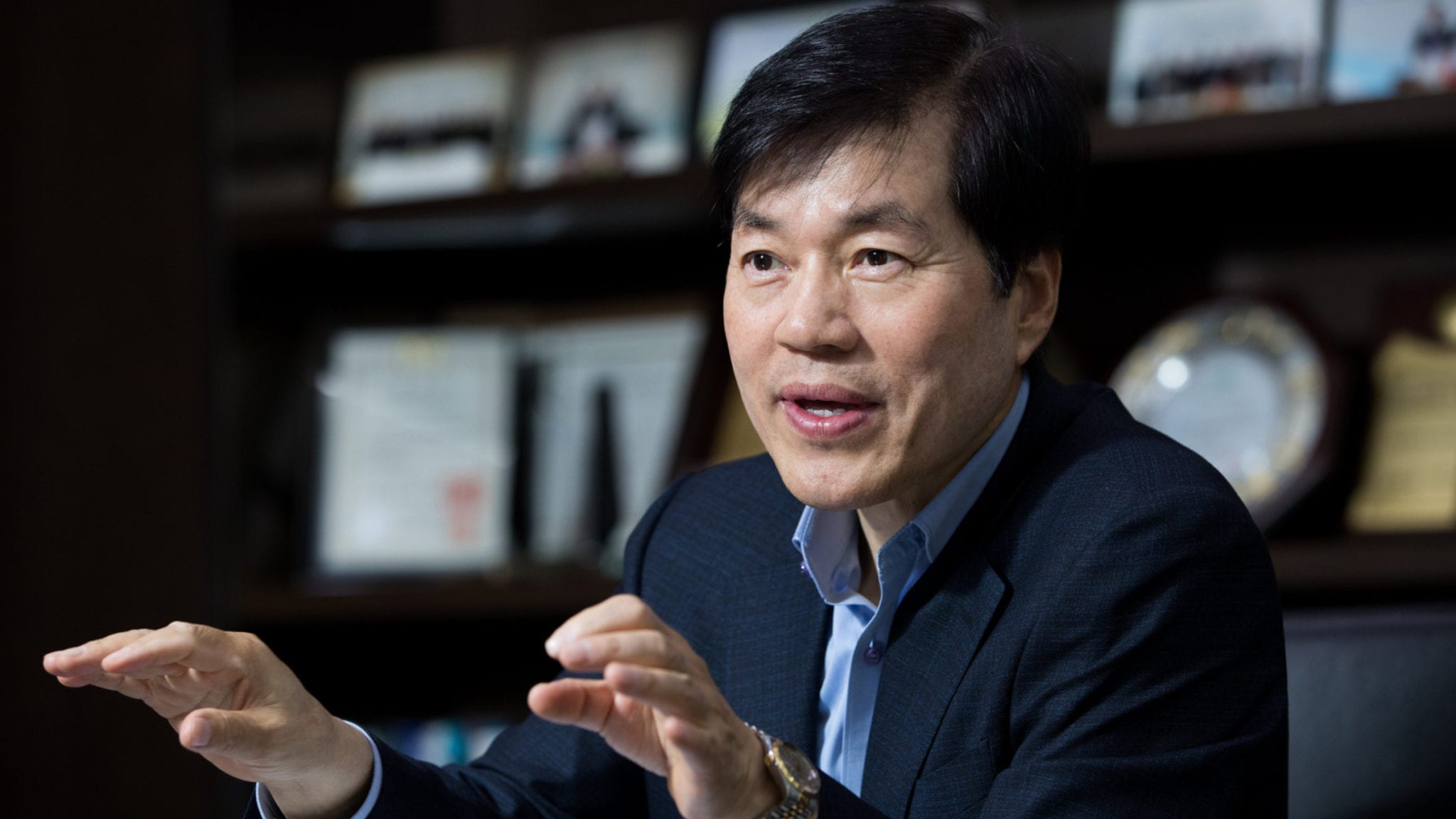 Tae Han Kim, Samsung Biologics CEO (SeongJoon Cho/Bloomberg via Getty Images)
Sam­sung Bi­o­log­ics nets $330M+ deal from As­traZeneca ahead of 'Su­per Plan­t' con­struc­tion
Just a few weeks af­ter an­nounc­ing plans to con­struct a $2 bil­lion "Su­per Plant," Sam­sung Bi­o­log­ics is keep­ing its foot on the gas.
The Ko­re­an CD­MO has inked a $330.8 mil­lion man­u­fac­tur­ing con­tract with As­traZeneca, the com­pa­nies an­nounced Mon­day evening, pro­vid­ing the British drug­mak­er the abil­i­ty to ex­pand pro­duc­tion ca­pa­bil­i­ties in the Asia mar­ket. Per terms of the deal, the part­ner­ship could be in­creased to $545.6 mil­lion.
Mon­day's deal comes af­ter the two com­pa­nies signed a let­ter of in­tent back in June. It re­mained un­clear specif­i­cal­ly which drugs would be pro­duced at Sam­sung's fa­cil­i­ties, on­ly that it would in­clude "bi­o­log­ics ther­a­peu­tics," per the an­nounce­ment.
Pro­duc­tion will take place at Sam­sung's Plant 3, cur­rent­ly the world's largest drug man­u­fac­tur­ing plant. The site pos­sess­es 180KL of pro­duc­tion ca­pac­i­ty from 12 sep­a­rate 15KL tanks.
Plant 3's su­perla­tive, how­ev­er, will be hand­ed over to the Su­per Plant once con­struc­tion is com­plet­ed at its hub in In­cheon, South Ko­rea. Sam­sung an­nounced plans for the Su­per Plant, to be called Plant 4, at the end of Au­gust and de­tailed at the time that it would cov­er rough­ly the same area as the largest shop­ping malls in the US.
The new build­ing is ex­pect­ed to en­com­pass 238,000 square me­ters, or about 2.5 mil­lion square feet, about 90% the area of Min­neso­ta's Mall of Amer­i­ca and Philadel­phia's King of Prus­sia mall. Plant 4 will add 256KL to Sam­sung's over­all man­u­fac­tur­ing ca­pac­i­ty, bring­ing the com­pa­ny's to­tal to 620KL. Sam­sung is ex­pect­ed to break ground on the plant be­fore the end of the year.
At the time, CEO Tae Han Kim told the Wall Street Jour­nal that the Su­per Plant was ex­pect­ed to be far small­er. But with the surge in de­mand for Covid-19 ther­a­peu­tics, po­ten­tial­ly a whole new cat­e­go­ry of prod­ucts, Kim pressed for a larg­er ex­pan­sion with the com­pa­ny ap­proach­ing max­i­mum ca­pac­i­ty.
This is the sec­ond man­u­fac­tur­ing deal Sam­sung has signed with a ma­jor West­ern drug­mak­er in the last four months, as the CD­MO reached a $231 mil­lion agree­ment with GSK back in May. That con­tract pro­vides ca­pac­i­ty for GSK's spe­cial­ty care prod­ucts, such as the lu­pus drug Benlysta.
As for As­traZeneca, Mon­day's deal fol­lows a $630 mil­lion com­mit­ment to in­crease R&D in South Ko­rea from June 2019, the com­pa­ny an­nounced on its Ko­re­an web­site at the time. The cash pro­vides for five years worth of in­vest­ment, from this year through 2024. As­traZeneca con­firmed the deal to Fierce­Biotech but de­clined to give any specifics.