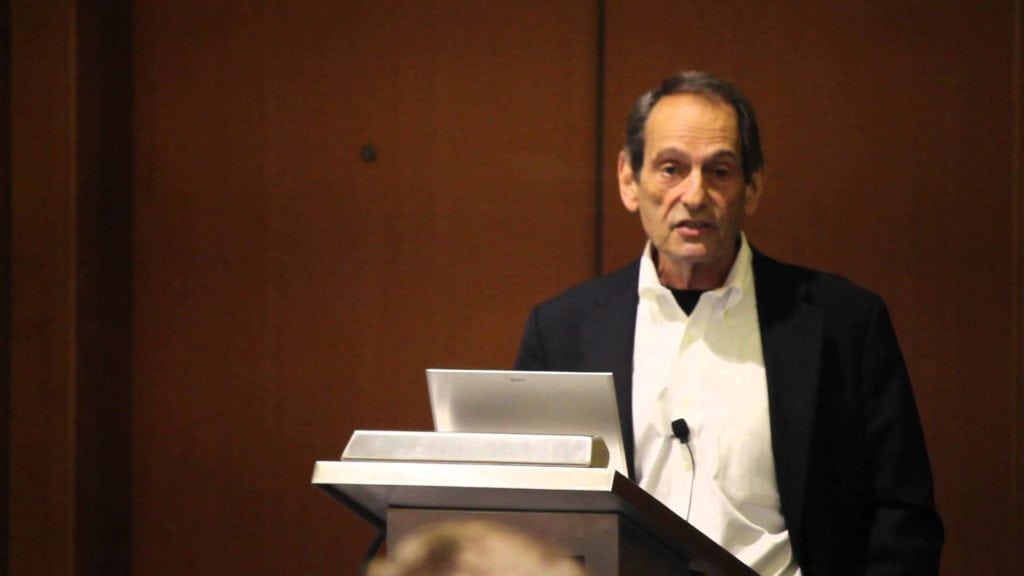 Sarepta $SRPT has leaped out into the front of the race to develop a once-and-done gene therapy for Duchenne muscular dystrophy. 
With their R&D day in full swing Tuesday, company execs and the senior researcher on their groundbreaking human gene therapy study posted a first look at the promising results seen in three young patients who received treatments in a small study with no control which will involve a total of 12 boys. The data are very early, but the immediate response seen in the first few months has inspired the company to believe that it is on the right track to get a new therapy to these patients in as little as two years — provided all the stars align in its favor.
"If you were me, looking under the microscope, you would be so amazed you wouldn't sleep at night," says Jerry Mendell, the noted gene therapy expert at Nationwide Children's Hospital in Columbus, OH who is leading the project.
CEO Doug Ingram called the results a "home run" during a preview of today's presentation. Looking over the timeline, Ingram told me that it was conceivable that they would be ready to roll with a therapy in 24 months, but that would require a near perfect execution of the plan, with no nasty surprises.
That doesn't happen very often in biotech. But they're trying. Hard.
Baird's Brian Skorney called it "amazing," and the market agreed. The stock, which has been climbing north steadily over the past few months, rocketed up 56%.
The main goal of this first human study is safety, but investigators also tracked how each of the first three boys in a cohort of six boys aged 4 to 7 responded based on some well understood biomarkers. And while the numbers represent only three patients, small numbers and initial results like this are key in gene therapy — with the caveat that there's a ton of additional work that needs to be done to prove that the benefits are life-changing for the boys and durable for years to come.
The first picture looks stellar, easily outstripping expectations.
Here's what Mendell has been losing sleep over, for good reasons:
• Mean gene expression, as measured by percentage of micro-dystrophin positive fibers was 76.2% and the mean intensity of the fibers was 74.5% compared to normal control. Breaking that down on a patient-by-patient basis the percentages on micro-dystrophin expression in muscle fibers demonstrated some variability, ranging from a low of 59% to 83%, while the percentage of dystrophin-positive fibers fell in a more narrow band of 73.5% to 78%.
• Biopsies run by investigators showed a mean level of micro-dystrophin of at least 36.5%, ranging up using a different measure. 
• Levels of creatine kinase in blood — an enzyme that leaks out of damaged muscles which is used to diagnose the disease — plunged by a mean of 87%.
Other than two cases of elevated gamma- glutamyl transferase successfully treated with increased steroids, researchers reported no other safety issues.
"These kids are at a point now where they wouldn't be able to join the trial," says Ingram.
"Way better than anyone could have hoped for," added Skorney. "And the CK data is indicative of a clinical effect, which would have been the question if all we saw was protein expression."
That's good, if not great, but it also deserves some perspective. Duchenne MD is a progressive disease, which slowly cripples and then kills the kids. If one of the patients has declined to the point where they are in a wheelchair, says Mendell, they'll likely remain in their wheel chair. No one is getting up and walking after suffering that much damage to their muscles. But it could play a key role in maintaining upper body strength and possibly allow them to lead a full life over a normal span, or something fairly close to that. 
The younger patients would enjoy the greatest benefits, though again, that's provided that the gene therapy they have designed works for a long, long time.
The plan is to push ahead on a study that will recruit 12 boys for the control arm, and keep checking each patient for their responses. After a year, the patients in the control will move over to receive the treatment.
Investigators involved in the work published snaps of the data they're collecting, including the Western Blot results. Sarepta and the FDA got into an epic donnybrook over the data that were presented for their first drug eteplirsen, with heated claims that much of what was offered was unreliable at best, if not intentionally misleading. The biotech seems determined to avoid a repeat of that regulatory disaster, which would have killed their pitch to regulators — a majority of the expert panel voted against approval — if Janet Woodcock had not overruled the lot of them and forced an approval through.
The parents of these Duchenne victims are a force of nature. It was their demands that won over Woodcock and a significant bunch of supporters in and around the nation's capitol. And they will want an effective gene therapy as fast as possible.
So I asked Ingram if the company would be willing to provide this gene therapy if a family asked for it, as provided in Right to Try or as part of a compassionate use program. He replied that the company would remain laser focused on the study.
So, no.
Sarepta may be in the lead on a Duchenne gene therapy, but it's not alone. Pfizer is working here,  having dosed its first patient two months ago, and Solid Bio just got a green light from the FDA to re-start its first trial after a serious reaction in the first patient raised concerns and forced a temporary halt to the study. They'll be playing catch-up, looking for any edge to leap in front of the leader. And all the data will be immediately lined up for quick comparisons, to see who's got the best results.
---
Image: Jerry Mendell. JAIN FOUNDATION
---
The best place to read
Endpoints News

? In your inbox.

Comprehensive daily news report for those who discover, develop, and market drugs. Join 51,000+ biopharma pros who read Endpoints News by email every day.

Free Subscription
---
---
---