Sunovion bags PhI­II Parkin­son's drug in $624M Cy­nap­sus buy­out
Sunovion is pay­ing more than twice what Cy­nap­sus Ther­a­peu­tics shares closed at to­day to buy the Toron­to-based biotech $CY­NA and its late-stage Parkin­son's drug. Sunovion is shelling out $624 mil­lion in cash for the com­pa­ny at $40.50 per share.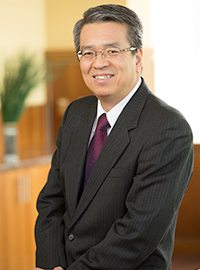 Sunovion CEO Nobuhiko Tamu­ra
The deal in­cludes the Phase III drug APL-130277, which is de­signed to be a "fast-act­ing, easy-to-use, on-de­mand treat­ment op­tion" for man­ag­ing OFF episodes as­so­ci­at­ed with Parkin­son's dis­ease.
The deal was an­nounced af­ter the mar­kets closed on Wednes­day.
For Marl­bor­ough, MA-based Sunovion, a com­pa­ny formed in 2009 by meld­ing Sepra­cor and the US op­er­a­tions of Sum­it­o­mo Dainip­pon Phar­ma, the buy­out will help beef up a pipeline that in­cludes drugs for schiz­o­phre­nia, COPD and AD­HD. Sum­it­o­mo Dainip­pon paid $2.6 bil­lion for Sepra­cor in 2009.
Com­ing on the heels of Pfiz­er's $14 bil­lion deal for Medi­va­tion, the ac­qui­si­tion will pro­vide fresh ev­i­dence that biotech as­sets are fetch­ing a hefty pre­mi­um in the sec­ond half of 2016, which will like­ly help bol­ster biotech stocks.
Sunovion CEO Nobuhiko Tamu­ra had this to say:
"The ac­qui­si­tion of Cy­nap­sus is well-aligned with Sunovion's fo­cus on the in­no­v­a­tive ap­pli­ca­tion of sci­ence and med­i­cine to help peo­ple with se­ri­ous med­ical con­di­tions and com­ple­ments our ro­bust prod­uct pipeline," added Mr. Tamu­ra. "We have high re­gard for the Cy­nap­sus team and their work with the APL-130277 pro­gram."