Syn­dax shares soar as lead drug clears a mid-stage can­cer drug study hur­dle
Brig­gs Mor­ri­son has good rea­son to­day to be glad he left the Big Phar­ma R&D world be­hind at As­traZeneca and switched to biotech. The CEO of Waltham, MA-based Syn­dax re­port­ed that the com­pa­ny's lead drug in com­bi­na­tion with Mer­ck's Keytru­da cleared its first big hur­dle in Phase II and will now tran­si­tion in­to the sec­ond phase of the study.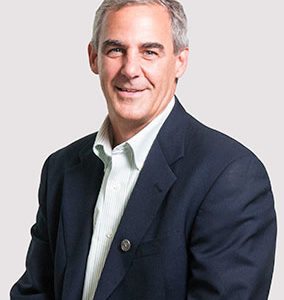 Brig­gs Mor­ri­son
News of the suc­cess with its HDAC in­hibitor enti­no­s­tat, which in­volves at least a few par­tial or com­plete re­spons­es in pa­tients, de­liv­ered a whop­ping 55% spike to its share price $SNDX. But as the day wore on, that surge mod­er­at­ed some­what. The stock closed up 44%.
Syn­dax has been re­cruit­ing two dif­fer­ent co­horts for the study: PD-1 or PD-L1 treat­ment naive non-small cell lung can­cer pa­tients and NSCLC pa­tients who had seen the dis­ease progress af­ter check­point treat­ment. To go past the ini­tial stage and on to a more de­fin­i­tive read­out, in­ves­ti­ga­tors need­ed to see at least a mod­est re­sponse: A min­i­mum of 2 out of 20 NSCLC pa­tients who had pre­vi­ous­ly pro­gressed on PD-1 or PD-L1 ther­a­py or 3 out of 13 NSCLC pa­tients pre­vi­ous­ly naïve to PD-1 or PD-L1 ther­a­py demon­strat­ing ei­ther a par­tial re­sponse or com­plete re­sponse to the enti­no­s­tat – Keytru­da com­bo treat­ment.
They hit it, and now the Phase II will con­tin­ue with in­ves­ti­ga­tors adding more pa­tients to the study who had failed PD-1/PD-L1 treat­ment. Syn­dax will de­cide on ex­pand­ing the oth­er co­hort lat­er this quar­ter.
"We are pleased to re­port that the enti­no­s­tat – KEYTRU­DA treat­ment com­bi­na­tion has gen­er­at­ed ob­jec­tive re­spons­es in pa­tients whose dis­ease has pro­gressed on or af­ter PD-1 an­tag­o­nist ther­a­pies," said Mor­ri­son, who left his post as a top As­traZeneca R&D ex­ec for Syn­dax, in a pre­pared state­ment. "This da­ta, along with the re­spons­es we ob­served in the melanoma co­hort ear­li­er in the year, give us ad­di­tion­al con­fi­dence in the abil­i­ty of enti­no­s­tat to en­hance the pa­tient's re­sponse to im­munother­a­py. We look for­ward to pro­vid­ing ad­di­tion­al de­tails on these pa­tient re­spons­es at an ap­pro­pri­ate sci­en­tif­ic fo­rum."