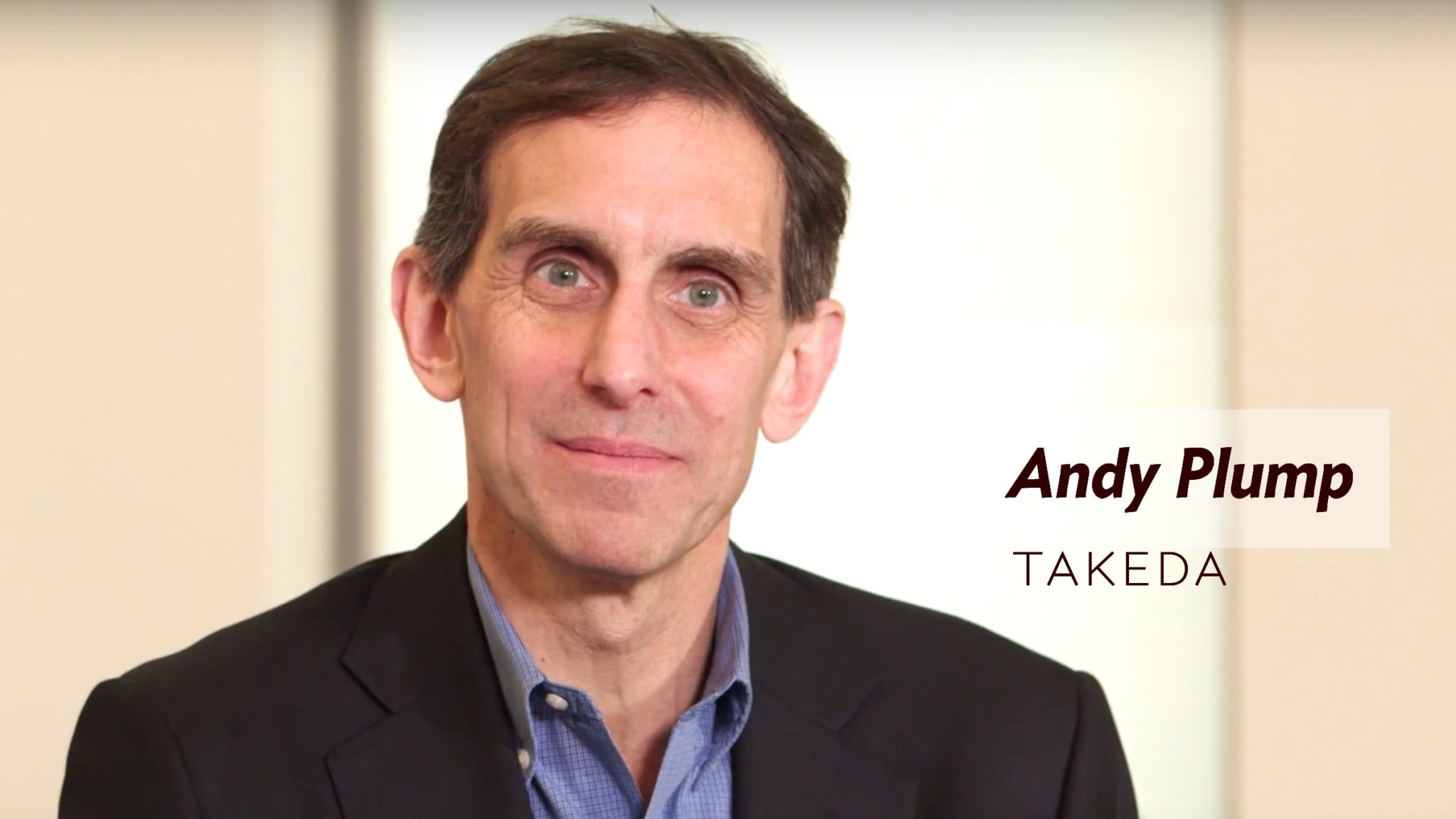 Can you cut $600M in R&D costs with­out slash-and-burn tac­tics? Andy Plump aims to show us how
Big bio­phar­ma merg­ers have been out of fa­vor in the in­dus­try for close to a decade now, soured by the large scale de­struc­tion that at­tend­ed deals like the 2009 Wyeth buy­out by Pfiz­er, which was fol­lowed by slash and burn tac­tics that played hav­oc with re­search teams.
Now, years af­ter the bolt-on ac­qui­si­tion be­came a stan­dard fea­ture at the largest bio­phar­mas, which large­ly swore off ma­jor merg­ers, Take­da's ex­ec­u­tive team has set a goal for it­self to see if a 237-year-old bio­phar­ma com­pa­ny based in Japan can in­te­grate two large re­search groups in­to a sin­gle glob­al net­work fo­cused heav­i­ly in the Cam­bridge/Boston hub — and use the big­ger op­er­a­tion to cat­a­pult them in­to the league of glob­al heavy­weights.
Slash-and-burn is not on the ta­ble in R&D, says re­search chief Andy Plump.
"We wouldn't have done this if we didn't tru­ly be­lieve this would be a trans­for­ma­tive act for us," Plump tells me on Tues­day. "We be­lieve it's high­ly strate­gic for us." Lat­er in our con­ver­sa­tion he not­ed that "it's very ex­cit­ing for us. We're not do­ing this be­cause we need to do, we're do­ing re­al­ly well," and the buy­out is in­tend­ed to ac­cel­er­ate their progress.
Plump and his crew face some ex­tra­or­di­nar­i­ly deep skep­ti­cism from an­a­lysts and in­vestors fret­ting over the debt and as­pects of the com­pa­ny they're buy­ing. And even with a care­ful ap­proach, there will be some big changes need­ed to make it hap­pen.
Take­da's $62 bil­lion Shire buy­out deal — if com­plet­ed — will de­liv­er an R&D group that's been in tran­si­tion for sev­er­al years. Soon af­ter Flem­ming Orn­skov took over as CEO, he be­gan to con­cen­trate Shire's re­search forces pri­mar­i­ly in Lex­ing­ton, MA, then vault­ing in­to Cam­bridge af­ter the $32 bil­lion buy­out of Bax­al­ta, which had grabbed a big chunk of space for it­self in the heart of one of the biggest bio­hubs on the plan­et.
Take­da spent about $2.85 bil­lion on re­search in the past year, while Shire racked up $1.7 bil­lion in costs dur­ing 2017. To­geth­er, Plump will be hand­ed a group with col­lec­tive costs of a lit­tle more than $4.5 bil­lion, with a goal to cut that by about $600 mil­lion. Based on their lay­off plans out­lined to­day, that will cost rough­ly 1,000 jobs. (All of these num­bers are based on the re­lease from Take­da this morn­ing and pub­lic records. Plump did not out­line any spe­cif­ic num­bers in our dis­cus­sion.) Even af­ter the cuts, at close to $4 bil­lion in an­nu­al spend­ing, the new­ly ex­pand­ed Take­da would cat­a­pult up from the bot­tom of our top 15 list to about the 12th or 13th spot, just ahead of Gilead and per­haps be­hind Ab­b­Vie.
But that's not hap­pen­ing overnight. The deal it­self won't close un­til next year, and there's time to start con­sid­er­ing how to man­age the process.
Plump has al­ready un­der­tak­en an over­haul of R&D at Take­da, where they scaled back and be­gan to en­gage in more of the ex­ter­nal­iza­tion strat­e­gy that has be­come com­mon in the in­dus­try. Right now Plump es­ti­mates that the R&D spend is split 60/40 be­tween ex­ter­nal and in­ter­nal.
They're most ex­cit­ed about adding Shire's rare dis­ease drugs to the pipeline.
"We still want to stay fo­cused," says Plump, who's been lasered on on­col­o­gy, CNS and GI, "es­sen­tial­ly add rare dis­eases."
Where Take­da has been fo­cused on small mol­e­cules, Shire has been adding new drug tech­nolo­gies that di­ver­si­fy their work, adding to the com­ple­men­tary as­pects of the deal. Plump loves the ear­ly-stage gene ther­a­py work he's been see­ing at Shire. And he's quick to cite lanadelum­ab, Shire's top late-stage as­set now un­der FDA re­view, with an­a­lysts look­ing for block­buster re­turns.
It be­comes a nat­ur­al fol­low to look at ar­eas that lie in­side their strate­gic in­ter­est and what lies out­side their strate­gic in­ter­est — think oph­thal­mol­o­gy here — where Take­da can see what it wants to keep and what it needs to move out.
Again, that doesn't mean slash and burn. Plump's group has es­tab­lished 10 dif­fer­ent spin­out com­pa­nies, in ad­di­tion to a string of out­li­cens­ing pacts, that can keep any­thing of val­ue mov­ing for­ward.
And the same ap­proach works in ge­og­ra­phy. Adding Shire great­ly ex­pands their pres­ence in Boston/Cam­bridge, which Plump sees as a big ben­e­fit, with op­er­a­tions in Japan and a biotech group in San Diego. Any­thing that Shire has out­side of those ar­eas, he says, are al­so go­ing to get the clos­est scruti­ny to see if they should re­main.
"We will treat peo­ple with deep re­spect," em­pha­sizes Plump, who's arranged deals in Japan that trans­ferred re­searchers to CROs the com­pa­ny is aligned with, rather than sim­ply cut jobs.
The ex­pand­ed Take­da wont have to strain around prof­it mar­gins, the R&D chief adds. Yes, it will take a few years to bring debt down, but he doesn't be­lieve that will take long with the mar­gins they have. The deal "gives us a lot of op­tion­al­i­ty in in­vest­ing in pipeline part­ner­ships," he says. And while they'd be plan­ning to slow down on the deal side in any case, "our fo­cus will al­ways be in look­ing at op­por­tu­ni­ties."