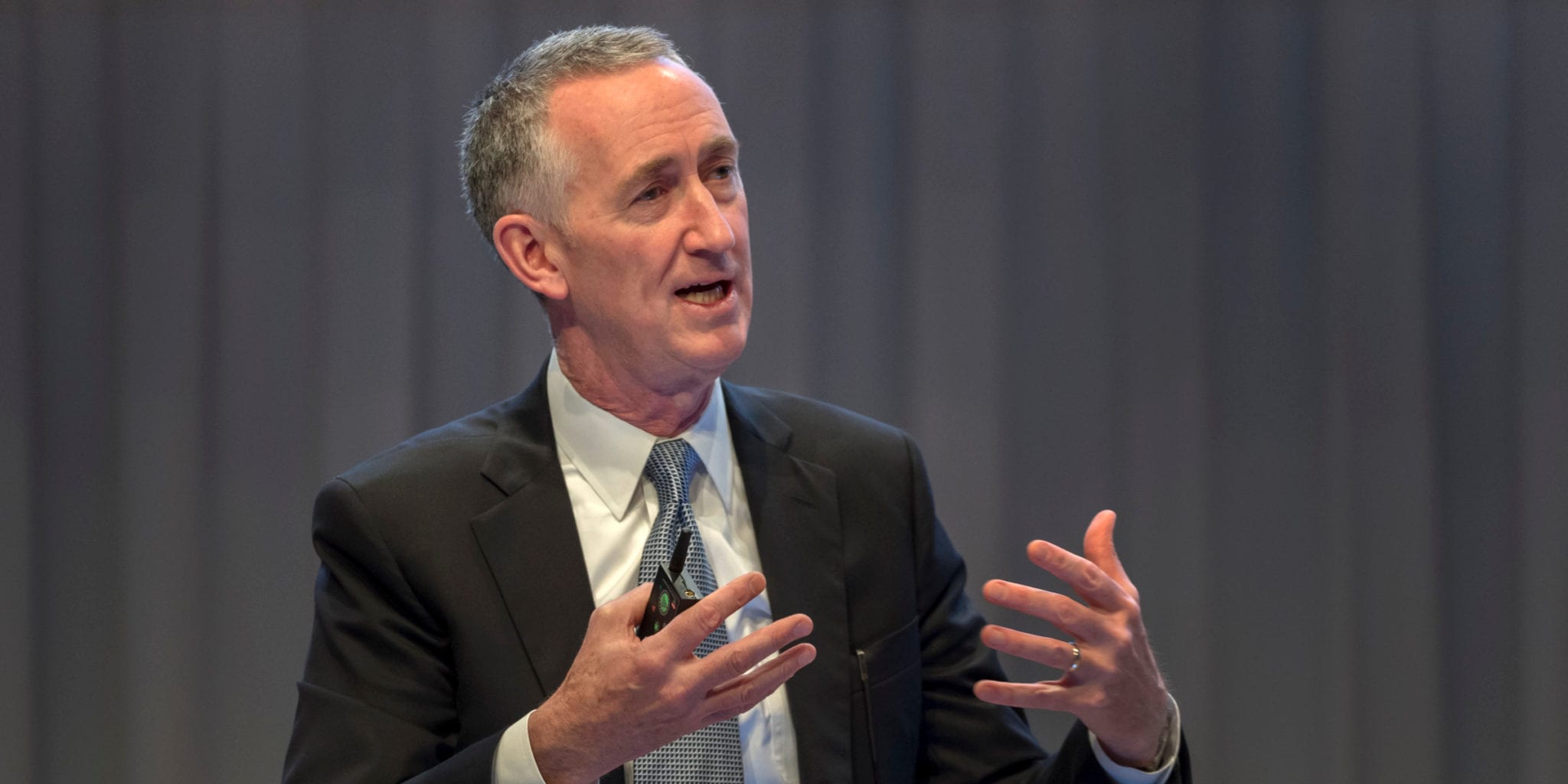 Team build­ing. Pipeline re­vamp. For­ward thrust. What does a decade of deals at Gilead tell us about Daniel O'Day's first M&A moves?
Daniel O'Day during Roche's annual results media conference in Basel, 2018. AP Images
Today marks the start to Daniel O'Day's first full week as CEO of Gilead. And if the slate of new hires to the helm of large cap companies over the last 2 years helps highlight the path ahead, one of his first major acts will likely be a full pipeline review with a clean out and some new deals put into play, after he puts his top team together.
Team building is job #1, because the founders are all gone. But with biotech buyouts all the rage right now, can O'Day — a longtime Roche veteran — afford to wait out the M&A game now in full swing?
Gilead has made industry history with 2 big buyouts — the Pharmasset deal, which was incredibly successful though short lived for brilliance, and the more recent Kite acquisition in 2017. Kite vaulted Gilead to the front of the CAR-T line, but it's brand new, with only a trickle of revenue from a leading drug and lots of questions about new and better rivals in the pipeline.
Their recent $820 million write-off related to Kite has raised alarms about more to come.
The company is seeing dwindling hep C revenue, but has a stable fortune coming in from HIV, where they continue to successfully defend the kingdom with new, easier to use therapies.
That's not really exciting anyone, though, about a bigger, brighter future. Its big NASH drug selonsertib just flunked a Phase III, as investors are wondering who can really make a dent in that field. As for Gilead, it's completed a slate of NASH deals, likely in search of a new cocktail that can dominate an emerging market. But that's going to take time. And while some analysts are speculating about a blockbuster future for filgotinib, Pfizer's safety issues with its JAK inhibitor Xeljanz has raised serious safety issues for the class.
So where does Gilead turn now?
For some insight, we turned to Chris Dokomajilar at DealForma to give us the panoramic view of Gilead's dealmaking record over the last 10 years, which you can see in detail below.
The summary:
— 71 deals involving Gilead on either side of the deal since Jan. 2008
— 45 of these with Gilead on the buying side
These include:
— 10 acquisitions
— 23 development and commercialization in-licenses
— 4 R&D partnerships
— 2 academic partnerships
— 6 others, service deals, etc. plus its $125 million deal to buy a priority review voucher
Soon after its Kite deal, Gilead followed up with a pact to scoop up Cell Design Labs for $567 million, fitting squarely into former CEO John Milligan's plan to remain a leader in the cell therapy field. But Gilead is not typically a blue-sky venturer, looking for lots and lots of discovery deals. The company tends to be highly focused on acquisitions and development deals, with an emphasis on commercialization.
Its R&D group under former research chief Norbert Bischofberger has a reputation for moving fast, efficiently and ruthlessly through Phase III. When they are on track, Gilead can be a very effective R&D machine. But that's a rep that takes years to build and months to lose.
Just ask Celgene.
Seven of its 23 development and commercialization in-licensing pacts were preclinical, with 9 in the platform realm and the rest scattered from Phase I to Phase III.
We know what Gilead has done. Now it's up to O'Day to tell us what's next.
Premium subscription required
Unlock this article along with other benefits by subscribing to one of our paid plans.