Treve­na says its PhI­II pain drug pro­gram is a win­ner, but shares crater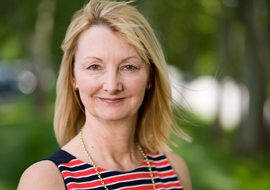 Treve­na CEO Max­ine Gowen
Treve­na plans to beat a di­rect path to the FDA af­ter boast­ing of a pair of Phase III suc­cess­es for its lead drug, oliceri­dine, in mod­er­ate-to-se­vere acute pain. But its en­thu­si­asm wasn't re­flect­ed in the bru­tal beat­ing its shares took ear­ly to­day.
Fol­low­ing up on a heart drug flop last spring, the biotech $TRVN says that their pain drug hit the pri­ma­ry end­points on bat­ting back pain com­pared to a place­bo in post-sur­gi­cal pa­tients. But the com­pa­ny hedged its com­ment on a com­par­i­son with mor­phine, with the high­er dos­es prov­ing non-in­fe­ri­or to mor­phine and the low­er dos­es falling short of the bar.
Pa­tients in one of the Phase II­Is demon­strat­ed a sig­nif­i­cant­ly low­er rel­a­tive ef­fect with a high place­bo rate, but the com­pa­ny says it still de­liv­ered sta­tis­ti­cal­ly sig­nif­i­cant re­sults. In­ves­ti­ga­tors say that the drug al­so looked con­sid­er­ably safer than mor­phine, with a low­er res­pi­ra­to­ry safe­ty bur­den and a re­duced need for treat­ing side ef­fects, giv­ing them an edge for pa­tients who are at risk for res­pi­ra­to­ry and GI side ef­fects.
Treve­na CEO Max­ine Gowen told an­a­lysts this morn­ing that she's con­fi­dent in the "im­pres­sive and valu­able pro­file" with da­ta that should play well with the FDA as well as pay­ers. "I'm ex­cit­ed about this da­ta."
In­vestors didn't like it, though, pos­si­bly unim­pressed with the idea that the drug could be re­served for a share of pa­tients while look­ing at a pos­si­ble hur­dle with pay­ers. And Bar­clays raised an eye­brow on sec­ondary end­points.
We were most fo­cused on oliceri­dine's sec­ondary end­points, es­pe­cial­ly in terms of nau­sea and vom­it­ing, where the da­ta was more mixed with on­ly pos­i­tive trends rather than sta­tis­ti­cal sig­nif­i­cance across the dos­es. In this re­gard, the re­sults were more mixed across both stud­ies.
The biotech's share price plunged 40% by the end of the day.
Treve­na says it will take its drug, which won a break­through drug des­ig­na­tion, to reg­u­la­tors in Q4.
The drug is be­ing po­si­tioned as an al­ter­na­tive to an opi­oid at a time an ad­dic­tion cri­sis has swept through the coun­try. The IV ther­a­py mod­u­lates the body's mu opi­oid re­cep­tors to re­lieve pain with­out side ef­fects.
Not­ed Gowen:
We be­lieve the da­ta for all three dose reg­i­mens will sup­port FDA ap­proval of IV oliceri­dine with a broad in­di­ca­tion of man­age­ment of mod­er­ate-to-se­vere acute pain.