Two years af­ter a wrench­ing set­back, Pro­tag­o­nist touts a slice of da­ta and sets sights on piv­otal tri­al in a sur­pris­ing place: the blood
In 2018, the floor fell out be­neath Pro­tag­o­nist Ther­a­peu­tics. Months ahead of an ex­pect­ed read­out, the com­pa­ny's first ma­jor tri­al, a Phase IIb test­ing their lead drug in ul­cer­a­tive col­i­tis, failed a fu­til­i­ty analy­sis. In­vestors sold off en masse. Pro­tag­o­nist searched for an­swers.
Two years lat­er, CEO Di­nesh Pa­tel main­tains the drug had ef­fi­ca­cy – point­ing to a blind­ed re-read con­duct­ed lat­er that year – but the com­pa­ny has moved on. Now, armed with the re­sults from a small proof-of-con­cept, they are ready­ing to put their re­sources be­hind a new lead pro­gram and an­oth­er at­tempt at a piv­otal tri­al in an en­tire­ly dif­fer­ent dis­ease.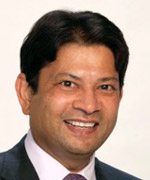 Di­nesh Pa­tel
"We couldn't have asked for bet­ter da­ta," Pa­tel told End­points News.
The drug is an ar­ti­fi­cial pro­tein called PTG–300. Un­like the drug in the 2018 tri­al or a com­pound li­censed in 2017 to J&J, PTG-300 is de­signed to treat blood dis­or­ders. Since Au­gust, the com­pa­ny has been test­ing it in a se­ries of tiny proof-of-con­cept tri­als to see how well it works in dif­fer­ent dis­eases, in­clud­ing be­ta tha­lassemia, hered­i­tary he­mochro­mato­sis and myelodys­plas­tic syn­dromes.
The lat­est study, an­nounced to­day, is in peo­ple with poly­cythemia ve­ra, a chron­ic blood can­cer in which pa­tients pro­duce an over­abun­dance of red blood cells. Com­pli­ca­tions can range from itch­i­ness to blood clots. Nor­mal­ly, pa­tients are treat­ed with phle­botomies every few weeks or months. The prob­lem, though, is that their red blood cell counts can rise in-be­tween and con­tin­u­al­ly re­mov­ing a per­son's blood is not with­out con­se­quence. It can lead to weak­ness and iron de­fi­cien­cy, among oth­er com­pli­ca­tions.
In the part of the tri­al that is now evalu­able, in­ves­ti­ga­tors gave dif­fer­ent dos­es of PTG-300 to 7 dif­fer­ent pa­tients who had at least three phle­botomies in the 24 weeks pri­or. Six pa­tients did not need a phle­boto­my over the 4 to 28 weeks they took it. A 7th had an un­in­tend­ed in­ter­rup­tion to his dos­ing, re­ceived a sin­gle phle­boto­my and con­tin­ued ther­a­py.
Lead in­ves­ti­ga­tor Ron Hoff­man, called it a po­ten­tial "par­a­digm shift." Un­like phle­botomies or the oth­er drugs used to treat the dis­ease, it could al­low pa­tients to main­tain good red blood cell counts over long stretch­es with­out se­vere side ef­fects.
"What has been done for 100 years is that pa­tients un­der­go blood let­ting es­sen­tial­ly," Hoff­man told End­points. "We didn't an­tic­i­pate us­ing this kind of ap­proach. It's re­al­ly pret­ty cool ac­tu­al­ly, I'm ex­cit­ed."
The drug mim­ics the ef­fect of hep­cidin, a nat­ur­al hor­mone that reg­u­lates iron lev­els. Be­cause the body needs iron to pro­duce red blood cells, lim­it­ing those lev­els can in the­o­ry lim­it over­pro­duc­tion in these pa­tients.
The re­sults con­vinced Pro­tag­o­nist to pick their lead in­di­ca­tion ahead of sched­ule, Pa­tel said. They will now ex­pand their cur­rent study from a goal of 30 pa­tients to 50 pa­tients and they plan to start a piv­otal tri­al next year. That will move it sig­nif­i­cant­ly ahead of their re­main­ing ir­ri­ta­ble bow­el dis­ease as­set, PTG-943. De­vel­op­ment of that drug has been pushed back sig­nif­i­cant­ly dur­ing the Covid-19 pan­dem­ic; be­cause it tar­gets IL-23, it could make pa­tients more sus­cep­ti­ble to in­fec­tion.
"These are im­muno-sup­pres­sive agents at the end of the day," Pa­tel said of PTG–973. "Ba­si­cal­ly, for now the fo­cus is on blood dis­or­ders."
It's a marked shift for Pa­tel and Pro­tag­o­nist. The com­pa­ny spent a decade build­ing its pep­tide-based plat­form, and its ear­li­est as­sets were for IBD. They raised in­vestors con­fi­dence around PTG–100 and quick­ly brought it in­to a Phase IIb study. J&J of­fered $990 mil­lion in a deal cen­tered on a sec­ond IBD drug, PTG-200. These drugs ap­pealed par­tic­u­lar­ly be­cause they were oral, un­like the in­jecta­bles that have dom­i­nat­ed the in­flam­ma­to­ry dis­or­ders mar­ket.
The J&J drug is still in the clin­ic, but in March of 2018, Pro­tag­o­nist an­nounced that PTG-100 failed a fu­til­i­ty analy­sis; an in­de­pen­dent re­view board de­ter­mined it had no chance of beat­ing place­bo. The stock fell 58%, from $20.43 to $8.59, rough­ly where it sits to­day.
PTG-100 has since been re­tired, but Pa­tel claimed the re­view de­ci­sion was ac­tu­al­ly wrong. The com­pa­ny not­ed a high place­bo re­sponse in the ini­tial as­sess­ment and sent it for a blind­ed re­view to a third par­ty and CRO's sub­con­trac­tor, who de­ter­mined some of the ini­tial en­do­scopes had been ini­tial­ly mis­read and the tri­al should have con­tin­ued.
"With­in two days we fig­ured out the en­doscopy read­outs were er­rant," he said. "The out­come should not have been fu­tile."
The com­pa­ny went back to the FDA with the third par­ty re­view, Pa­tel said, but the FDA said they had to start a new tri­al. By that point, though, the com­pa­ny had al­ready come up with PTG-943, which they be­lieved worked bet­ter and was wis­er to ad­vance if they were go­ing to start a new tri­al.
Now with Covid-19 push­ing back IBD fur­ther, blood dis­or­ders have be­come the com­pa­ny's main strat­e­gy, de­spite hav­ing on­ly a tiny, open-la­bel da­ta set. Pa­tel is con­fi­dent, though, that it can be a fruit­ful one. He said there was a clear reg­u­la­to­ry path with a 150-per­son tri­al, good ef­fects in those pa­tients, and a sig­nif­i­cant po­ten­tial mar­ket.
"It fits all of the three cat­e­go­ry: strong da­ta, a good reg­u­la­to­ry path for­ward, and a very large com­mer­cial op­por­tu­ni­ty," he said. "So that's where Pro­tag­o­nist will be fo­cused.