Ab­b­Vie's PARP in­hibitor floun­ders in PhII as ri­vals surge ahead in late-stage dri­ve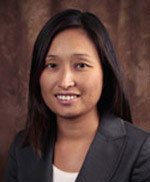 Heather S. Han, Mof­fitt Can­cer Cen­ter
Ab­b­Vie's PARP in­hibitor veli­parib failed two key end­points in a Phase II study of metasta­t­ic breast can­cer with BR­CA1 or BR­CA2 mu­ta­tions.
In­ves­ti­ga­tors, in­clud­ing Heather Han from Mof­fitt, turned up at the San An­to­nio Breast Can­cer Sym­po­sium to re­port that the pro­gres­sion-free sur­vival rate of veli­parib com­bined with car­bo­platin and pa­cli­tax­el chemother­a­py was 14.1 months, an im­prove­ment but not a sta­tis­ti­cal­ly sig­nif­i­cant ad­vance when you com­pared the 12.3-month PFS rate in the group that sub­sti­tut­ed a place­bo for veli­parib. The over­all sur­vival rate — 28.3 months ver­sus 25.9 months — al­so failed to suf­fi­cient­ly di­verge.
The PARP race has been at­tract­ing con­sid­er­able at­ten­tion this year, es­pe­cial­ly af­ter Pfiz­er stepped in to buy Medi­va­tion and its late-stage PARP in a $14 bil­lion deal. Just weeks ago As­traZeneca whet in­vestors ap­petites when it said its Phase III study has pro­duced sol­id sup­port­ing da­ta. Tesaro and Clo­vis, mean­while, are al­so rac­ing for an ap­proval.
Ab­b­Vie's ri­val, though, is much fur­ther back in the pack, and won't get many peo­ple talk­ing with da­ta like this. Han said that the prob­lem with the Phase II study is that it wasn't de­signed to care­ful­ly track non­dra­mat­ic dif­fer­ences. There's a Phase III un­der­way now that they be­lieve will come up with the goods.
I asked Ab­b­Vie how the com­pa­ny ex­pects to emerge on top giv­en a busy field of ad­vanced con­tenders and the failed Phase II. Dr. Vince Gi­ran­da, project di­rec­tor, Ab­b­Vie On­col­o­gy De­vel­op­ment, an­swered as fol­lows:
I would first like to pro­vide an ex­pla­na­tion of the cur­rent clin­i­cal tri­als de­sign. The phase 2 tri­al was de­signed as a sig­nal gen­er­a­tion tri­al. The on­go­ing phase 3 tri­al was de­signed to be adapt­ed to the size of the sig­nal we have ob­served in phase 2, es­sen­tial­ly to en­sure the num­ber of pa­tients in the phase 3 tri­al is suf­fi­cient to test the hy­poth­e­sis. The pos­i­tive trends in OS, PFS and ORR ob­served in the phase 2 tri­al were of suf­fi­cient mag­ni­tude to war­rant con­tin­u­a­tion of the phase 3 tri­al. If we had de­signed the phase 2 tri­al to be sta­tis­ti­cal­ly sig­nif­i­cant it would have been a piv­otal tri­al, and there would be no need to start the on­go­ing phase 3 tri­al.

In in­stances where a nov­el agent (e.g. veli­parib) is com­bined with an ac­tive agent (e.g. car­bo­platin) a ran­dom­ized, blind­ed, and place­bo con­trolled tri­al is one of the best meth­ods by which to de­ter­mine if ad­di­tion of a nov­el agent pro­vides a ben­e­fit. The re­sults of the small phase 2 tri­al are then as­sessed to de­ter­mine if there is a sig­nal of po­ten­tial ac­tiv­i­ty. In ad­di­tion, if the po­ten­tial sig­nal is ob­served, it pro­vides the ba­sis for de­ter­min­ing the ap­pro­pri­ate size of the phase 3 tri­al.

Di­rect­ly re­spond­ing to your ques­tion, our re­search on veli­parib is fo­cused on use in com­bi­na­tion with plat­inum based chemother­a­py, which ap­pears to pro­duce high re­sponse rates in BR­CA-as­so­ci­at­ed breast can­cers. This is the first Phase 2 ran­dom­ized study to show that a PARP in­hibitor has the po­ten­tial to en­hance the ef­fi­ca­cy of plat­inum chemother­a­py. This fo­cus is dis­tinct from oth­er late-stage clin­i­cal PARP in­hibitors that are fo­cused on treat­ing BR­CA breast can­cer with­out ad­di­tion of plat­inum-based chemother­a­py.