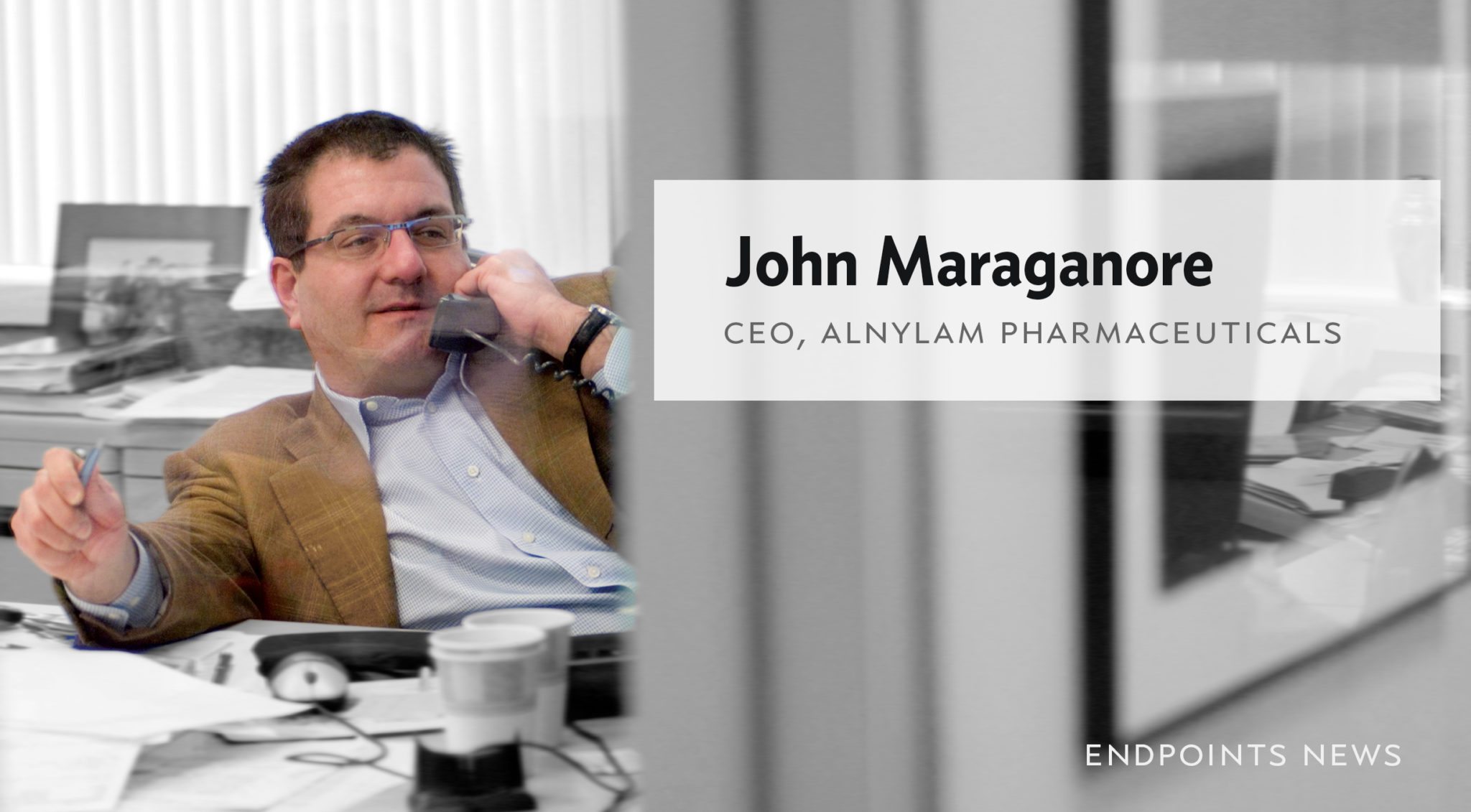 ---
Alnylam CEO John Maraganore had a tough year in 2016. In early October the biotech's stock plunged in the wake of his decision to scrap a late-stage program. But since then the company $ALNY has clawed back much of its lost market cap.
Now, to top it off, his compensation has dropped precipitously as the company looks to spread the wealth in new ways.
According to Alnylam's proxy statement, Maraganore's total compensation for 2016 was $1,744,842 — far below the glory days of 2015, when he scored total compensation of $8,261,158. Maraganore's base pay edged up slightly to $731,600.
Maraganore's compensation, though, still fared better in 2016 than 2014, when his compensation amounted to $1.1 million.
Options, though, were hammered last year, dropping from $7.1 million in 2015 to $620,958. And the rest of the executive team took a big haircut as well.
President Barry Greene: Total compensation fell from $5,264,886 to $1,396,113.
Akshay Vaishnaw, R&D chief: Compensation fell from $4,075,430 to $1,534,834.
COO Yvonne Greenstreet, who joined the company last fall, had some quick catching up to do, though. She picked up $5.6 million in options.
Why the change for the top team? Here's the explanation from the proxy:
As noted above, 2017 is expected to be a significant year for Alnylam as we progress closer towards our first regulatory filings for marketing approval and potential commercialization. Therefore, consistent with our values, goals and team-oriented strategy, for the 2016 annual equity incentive awards, based upon input and a strategic recommendation from our CEO, President, and Executive Vice President of Research and Development, our compensation committee made equity grants covering an equal number of shares to each of the members of our senior executive team after significantly reducing the amount of the CEO grant from the prior year, as well as reducing the amounts of the grants to our President and Executive Vice President of Research and Development. This allocation was made to support our team strategy, retain key executive officers and provide long-term incentives to support our growth, while remaining within aggregate equity issuance parameters authorized by our compensation committee.
---
The best place to read
Endpoints News

? In your inbox.

Comprehensive daily news report for those who discover, develop, and market drugs. Join 47,200+ biopharma pros who read Endpoints News by email every day.

Free Subscription
---
---
---