Bris­tol-My­ers de­tails its fail­ure on Check­mate 451, high­light­ing a bleak fu­ture for their check­point com­bo
We found out last fall that Bris­tol-My­ers Squibb's com­bi­na­tion of its PD-1/CT­LA-4 drugs Op­di­vo and Yer­voy failed to work as a main­te­nance ther­a­py for small cell lung can­cer. To­day, we got the de­tails. And it wasn't pret­ty.
Re­searchers en­rolled 834 pa­tients in Check­mate 451 to see if de­liv­er­ing the com­bo af­ter suc­cess­ful chemo would help pre­vent the can­cer from com­ing back.
It didn't.
As we saw from a blast of tweets from on­col­o­gists at the Eu­ro­pean Lung Can­cer Con­gress, the over­all sur­vival rate for the pa­tients in the com­bo arm was 9.2 months, com­pared to a slight­ly longer 9.6 months for the place­bo group.
The haz­ard ra­tion was an abysmal 0.92.
#El­cc19 @teekay­owo re­sults of CM451
👉🏻 An­oth­er neg­a­tive tri­al of #im­munother­a­py in SCLC #lc­sm pic.twit­ter.com/Qdx9epEuWH

— An­to­nio Pas­saro MD PhD (@APas­saroMD) April 11, 2019
Bris­tol-My­ers Squibb has al­ready tak­en its hit on the tri­al fail­ure, which raised se­ri­ous doubts that PD-1/L1 com­bined with CT­LA-4 can ben­e­fit pa­tients or the com­pa­ny to a sig­nif­i­cant ex­tent. As­traZeneca has had its own set­backs in the same field with its in-house drugs. This new da­ta will on­ly un­der­score the bleak fu­ture the com­bo has in the can­cer field.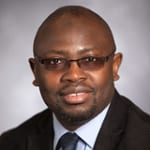 Taofeek Owonikoko
Study au­thor Taofeek Owonikoko, an Emory pro­fes­sor, called the re­sults "a big dis­ap­point­ment," but be­lieves the study pro­vid­ed one new path­way to ex­plore.
There was some in­di­ca­tion that com­pared to place­bo, it took longer for the can­cer to progress in pa­tients who re­ceived ei­ther com­bi­na­tion im­munother­a­py or nivolum­ab alone. This was not the pri­ma­ry end­point of the study so we can­not make de­fin­i­tive con­clu­sions, but it shows that this strat­e­gy could be promis­ing, es­pe­cial­ly in pa­tients who are re­spon­sive to im­munother­a­py. The chal­lenge will be how to se­lect and iden­ti­fy those pa­tients since pa­tients who be­gan main­te­nance ther­a­py soon­er af­ter com­ple­tion of chemother­a­py did ap­pear to de­rive greater ben­e­fit.
Bris­tol-My­ers' fail­ure to main­tain the lead in the PD-1/L1 field, watch­ing Mer­ck surge to the lead, no doubt helped in­spire its big Cel­gene buy­out.
---
Im­age: Shut­ter­stock