Cel­e­brat­ing sus­tained sales growth, As­traZeneca qui­et­ly ex­e­cutes some ag­ing mid-stage drug projects
While As­traZeneca ex­ecs clus­tered by the front door to dis­cuss their third straight quar­ter with ris­ing sales dri­ven by new can­cer drugs and an ex­pand­ing grasp of the Chi­nese mar­ket, the com­pa­ny's R&D jan­i­tors were sweep­ing its fail­ures out the back door. And the set­backs in­clude some long­time can­cer drugs in the pipeline ob­tained through a slate of mul­ti­mil­lion-dol­lar al­liances.
This quar­ter's re­jects are topped by a group of Phase II projects, in­clud­ing preza­lum­ab, a B7RP1 mAb for Sjo­gren's syn­drome, as an­oth­er one of As­traZeneca's au­toim­mune projects goes south on them. The IgG2k mon­o­clon­al an­ti­body was one of the few re­main­ing au­toim­mune projects at As­traZeneca, which has con­cen­trat­ed the pipeline heav­i­ly on on­col­o­gy. The R&D team there ex­pe­ri­enced a crush­ing set­back last sum­mer with the Phase III fail­ure of an­i­frol­um­ab for lu­pus.
Its on­col­o­gy ex­its in­clude 3 mid-stage ef­forts: AZD8186, a PI3k-be­ta in­hibitor that fol­lows the ex­e­cu­tion of sev­er­al sim­i­lar drugs amid sig­nif­i­cant com­pe­ti­tion; AZD4547, an FGFR in­hibitor for sol­id tu­mors; and Imfinzi plus ME­DI0680, adding a PD-1 to their PD-L1 that's al­ready on the mar­ket.
Back in ear­ly 2018 As­traZeneca punt­ed its ef­forts to de­vel­op the PD-1 ME­DI0680 as a monother­a­py, leav­ing the com­bo in place. But there's ev­i­dent­ly no room and not much hope for their idea of match­ing drugs that cov­er both ends of a sin­gle check­point strat­e­gy. The phar­ma gi­ant ac­quired the then pre­clin­i­cal ther­a­py in its $500 mil­lion Am­plim­mune buy­out — $225 mil­lion in cash and $275 mil­lion in mile­stones — back in 2013, as new CEO Pas­cal So­ri­ot be­gan a se­ries of deals to re­make the pipeline.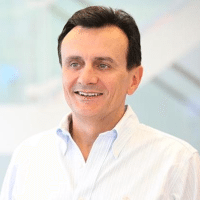 Pas­cal So­ri­ot
As­traZeneca al­so said it is punt­ing sev­er­al Phase I projects, in­clud­ing one that it lists as AZD4758, a KRAS in­hibitor. That is a ty­po, as the com­pa­ny ac­knowl­edged to­day. Their AZD4785 KRAS drug, ob­tained from Io­n­is in a $28 mil­lion li­cens­ing pact, was de­scribed as IO­N­IS-KRAS-2.5Rx, "a Gen­er­a­tion 2.5 an­ti­sense drug dis­cov­ered by Io­n­is de­signed to di­rect­ly tar­get KRAS, one of the most fre­quent­ly mu­tat­ed genes in can­cer."
KRAS has been a big but tough tar­get to crack in on­col­o­gy. With As­traZeneca step­ping out, ex­pect more fo­cus on ri­val ef­forts, in­clud­ing Am­gen's AMG 510 as well as Mi­rati's MRTX849, which both in­volve the G12C mu­ta­tion.
As­traZeneca's quar­ter­ly cleanups are much eas­i­er for the com­pa­ny to han­dle as So­ri­ot de­liv­ers on his long­stand­ing promise to hit rock bot­tom and bounce back up on the rev­enue side. The multi­na­tion­al may be a long way from achiev­ing the rev­enue goals laid out when the CEO was fight­ing off a Pfiz­er buy­out, but the suc­cess of block­buster can­cer drugs like Lyn­parza, Tagris­so and Imfinzi pay for the in­evitable mis­takes.