FDA in-house re­view spot­lights an is­sue with one of Hori­zon's end­points but notes ef­fi­ca­cy for lead drug
The FDA in-house re­view high­lights a dis­agree­ment of in­ves­ti­ga­tors' use of a key end­point by Hori­zon Phar­ma in the late-stage tri­al for the top drug in its pipeline, but large­ly agreed that the an­ti­body was ef­fec­tive.
Hori­zon sub­mit­ted a BLA for thy­roid eye dis­ease (TED) drug tepro­tu­mum­ab in March, less than two years af­ter they bought the drug (and the rest of a di­vi­sion) from Nar­row Riv­er for $145 mil­lion up­front. With break­through sta­tus, pri­or­i­ty re­view, or­phan des­ig­na­tion and in-house sales pro­jec­tions of up to $750 mil­lion, the one-time Roche re­ject be­came the mar­quee pipeline as­set for a com­pa­ny that's de­vel­oped some of the world's most ex­pen­sive drugs.
Hori­zon sub­mit­ted their ap­pli­ca­tion based on a Phase II and a Phase III study, tout­ing pos­i­tive re­sults on pri­ma­ry end­points in both tri­als. But the FDA re­ject­ed their pri­ma­ry end­point in the Phase II and sec­ondary end­point in Phase III: Clin­i­cal Ac­tiv­i­ty Score, or CAS. They not­ed that CAS com­piles mul­ti­ple forms of clin­i­cal ac­tiv­i­ty and weighs them equal­ly.
"FDA's clin­i­cal team does not con­sid­er these fac­tors to be of equal clin­i­cal weight ei­ther to the pa­tients or to physi­cians treat­ing these pa­tients," they wrote.
Rather, they fo­cused on pa­tients' re­sponse in prop­to­sis, or the dis­lo­ca­tion of the eye from its or­bit, ar­gu­ing that this was the main symp­tom that af­flicts TED pa­tients. They not­ed an im­prove­ment by week 6 in both tri­als that con­tin­ued through the treat­ment pe­ri­od, and that 60% of pa­tients did not re­lapse in the year fol­low­ing treat­ment.
For pa­tients, prop­to­sis of­ten leads to diplop­ia — more pop­u­lar­ly called "dou­ble-vi­sion" — and de­spite less than eye-pop­ping re­sults in pa­tients' sub­jec­tive re­spons­es, the FDA said Hori­zon showed im­prove­ment.
The FDA had few warn­ings about ad­verse ef­fects be­sides a slight in­crease in gas­tro-in­testi­nal events, but not­ed the lim­it­ed pa­tient pop­u­la­tion. With less than 90 pa­tients who re­ceived the treat­ment, they said, ad­verse ef­fects can be ex­pect­ed to oc­cur in up to 3% of pa­tients with­out show­ing up in the tri­al.
TED is an au­toim­mune dis­or­der that large­ly af­fects women in mid­dle age and can lead to blind­ness if not treat­ed with surgery ear­ly on. Hori­zon projects to treat around 15,000 to 20,000 peo­ple.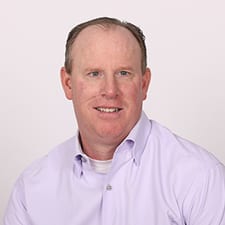 Tim­o­thy Wal­bert Hori­zon
The PDU­FA date is set for March 8. An ap­proval would mark one end of a long road for the drug. It be­gan at Gen­mab, be­fore Roche li­censed it as a treat­ment for sol­id tu­mors. It proved in­ef­fec­tive, and was lat­er test­ed at Nar­row Riv­er in di­a­bet­ic mac­u­lar ede­ma — the an­ti­body af­fects the in­sulin-like growth fac­tor-1 re­cep­tor — be­fore show­ing promise in TED.
In their lat­est earn­ings call on Sep­tem­ber 30, the com­pa­ny ap­peared to ful­ly ex­pect ap­proval.
"We are ag­gres­sive­ly prepar­ing for the po­ten­tial US launch with our tepro­tu­mum­ab com­mer­cial and med­ical teams ful­ly in place," CEO Tim­o­thy Wal­bert said.